"In zijn affiches zit alles samengebald. Een poster moet een voorbijganger die met twee volle boodschappentassen op weg is naar een sissende bus, in een fractie van een seconde raken, naar binnen trekken of bespringen als een kale dwerg". Dick Okker, het Parool, 5 februari 2011
Anthon Beeke is en was een graficus met een sterke wil om nieuwe dingen te maken en barstte altijd van ideeën. Hij was met zijn werk, en dan met name in zijn posters, erg op de grens bezig van wat mensen nog konden aanvaarden en niet. Hij hield zich er bezig mee hoe mensen op iets reageerden. Sommige posters riepen veel reacties op. Ze werden van de muur afgetrokken, beklad of kapot gemaakt. De affiches die hij maakte moesten op je afkomen als je er voorbij loopt. Dus die reactie van mensen was precies wat hij wilde.
In 1970 zei hij dat hij het grafisch ontwerpen niet wilde gebruiken om dingen mooi te maken, zoals in die tijd veel werd gedaan, maar dat hij de mensen bewust wilde betrekken bij de situatie waarin ze verkeerden. Het moest een soort confrontatie zijn. "Een affiche moet shockeren", was een van zijn uitspraken.
Toen ik deze laatste opmerking las, begon ik me wat af te vragen: Hoe zou ik deze posters beleven? Voel ik dit ook als een confrontatie? Wat voor reactie roepen ze bij me op?
Ik had ze natuurlijk op internet al vlug langs mijn ogen laten schieten, al scrollend, op zoek naar informatie. Maar ik had de affiches nog nooit in het echt gezien. Toen ik ze dus voor het eerst 'real life' zag, kwamen ze echt binnen. Ze waren heel anders dan dat ik ze op internet had gezien. Intrigerend, precies wat de bedoeling was van de posters. "Dit gevoel wat ik heb, is natuurlijk precies wat ie wilde bereiken", dacht ik.  Ze zijn ook zo simpel. Alleen een foto en een titel. Op de foto's zie ik lichamen of delen van lichamen die de poster bedekken. Dat is het eerst wat opvalt, daarna de titel. Alsof de titel ondergeschikt is aan de foto. Pijnlijk, dood, donker, maar ook passie en seks is wat ik zie. Wat een lef moet die man hebben gehad! Het zijn beelden die je pakken. Anthon Beeke maakte deze beelden gewoon!
De suggestie van seks blijft hangen na dat ik de posters had gezien. Als voorbeeld neem ik de drie posters hierboven. Ik vind het raar om ernaar te kijken. Ik voel me op een of andere manier betrapt. Terwijl ik gewoon naar een poster sta te kijken. Sta ik nou zonder dat ik er voor heb gekozen naar een seksueel beeld te kijken? Of maak ik dat er zelf van in mijn hoofd? Want bij de poster van Leonce en Lena is de suggestie van seks veel groter dan dat er werkelijk seks wordt afgebeeld.
De poster van de voorstelling van Troilus en Cressida valt ook erg op. Hoewel ik deze nooit in het echt heb gezien, dus alleen op internet, blijft hij toch in mijn gedachten hangen. Ik weet waar ik naar kijk, maar op een of andere manier is het ook een vervreemd beeld. Er klopt iets niet. "Wat was het idee om het zo op een poster te zetten?", gaat het door mijn hoofd.
In dit affiche verbeeldt het lichaam van de vrouw letterlijk het paard van Troje, in het verhaal een houten paard, waarmee Romeinse soldaten Troje binnen vielen. De oorlog in Troje was ook daadwerkelijk bij het schaken van een vrouw begonnen. Bovendien was het motto van Gerardjan Rijnders voor zijn voorstelling: "Seks is oorlog". Dit wilde Anthon Beeke in zijn affiche voor de voorstelling ook uitdrukken. Hij fotografeerde daarom een naakte, met olie ingesmeerde vrouw die voorover gebukt staat, met op haar rug een leren paardentuigje. Hij noemde zijn poster een feministisch statement.
De posters werden destijds gewoon op aanplakborden geplakt. Maar daarna bekrast, betekend of er gewoon afgetrokken. De vrouwenbeweging protesteerde fel tegen sommige posters van Beeke, en dan met name de poster van Troilus en Cressida. Sommige theaterdirecteuren durfden de posters zelfs niet de presenteren in hun theater. En hielden ze op bepaalde momenten bedekt.
Hoe reageren mensen nu op dit soort beelden. Op beelden met naakt die de suggestie van seks oproepen?  Bij de tentoonstelling begin dit jaar in het Museum Jan van der Togt in Amstelveen werden veel van Beeke's posters getoond, maar er werd getwijfeld op de beroemde, omstreden poster van Troilus en Cressida voor toneelgroep Globe wel getoond moest worden. De poster was misschien te pervers om te tonen aan het publiek. Waarom nu niet en toen wel?
Is naakt of (de suggestie van) seks dan nu echt nog zo'n groot probleem? Je zou denken dat we wel wat gewend zijn bijvoorbeeld met de reclamecampagnes tegenwoordig van Diesel of de American Apparel. Blijkbaar wel. Om een voorbeeld te noemen, kwam er in januari dit jaar een kalender uit van de Italiaanse fotograaf Oliviero Toscani. Op elke pagina, bij iedere maand staat een close-up van het vrouwelijk geslachtsdeel. In Italië is er veel ophef over ontstaan. De feministen zijn boos en vinden de foto's een belediging voor de vrouwelijke waardigheid. De kalenders mogen nu ook niet verder uitgegeven worden.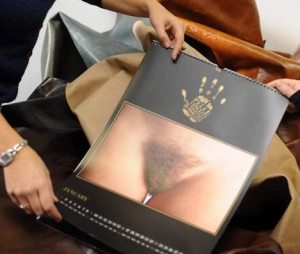 Volgens de vrouwen op de foto en de fotograaf zelf, zijn de foto's een symbool van "untamed feminine beauty". Volgens Toscani is zijn werk gericht tegen de standaard modefoto's waar vrouwen mooi opgemaakt zijn en mooie kleren dragen. Hier wil hij juist de puurheid van de vrouw laten zien.
Met zijn vagina-kalender is hij in een bepaald opzicht met hetzelfde bezig wat Anthon Beeke deed. Hij zit ook erg op de grens van wat mensen nog kunnen aanvaarden en wat niet. Mensen voelen zich geconfronteerd met iets wat ze liever niet willen zien en kunnen het niet snappen.
Ik zou daarom willen afsluiten met een quote van Anthon Beeke zelf:
'Tolerantie moet je steeds weer bewijzen en dat kan alleen door het te tarten.'