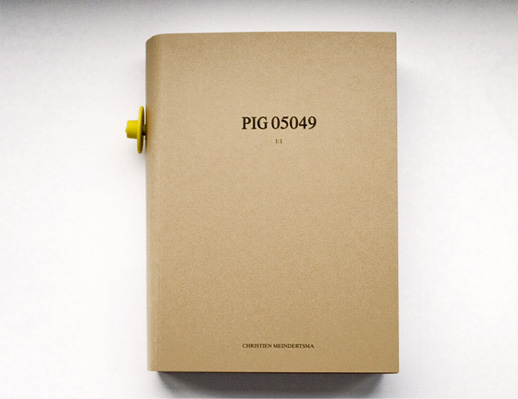 I find Design a difficult term. When I think of Design objects, I think of the Museum für Angewandte Kunst in Frankfurt, which I, to my rather substantial displeasure, accidentally visited once during a school trip.
The building contained a few rooms filled with all sorts of glass Design objects, ranging from a little unpleasant to straight up horrible stuff. According to Wikipedia, the museum exhibits "more than 30,000 objects representing European and Asian decorative arts." All I saw were contemporary glass lamps and mobiles and vases pretending to be all sorts of extremely valuable and expensive.
Having said all these mean things about Design, I myself completed an education in Graphic Design not that long ago. I have caught myself calling myself a Graphic Designer quite a few times.
Christien Meindertsma is also often called a Designer. In her bio a position on this matter is not being made, but in her CV the word Design appears very often. (It also says that in 2010 she was part of the show "Dutch Domestics – Design as Research" in the Museum fur Angewandte Kunst Frankfurt)

Christien is interested in raw materials. She explores these materials in thoughtful ways, making simple books and products that lay bare complex and otherwise hidden processes. If you'd like to hear her talking about her work you can follow this nice link.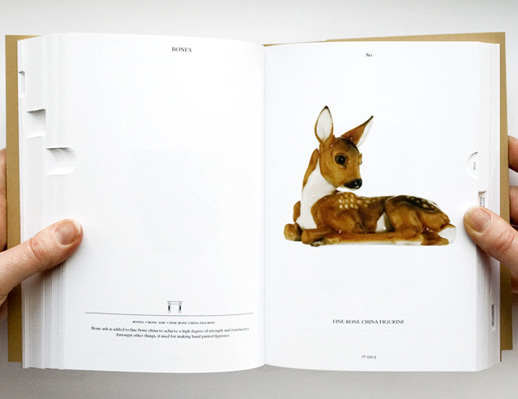 I know Christien Meindertsma from her project PIG05049 (or actually from the TED talk she gave about it). For this project she spent three years researching the afterlife of the ordinary pig, and all the products that it ends up in after slaughter. All items are presented at their real scale in a book, a visual encyclopedia. Amongst some of the more unexpected products were: Ammunition, concrete, cigarettes, heart valves, brakes, chewing gum, porcelain and cosmetics.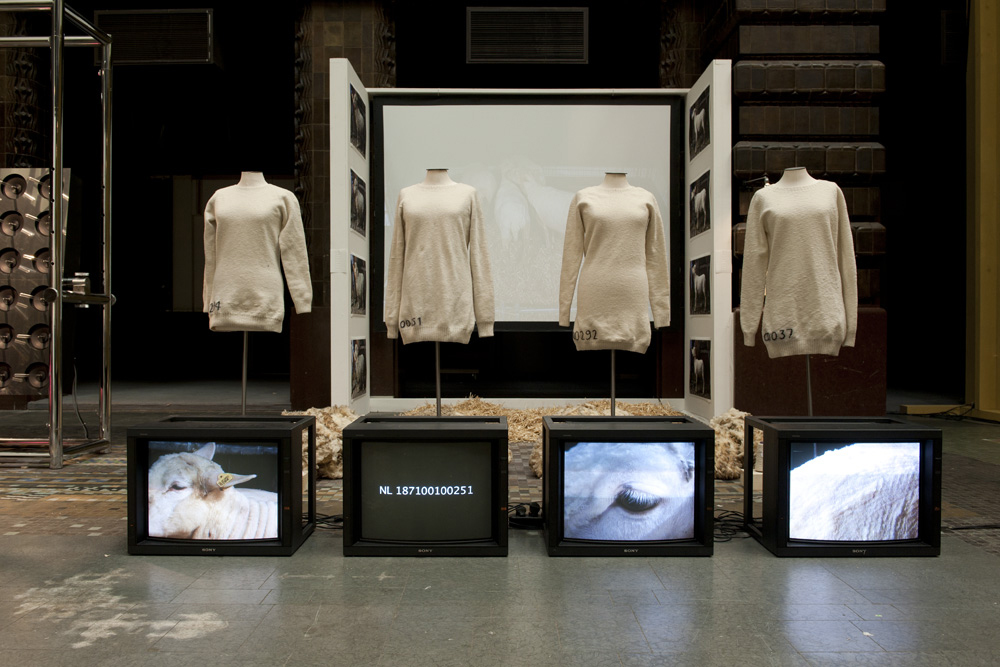 Only recently I discovered one of her other projects, called One Sheep Sweater. It was on display in the cliché corner Eerlijk (Honest) at the Handmade show at Boijmans van Beuningen.
Christien started working on this project in 2003, when she was still studying at the Design Academy Eindhoven. In 2004, she made a collection of cardigans that were each made from the wool of one sheep.
After a few years of working with all sorts of wool and yarn manufacturers for her poofs and (Texel) ottomans, she picked up the One Sheep Sweater project again. Her goal was now to make them with a 3D knitting machine, to create an industrially made product, that would still tell a story of where it came from. She used Merino sheep from Holland and was part of the whole process from the shearing to the knitting.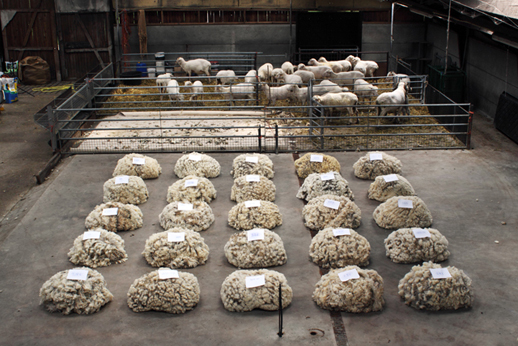 I can very much relate to Christiens' work most of the time. Though I don't really have a particular interest in raw materials, I am very much concerned with the ways society deals with agriculture, whether it being for meat, wool, seeds, crops or other commodities. We are completely unaware of production processes and I find this very intriguing.
I think some of Christiens' works I would call Design, for example the poofs and the ottomans and these Designy lamps that unfortunately remind me a bit of the glass Design objects that I mentioned earlier. However, the two main projects mentioned in this essay I consider to be art.
In my opinion Crafts, Design and Art are all the same things, namely words. The word Design reminds me of ugly glass objects, but that is really nobody's fault, and it will hopefully not stay that way forever. The word Art is something I have more respect for, but I have also seen horrible stuff that was called that. With the word Crafts I mostly think of handwork, (which I use quite a lot in my own work, when I think about it now) but I also associate it with exceptional skill. And, as we all know, skills are awesome.
The words Art, Design and Crafts have different associations, but I think it's extremely difficult to separate them from each other, if it is even possible to find out what they really mean. Some things that are considered Art can also easily be considered Craft, like some old Mannerism paintings, or more contemporary Hyperrealist paintings or sculptures. Some things that are considered Design may be considered Art. And some things that are considered Art, may by some people be considered Design.
Value is one of the main themes in Christien Meindertsma's works. Trend forecasters tell us that, as a reaction to mass-consumerism, crafts will be valued more and more in the future. I'm hoping for this trend to develop in a large scale, for I think it has great potential to contribute to shifting our views and beliefs into less destructive and more beautiful ones.