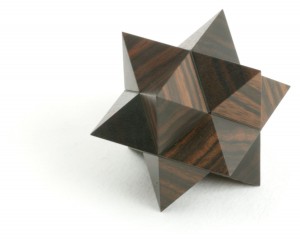 The Diagonal Star puzzle is a three-dimensional geometrical assemble made by six symmetrical wooden pieces.
Whether the interest for this object is practical or artistically, the solution is originated in mathematics, and there is only one way to interlock it. Fixing the six modules in to a pair of two mirror-image halves.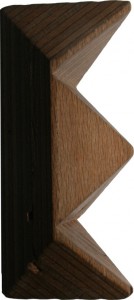 An interesting point of the visual part of this object is that if you look at the side of one module it resemblance a rectangle.
But when they are all assembled the form fits into a cube
.
Using the shape and measurements from the surface of the the Diagonal Star, a new sort of  "game" can be created.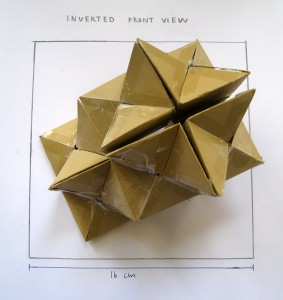 It is made out of eight interconnected paper cubes, that can be folded in what seems at infinitive ways.
It starts out as a black cube.
From this point you can fold it to a white cube.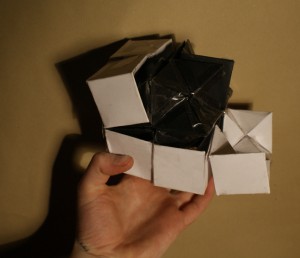 When you divide the cube, the new cubes can be transformed into two diagonal stars, with the exact same mesurements as the diagonal star puzzle.  Therefore, either the black or white cube/star can contain the wooden puzzle.
The pleasure of the endless transformations in these new shapes can be a big inspiration for further research and design on product/interactive objects.