For this research I have chosen a brooch made by Manfred Nisslmüller [x] which is currently being shown in the design exhibition at the Stedelijk Museum, and is a part of their own collection.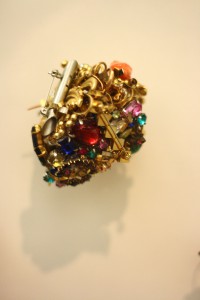 Here you can see it on the Stedelijk webside.
Manfred Nisslmüller studied goldsmithing but his work is maybe better suited under the category of visual art than design. Jewelry is still the main focus of his work but now he looks at it from a different view. He investigates and raises questions about the media but wearability is not one of his main considerations. For example, in this work below he uses graphite to make a brooch, ring and a bracelet. But since it is made out of this unusual material the items are way too heavy to be worn.

Let's turn back to the brooch. What I see at first is not only a brooch like the title suggests, but a bunch of brooches. It is like looking into my own jewelry box at home, all in a mess. A fusion too complicated to untangle before going out so instead of wearing it I let it lie there for ages just to tangle up even more.
But I like the idea of wearing all of your brooches at once. Why only chose one? It seems only to occur to me to wear one piece at a time or at least only a few but never the whole pile. Am I just bragging if I wear my whole collection at once? Is it the same to actually wear the collection tidily placed side by side like an award winning officer or wear it randomly twisted together like trash in the wind. How does the value of a piece of jewelry change by it's contact with other pieces?
I really like this question of value. This brooch is a mixture of various brooches, cheap junk you could find in a 1 euro shop along with precious metals with natural stones. Somehow, when they get mixed up in a pile like that the value becomes unimportant and not visible. I like the idea of these jewelry becoming equal and becoming one. Their value is equally divided. But does this brooch have less value than one of the fancier brooches incorporated in it, if worn on its own? Is less more or is more less?
Perhaps, in the end the effect is exactly the same.
Jewelry is something made to decorate, to adorn. That is a fact closely examined by Nisslmuller in his work. He investigates the role of jewelry and the word jewelry on it's own. He has been dancing on the line between jewelry design and visual arts throughout his whole career, constantly becoming more conceptual as he continues to question the media of jewelry making and wearability becomes less and less important.
To him the looks of jewelry, their beauty or ugliness, doesn't matter that much. The purpose is always the same and it is always accomplished. To him a piece of jewelry can be an object, a situation or a feeling but they all obey the same basic rules – they all adorn.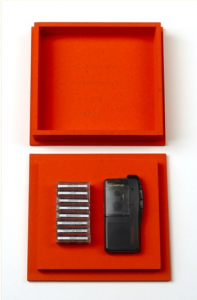 In 1984 he presented these two suggestions for pieces of jewelry that I really like:
A) Spray both ears with fluorescent lacquer and whistle a melody in intervals.
B) One hears the word "BROOCH" repeated softly from a cassette recorder worn concealed on the body.
As you can see from these two examples his definition of jewelry is very broad. I think he really brings us back to the core of this ancient tradition and keeps on investigating it and questioning it into the infinite.
Manfred Nisslmuller was born in the year 1940 in Wien where he still lives and works. He published a book about his ideas about jewelry called "Uber (und) Schmuck" In which I got my main information about his works and thoughts. This book along with a couple of other books and newspaper articles on Manfred and his work can be found at the Stedelijk Museum library.
Here you can see their website [Stedelijk Museum Amsterdam].