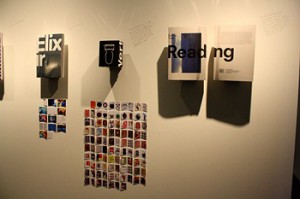 When I was looking for some really nice book to look deeply, this thin white line peeler design caught my sight. Also this small black book was in between two big books-It was grey cover with big white letters and two book that can see back and front side-white cover with big black letters and front side, there is blue colour picture). That is why I can see it right away at that moment.
This really thick and nicely painted black colour book is attractive for me who really like simple design with only black and white colour. And drawing of peeler with thin white line on the black colour cover was so amazing, because that peeler seems making me peel-off the page by page and discover new pages afterwards. I have to peel-off one design if I want to see next design. Like I am looking for something through page by page. Even I feel the first page is the oldest one and last one is the latest one.
Also at the side of the book, not the book cover, there is big and thick white letter which interested, too. It can be simple white letters on the black background, but it looks not that simple if I see little bit closer. Because of the paper inside, black background is not same black as book cover. Also when I look at it little bit more closer and closer, I can see there is other colours, not just white and black. It was very funny that I discovered something I don't really want to discover from that black and white book.