ABECEDA 1926
 In 1926, the Czech dancer Milca Mayerova choreographed the alphabet as a photo-ballet.
Each move in the dance is made to the visual counterpoint of Karel Teige's typographic music.
Teige was a constructivist and a surrealist, a poet, collagist, photographer, typographer and architectural theorist, and his 1926 photomontage designs for the alphabet are a uniquely elegant and witty invention, and one of the enduring masterpieces of Czech modernism.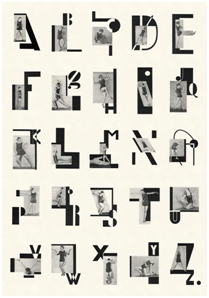 In the graphic design world, movement refers to the path of a viewer's eyes as he or she looks at your work. Since movement can add such a large sense of unity in design, it plays a significant role in the ceration process. By tying the different elements of a design together in a specific way, you can control the movement of your viewer's eyes throughout the medium. As a different media, body does the same thing in ABECEDA 1926 photo-ballet. There is the different movement which is more analog, natural and already exist but still a path of a viewer's eyes as he or she looks at the work, using the body and an action as a method of design. Despite the fact that the terms action and surface are disconnected even opposite things.
Letters get created
by movements > Movements who
literally give the sound exhaling.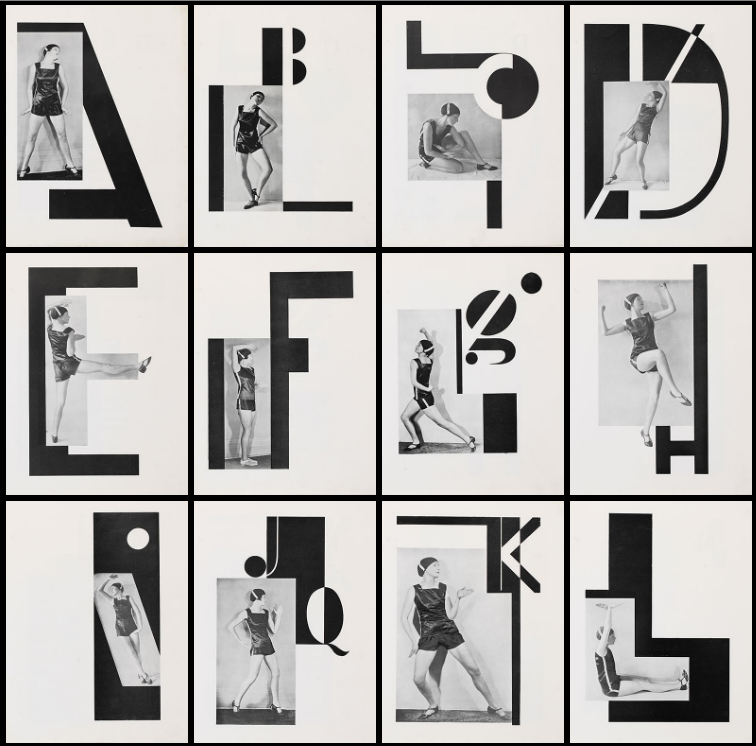 In our case of the Abeceda  Alphabet an example
with the first letter of the alphabet, the letter 'A'.
The body language of reaching towards the sky asking an 'A'. 
But expressing 'A' as confidence standing tall, putting your hands in your wrist, chin up.
So one single letter can have a wider scala of meaning.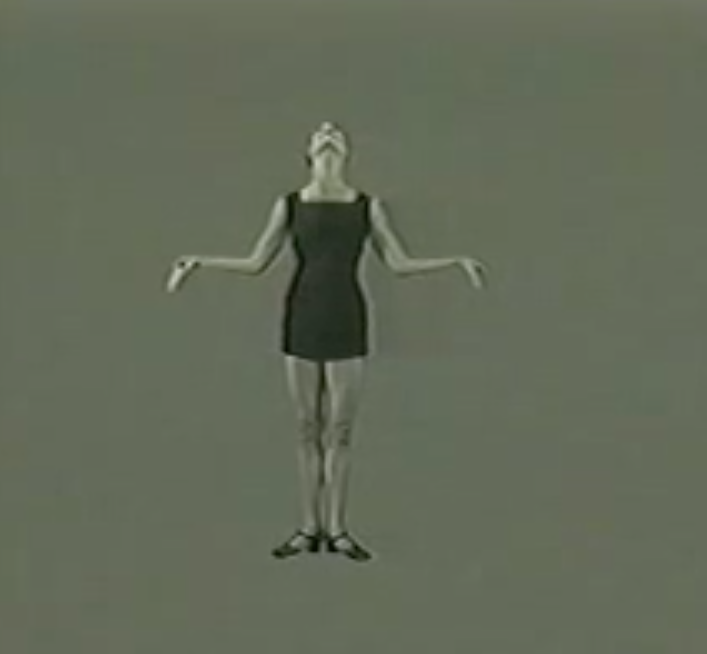 A letter without  a sound of the voice, a movement of the hand can be like an incomplete inform. Just an "A" on a paper.
Body language which is connected to words is a missing factor in language these days. Digitization is transforming things into less natural outcomes. Which is interesting is relating those two opposite sides; the digitized, formulized and made as a stabilized, structured letters out of the natural, smooth, changing, body movement. Even we can find some elements from both sides in all the sides, still the texting, mailing and internet talk has no presence of body and sound which is ironic because we generally attend to imitate the existing features that we know, take them as a starting point or repeat them.
We can see the first examples of this attend in the "Cave Paintings". Cave paintings are also known as "parietal art". They are painted drawings on cave walls or ceilings, mainly of prehistoric origin, dated to some 40,000 years ago (around 38,000 BCE) in Eurasia. The exact purpose of the Paleolithic cave paintings is not known. Evidence suggests that they were not merely decorations of living areas since the caves in which they have been found do not have signs of ongoing habitation. They are also often located in areas of caves that are not easily accessible. The paintings are remarkably similar around the world, with animals being common subjects that give the most impressive images. Humans mainly appear as images of hands, mostly hand stencils made by blowing pigment on a hand held to the wall.
Some theories hold that cave paintings may have been a way of communicating with others.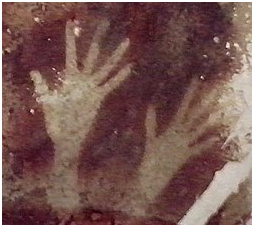 The body and other elements are using for communication in a way with "movement/action of the body and also in a way with "captured frames such as; paintings, photographs, and even typography as visuals. So we can really understand the idea of connecting body language with the captured, reflected typography together.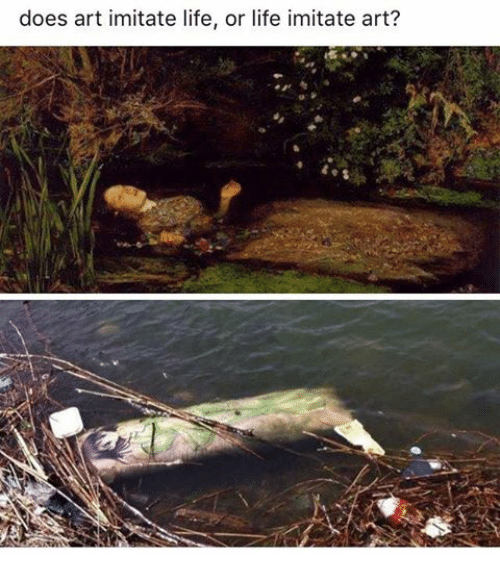 According to that point and various examples, we can tell that art may imitate life. The movement, the performance reflected and created an alphabet. But could it possibly be possible to create an alphabet without any reflections from life?