The  'Endless Chair' by Dirk van der Kooij. My eye was caught by this chair when we went on a design trip with our class. We went to an exhibition with the most bizarre and special chair. There were a hundred chairs, old and new ones, crazy but also very simple ones. But the Endless Chair stood out for me. It stood in a corner, a beautiful light blue  object with a color that could not have been created by hand. When I came closer I saw that the chair looked very complicated but simple at the same time. It almost looked like it came from another planet, so clean and refreshing in its structure and design. Immediately it raised the question: " What's the material and how is it made?"
The Endless Chair is designed by Dirk Van Der Kooij, a dutch designed who graduated from the Design Academy Eindhoven in 2010. During his study he got fascinated by an old 3D printer for his final project. He turned an old robot arm from China into his own 3D printer. This was not just a normal 3D printer, van der Kooij is the creator of the first worldwide robot which can extrude furniture pieces from 100% recycled material. This machine wasn't made for mass production because you can only produce one product at the time. One chair has a production time of approximately three hours.  Dirk van der Kooij is trying to produce products that have the qualities of a industrial produced object but without the strict rules of mass production.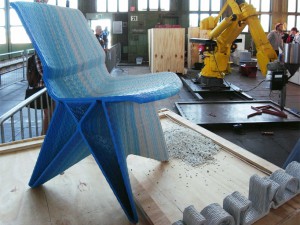 In this video you can see how the chair is made 

Van der Kooij wanted to change the bad image that plastic gained in the last decades, plastic is often seen als a cheap and breakable material, "It is actually durable, beautiful and elastic. I can make objects, unknown as plastic ones", he says. He and his robot create strong, powerful and creative objects. He doesn't aim for the perfect outcome of 3D printing, he likes the little mistakes that the big robot arm makes. The 3D printer doesn't make flawless designs like normal 3D printers would. Although the chair looks very clean and sharp when you look closely you see that the chair has little bumps and imperfections.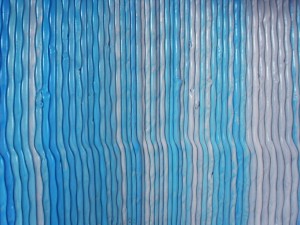 A close up of the material and structure of the chair
Not only how the chair is made is very but also the material what it is made from is very special, all his chairs are made from old refrigerators. Small bits of recycled refrigerators are poured into the top of the robot arm and melted into the beautiful design. Dirk van der Kooij doesn't really look at the process of recycling as a solution to be green and re-use our waste, he sees it as a new conceptual way of working. He likes the aesthetics that recycled material gives to an object: "Recycled material has a history that can be literary seen in the product. That gives particular beauty and layering." 
The chair is build layer by layer. When you see chair being printed, it lays on its side, often van der Kooij makes beautiful gradients of color, which is easy to do with this way of production. The first time I saw this chair I saw in it a beautiful shade of light blue, it was one of his prototypes, I actually love this prototype, because in the beginning the robot arm was only able to make very angulair shapes. Later the robot arm could make rounder shapes. Not only I loved the angular shape of the prototype, I also really liked the color of the chair, it didn't have a gradient, but it existed out of a light blue colored plastic that changed a bit all over the chair. Very simple but extremely beautiful. It reminded me of a cloud, very soft but also very strong.
Dirk van der Kooij is always looking for new ways to improve his designs, by always making new steps and trying out new things, his production process leads to him in a quite natural way to the production of new and more shapes. I would love to have these amazing and very special chairs in my kitchen, with their rich and interesting history.