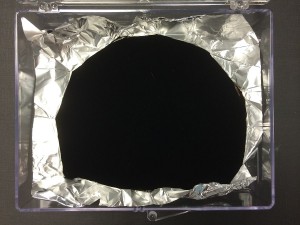 Vertically Aligned NanoTube Arrays – VANTABLACK, is the blackest matter known yet, with its capability to absorb 99.965% of the light projected on it in the visible spectrum. The vertical tubes that compose it trap the light inside instead of bouncing it around, until it dissipates into heat.
Patented by Surrey NanoSystems Limited, it is much easier to produce than its predecessors. A similar matter developed by NASA required 750 ° to be grown, whereas Vantablack needs only 400 °C. Still, it is very difficult to produce and thus quite a valuable material. Which is probably why it was shown in a glass case during the show "Designing the Surface" at the New Institute in Rotterdam.
The catalogue, that was published on the occasion of this project, was structured in acts of a theater piece, grouping designs and materials related to their common specialties or their physical or intellectual interactions. Vantablack was part of the Act VI, titled Slim; "In which the future is superficial". The reason for that was probably that Vantablack is a human made, fascinating material that seems like it's out of a science fiction movie or a fairytale; almost too strange to be real. What 21st century humans can achieve may be little in future perspective, but currently it can be quite fascinating. Laboratories are like alchemy labs of medieval sorcerers. Industries can make impossible a reality. Still, it all depends on the funding of course.
Vantablack proved very useful for various industries. Especially for astronomy and space sciences; since it can help the development of far better telescopes that can reach even further into the universe. It can potentially be used for the medical treatment for eyesight problems as well. Since it pushes the boundaries of the relationship between human, matter and light, it revolutionizes anything that has something to do with optics.
No wonder Vantablack is so fascinating for many. British-Indian artist Anish Kapoor licensed the use of its color and is currently the only artist who is allowed to use it. The RGB code for the black as we know it and are able to use freely is #000000. Although, with the further development of Vantablack, a slight change in the percentage of the absorbing power of the material can give it a different RGB code, making Kapoor's license useless. Even though I am not sure if Kapoor would run out of money before purchasing the license of each step of Vantablack's development, I certainly hope that this material with so many possibilities would become available to common folk so that I can also let my imagination run free with it.
Vantablack display sample Surrey NonoSystems. exh.cat.no.75