At the design section of the Stedelijk Museum I felt an attraction towards objects that glitter and sparkle instantly. The jewelry collection was filled with extravagant pieces made from expensive materials and with a shiny finish that effectively seduced me. But in the middle of all of these flashy designs I found a simple and minimal bracelet made from lusterless rubber and with a small bulge in the middle as the only detail. As it was in such contrast to the other items, it raised my curiosity.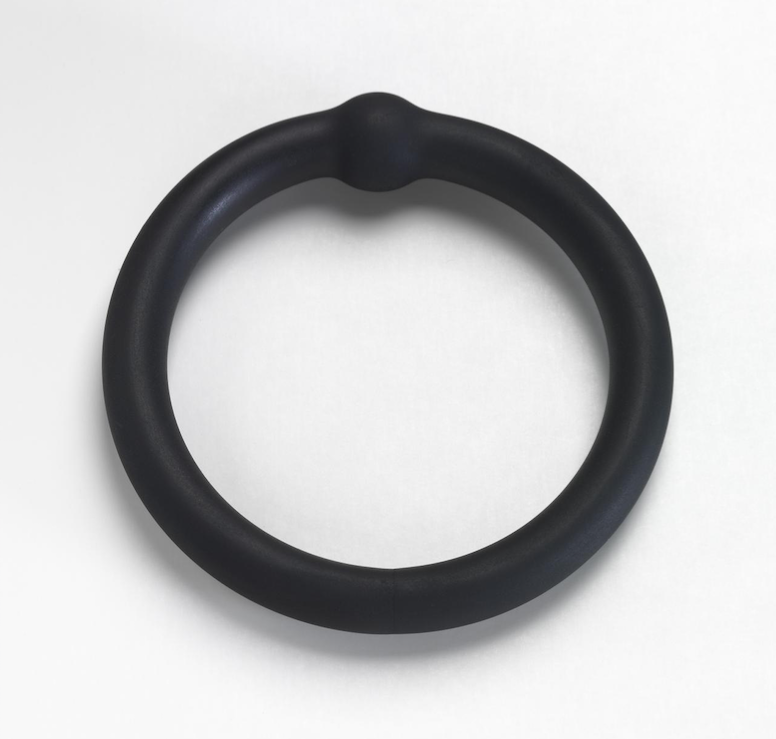 Otto Künzli, Gold macht blind (1980)
galvanized rubber, gold

Otto Künzli created his jewelry piece 'Gold macht blind' in 1980. It's seemingly just a simple rubber bracelet, but Künzli claims that under the surface a ball of pure gold is concealed in the rubber. Instead of letting the gold do its job by shining and seducing the viewer, Künzli has decided to cover it up by a cheap, industrial and unpolished material. He raises the tension between what you experience on the surface and your desire to dig inside and reveal the gold. This way the bracelet comments on our destructive greed towards everything that glitters: "If the owner wants to know with certainty whether gold is concealed in the armband, he must destroy it." (x)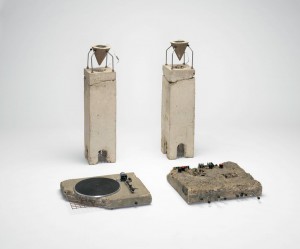 Ron Arad, Concrete Stereo (1983)
Concrete, steel wire, electronics
Gold macht blind was made as an effort to undermine the expectations we have that jewelry is supposed to be decorative and flashy symbols of status and rank. This way Künzli's bracelet has a lot in common with the industrial-looking record player covered in concrete, Concrete Stereo, Ron Arad created in 1983, which I described in my last text (x). Both works play with notions of value, and whether objects with lusterless surfaces can be desirable, and both artists create works that devalue status symbols. While Arad was part of the punk movement, Künzli is known for his humorous "stick it to the man"-attitude [x].
It's obvious how 'Gold macht blind' with its matte rubber surface is in huge contrast to the sparkling works seen in the collection LUSTRE from Designing The Surface. Just like Arad's Concrete Stereo [x] I find it fascinating how Künzli can convey his anti-elite opinions by playing with our expectations to what the surface of a piece of jewelry is supposed to look and feel like. By removing the shine and luster, the jewelry piece appears valueless, even though beneath the surface gold is hiding.