Browsing through Design Blog – a description of my search. 
By browsing through design blog I decided to only follow the tags in which I am interested and are making good promises based on their name. Also, I decided to follow the tags quickly without going deeper in the reading but having an eye on that it still feels like a clear amount as I planned to go back later and read deeper in the essays. With that technique I created my own little library around 30 tags to come back to without feeling overwhelmed by all the essays I could read while visiting design blog. As my search got really specific at some points and I wrote down every tag I followed I can easily recreate my search which shows that design blog search stays steady through the tags if you know where to go. My search started with the aesthetic tag. After looking back on my search timeline it made really much sense. Everything was connected somehow and was laying most of the times in my interest. 
In the beginning I was browsing through the architecture category followed by blank spaces and minimalism. Fast it became more specific as about light and surface. Coming from surface I found myself in the graphic design section about covers, book design and color questions. It became to be about Illusions and fake appearances and going back to architecture and more specific about glass. 
Being at the same page again from the beginning I decided to go this time into the product design tag. It became about school furniture design and exhibitions. 
Then coming to the really brought tag art I ended up in physical exercises meaning to enter the world of theatre. From theatre I decided to follow the naked tag which leaded me to invisible fashion, minding material and wearable technology and going back to craft again. Here I followed my last tag form follows function which connected to product design again. 
So after analyzing my design blog browsing I can connect the essays I looked at to different main content sections of design. 
Architecture 
Graphic Design 
Product Design 
Theatre 
Fashion Design are making up the more really brought topics I was browsing through. 
As I tried to follow really clear lines while browsing I was hoping to not loosing track and moving in between the topics I like. This worked out really good but almost too good. Often I ended up with the same essay or got so specific tags that only one essay was left fitting. Still, for me to stay still in logical order it was a good experience. Maybe I only was disappointed in this system because I even if it was not my goal expected that the amount of essays would destroy my focused searching  but in the end it just showed me that there is sense behind the pages. Therefore I think it is a really good and brought way of dealing with subjects one is really interested in but for sure one should know what he is searching for otherwise the design blog can soak you up. This I am reasoning with that even if I followed the tags I am interested in design blog leaded me through different sections of design. When I started to go deeper in the architecture category I didn't expect to end my search finding essays about wearable technology. Which means it leaded me towards unexpected topics but still they were based on my decisions and therefore interest. 
The visualization of my searching.
The whole idea of connections and following tags in between the essays reminded me of the domino effect or a network of laying domino stones. In fact I was only really in control by deciding on the very first tag. Eventually the overall image of the searching pattern became only clear after ending the search itself. Every domino stone represents a tag in my search and is a connecting point for the others and therefore a necessary part of where I come from and where I go. After clicking on the first page it becomes an aware automatism. Every mouse click follows the other as one stones falls into the next. click click click click …
The interesting point is the fact of the awareness. The design blog works automatically if you decide on following the existing tags instead of choosing your specific topic every time again. But still it is in my choice which tags I follow and that is what creates my own network in the blog. If I would have chosen other tags to follow or would have continue for several hours the whole structure would look different now. This is what makes the search unique and individual based. 
The essays I followed were always connected through at least one tag. The tag I followed. This is the same way I connected the domino stones.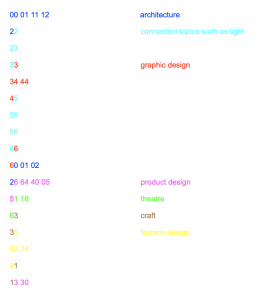 The numbers of my search getting higher and higher referring to the feeling of building up layers of pages. When I followed my 15th page I ended up at the same page as my second one and the layers got mixed up. Still, the numbers are connecting the different topics. 
Now when going back through my tags to reread the essays I came across I can go slowly back in timeline but only one by one not destroying the connections of my whole searching structure but staying in the network I created. 
by Marlene Stach