The front page of the book is plain white, with nothing but text – that's not so special, you would think. But the designer of this book, Experimental Jetset, describes their methodology as 'turning language into objects.' And so it is possible that a plane white cover with nothing but the title and a few words could catch my eye.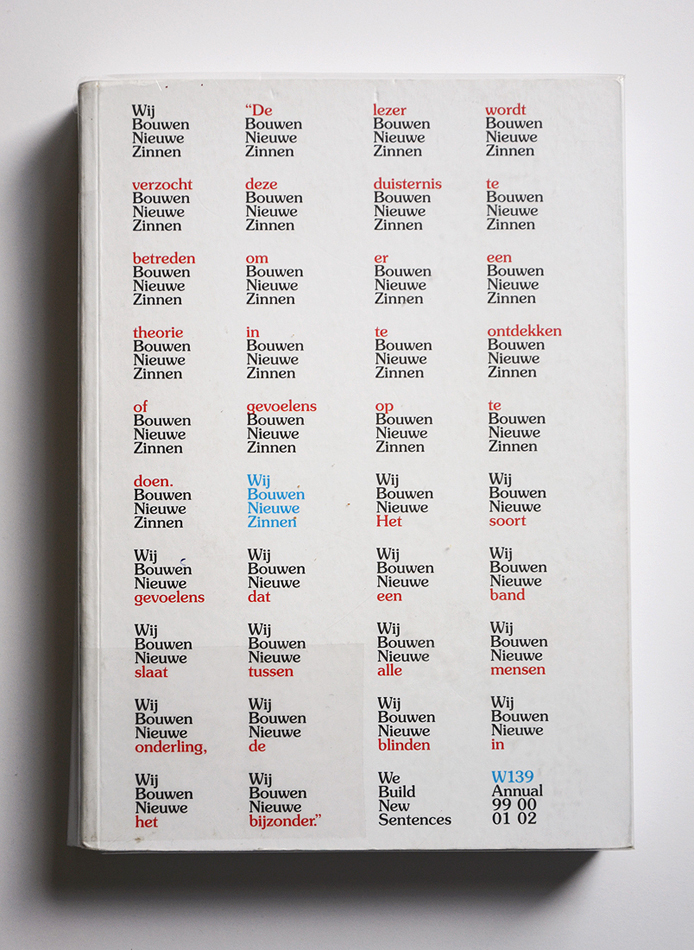 Experimental Jetset is a small Amsterdam based design studio, founded by and still consisting of 3 designers: Marieke Stolk, Erwin Brinkers and Danny van den Dungen. They all studied at Rietveld academy and formed Experimental Jetset together in 1997, after their graduation.
Not only on the cover of "Wij Bouwen Nieuwe Zinnen" (building new sentences) are words turned into objects – through the whole book, this theme comes back. "Wij Bouwen Nieuwe Zinnen" is an art catalog, presenting an overview of the exhibitions, and their contributing artist, that took place in W139 gallery between 1999 and 2002. Every exhibition that is described (in words and in pictures) starts with a blank page, like the cover of the book, with in the same block wise shaped sentences describing which exhibition it was, when it took place and which artist contributed to the exhibition. The space that doesn't have to be used for this information, is filled with word-objects saying constantly one thing: We Build New Sentences. In the pages that follow, pictures and texts are showed, a bit like you would expect it to be in a catalog, except the fact that the bottom of the pages is always reserved for the word-objects. Always you can find in the bottom of the page the name of the exhibition that is further described on the page, but the rest of the space in the bottom of every page contains more word-objects, which continue saying through the whole book: We Build New Sentences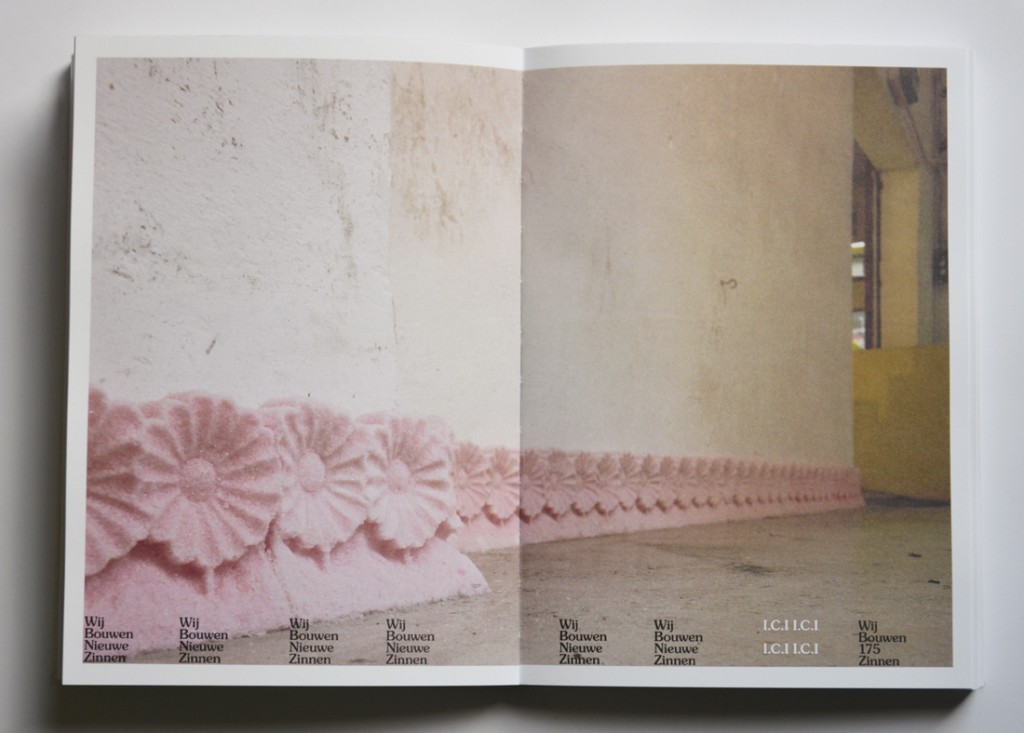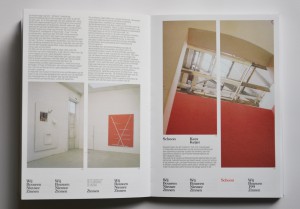 At designboom.com Experimental Jetset gives a very clear explanation of how they work with words as if it were drawings or 'objects'. 'Originally, the word 'graphic' is derived from the proto-indo-european base-word 'grebh', which simply means 'to carve' or 'to scratch'; but in greek times, the word 'graphikos' referred both to the act of drawing and writing. In a sense, we do believe that the current practice of graphic design still refers to this classic notion – the idea that writing is a form of drawing, and drawing is a form of writing.'
The way Experimental Jetset uses words in a certain shape and the repetition of this shape, I had never seen before. Because I am no designer, I am unable to see direct influences in the work of Experimental Jetset, but according to themselves they are influenced by all kinds of things, from punk to what they call 'the late-modernist landscape' in which they grew up. This is one of the reasons for their frequent use of the typeface Helvetica. 'It's only logical that this late-modernist dialect can be detected all throughout our work. we're simply not the kind of people who feel it's necessary to suppress one's own dialect.'
'We feel strongly connected to the Dutch graphic design tradition, much more than we feel connected to contemporary Dutch Design. Contemporary Dutch Design is often perceived as very ironic, and overly personal; something we have absolutely no affinity with. At the same time we do realise that our humourless and rather dogmatic way of designing is sometimes interpreted as ironic or even deadpan. We have learned to embrace this awkward friction.'
So though they invented a very original style, they did this in the 'language' they grew up with, and they often use nothing more than words and letters itself. I would call their work honest, and I think that is one of the things that I find so interesting and pleasant about their work.
Experimantal Jetset claims to have no affinity with 'overly personal' contemporary Dutch Design, but when I started my research on Experimental Jetset, it stroke me how many interesting comments the designers of Experimental Jetset make about themselves – in interviews, but also in the book the designers made about their own work: Statement and Counter-Statement. Notes on Experimental Jetset. These comments show a different image of the group: a very open group, eager to talk about how they work, how they come to certain designs, and even make personal notes on their own work. This is, according to themselves, to reflect on their work. In an interview they mention their way of using these texts: 'Around 2005, we decided to make our first proper website, we thought it would be interesting to include texts like these. Mainly because we don't necessarily see our website as a portfolio, attracting possible clients – we see it more as a diary, or a personal archive.' So in this sense, and maybe that is different from the 'contemporary Dutch Designers' they are talking about, they are very open about their way of working and about their work-proces, rather than putting personal issues in the works.
The good thing about the many comments Experimental Jetset makes about their work and their way of working, is that it is easyer to put the work in a perspective. The fact that the designers point out their influences themselves, that they describe their own method, is a parallel to their work itselve – works that are always very open. The designers of Experimental jetset are not these artistic magicians who do magic tricks – they use means that are recognisable for everyone, they explain what they do and why they do it and this brings the honesty and clarity in the design and the concepts of the designers.
Rietveld library catalog no : 705.9