The Netherlands is well known for its liberal thoughts and its sense of the ability of living a free life. I would like to go back to a period in time where I believe that this feeling of freedom started. Well, at least for me it started in this period. And after having seen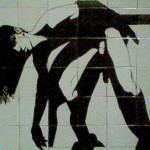 in the Zuiderzeemuseum some memories came back to me.
In the beginning of the 90s a new form of dancing and partying was developing worldwide: 'The House scene'. The Netherlands, and especially Amsterdam, was an important spill in this scene. Clubs like 'The Roxy' and 'The It' were internationally well known and formed the basis of experimenting within all boundaries of partying. In these clubs it felt as if all things were possible and all different types of people were accepted. This also attracted many homosexuals from all over the world to come to Amsterdam. Which led to an extravagant gay scene that gave these dance parties a free and exceptional character.

(house scene back in the early 90's filmed in The Roxy)
Until today many people try to redevelop the feeling we experienced back in the 90s by organising the same types of parties. Dressing up, drugs, gays, extravagant shows, and all other sorts of things are organised in order to recreate that great sense of freedom. In my opinion: 'Dutch folklore that developed into a worldwide dance scene'.