Dutch periodical founded by Theo Van Doesburg in 1917 and published in Leiden until 1932; the name was also applied from the 1920s to a distinctive movement and to the group of artists associated with it. The periodical's subtitle, Maandblad voor de beeldende vakken (Monthly Journal of the Expressive Professions), indicates the range of artists to which it was appealing, and van Doesburg's intention was that it be a platform for all those who were concerned with a new art: painters, sculptors, architects, urban planners, typographers, interior designers etc.
Proponents of De Stijl sought to express a new utopian ideal of spiritual harmony and order. They advocated pure abstraction and universality by a reduction to the essentials of form and colour; they simplified visual compositions to the vertical and horizontal directions, and used only primary colours along with black and white.
.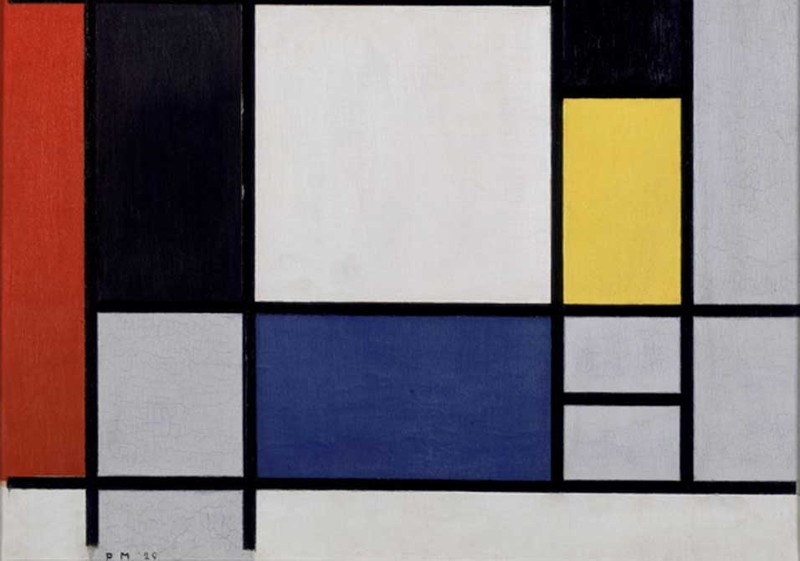 Piet Mondrian, Composition with Yellow, Red, Black, Blue and Grey
.
 – – –
De Stijl artists designed a great variety of abstract environments. Their work included coloristic projects destined not only for private houses but also for public spaces such as cafes and university hall.
Theo van Doesburg
Colour design for university hall, in perspective, towards the staircase 1923
– – –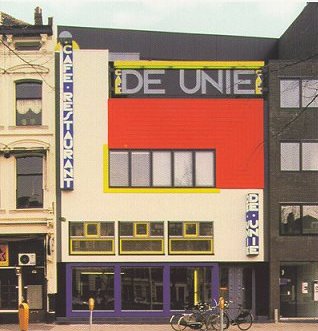 J.J.P. Oud
Cafe de Unie, Rotterdam
– – –
 Theo van Doesburg
Bar Aubette, Strasbourg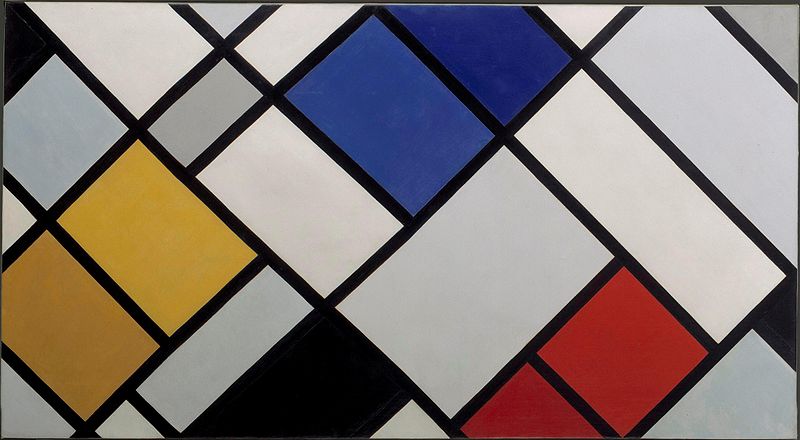 Theo van Doesburg Contra Composition XVI
– – –
The De Stijl artists were viewing their most abstract designs as proposals  for the future, when a new kind of harmonious environment would be needed to reflect a reintegrated social structure.
From the middle of the 19th century, according to Jan Krikke (2006) isometry became an "invaluable tool for engineers, and soon thereafter axonometry and isometry were incorporated in the curriculum of architectural training courses in Europe and the U.S. The popular acceptance of axonometry came in the 1920s, when modernist architects from the Bauhaus and De Stijl embraced it". De Stijl architects like Theo van Doesburg used axonometry for their architectural designs, which caused a sensation when exhibited in Paris in 1923″.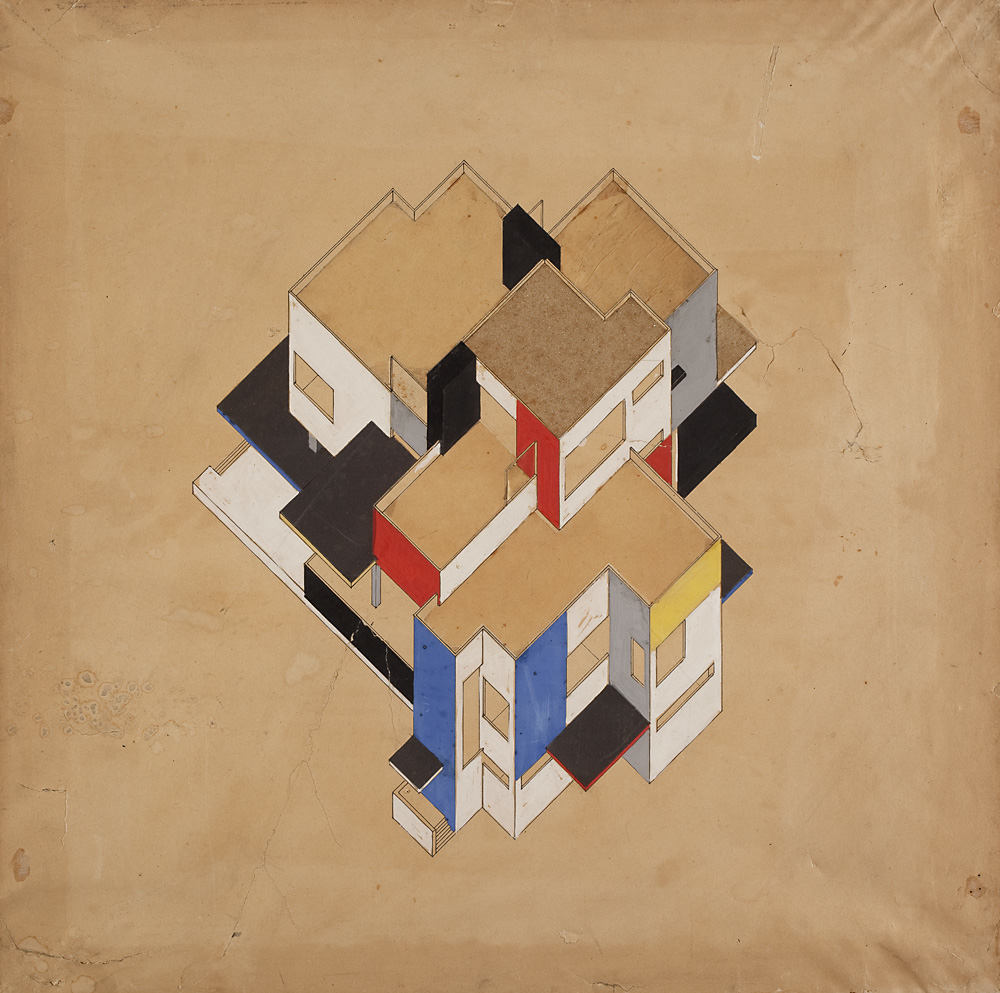 C. van Eesteren en Th. van Doesburg
Axonometrische projectie van de oost- en noord-gevel 1923
– – –
Van Doesburg stated his belief that painting in an interior is very different from painting on a single plane because in an interior the viewer encounters the compositional design through a simultaneous experience of space and time. According to van Doesburg, by insisting on the "plastic of the plane," Mondrian's spatial design confined itself to a sequential experience of space, one plane after the other, rather than promoting an apprehension of the elements of time and space as a unified entity:
"… I am now certain that painting in the interior in 3 dimensions, brings with it entirely different demands than painting on a plane. The interior again brings the time element to attention, and the earlier ornamentality was a vague, decorative manner of solving time and space as a unity. Since in his last article Mondriaan completely denies the time moment and wants to banish it from painting, for him 3-dimensional painting (i.e., space-time painting) must be impossible. He remains limited to the 2-dimensional canvas and the attempt to solve a  5-plane space as one whole is impossible in terms of 2-dimesional painting."
El Lissitzky, Proun space
El Lissitzky's concept of Proun (an acronym for the russian Pro Unovis – projects for the affirmation of the new) as a station or point on a continuum that begins with painting and ends with the construction of  a new form of utopian architecture has much in common with the ideas of the De Stijl artists, and many exchanges of influence are reflected in their work.
Lissitzky's Proun Space was a small interior, approximately 3x3x2.5 meters, which he designed as a demonstration of his abstract spatial concepts for an exhibition held in Germany 1923. Although Lissitzky had been involved in designing interiors for some time, the exhibition provided him with his first opportunity to create a harmonious expression of the unification of the arts — a "halting point on the way to constructing the new form" — in 3 dimensions.
In the Proun Space Lissitzky attempted to make painting architecture, and sculpture work harmoniously. In contrast to De Stijl practice of applying fields of bright, primary colours to given architectural surfaces, Lissitzky used only black, white, and gray paint on the walls. In some cases, however, he took advantage of the natural colour and texture of the wood reliefs projecting from the walls. He wrote that the reliefs provided the theme and focus for all the wall surfaces, thus emphasizing that physical matter projecting into real space was central to his concept of how the viewer apprehended his environment.