Bas van Beek, head of the Rietveld Academy Designlab department, teacher and practicing product designer is in almost all interviews and other bio's described as the bad boy of design in the Netherlands. Not only this nickname as well as the fact that most critics writing about him seem to agree on his position in the field made me interested in Bas van Beek as a person, as a teacher and head of designLAB and most of all as an independent design professional at Archiploitation.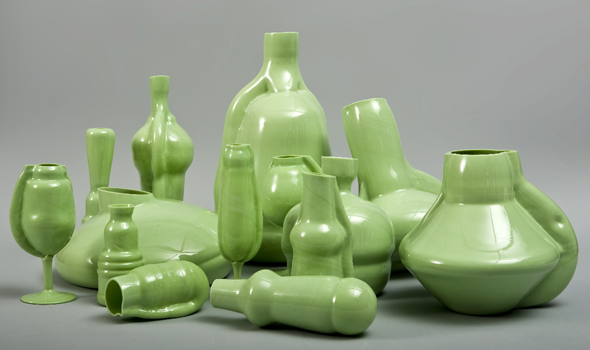 Van Beek's "Royal Rip-Off's"
Van Beek started studying interior-architecture in 1993, studied interior design in 1997, but never finished these studies. Simultaneously he studied interior architecture at the Willem de Kooning Academy from which he graduated in 1998. His final thesis, about a 3D scan of his own faeces as a critic on computer generated architecture, repeatedly sets the tone for most of the critics writing about him. During his studies he did 2 brief internships in Architecture offices. After his graduation Van Beek started his career as an independent design practitioner.
Back then, the Dutch government was supporting starting artists and designers with start-up grands. Putting Van Beek in a position in which he could start to examine what was going on in Dutch Design at that time without direct pressure to design to survive.
At that same time the Netherlands were drenched in what we now refer to as the design-art hype. An era in which the functionality and availability to the masses was subordinate to the (art-like) aesthetic, sensory experiences and emotional added value star designers could create in their 'products'. Which were all produced in very few numbers, only available through galleries or at auctions and eagerly sought after by elite collectors.
The changes in product design started off in the mid-eighties, the time in which Dutch designers like Ed Annink, Rob Eckhardt, Ton Hoogerwerf, Peer de Bruyn and a very young Marcel Wanders followed their predecessors Borek Sipek and postmodern Italian product designers, by making the message of their product more important than it's beautiful or functional form (source: Goed in Vorm; Honderd jaar ontwerpen in Nederland, Mienke Simon Thomas). In the years to follow, under the influence of the Italian postmodernism, independent designers started to break the boundaries between design, art, craftsmanship and even fashion. Leading to the rise of a form of industrial design that was very successful world wide, but which was hard to distinguish from the work of autonomous artists. The museums encouraged the break of the boundaries by extending their small collections of modern industrial design with these limited edition artifacts. Besides, specific galleries were opened that only operated in this new field of design-art. Magazines like Bijvoorbeeld, Items, Industrieel Ontwerpen and Vormberichten regularly published articles on these new developments. However, it seemed hard to have a grounded discussion about the this new kind of product design. Because if beauty, functionality and affordability were no longer an issue, how can these objects be judged/criticized?
Bas van Beek just started his career when the design-art hype was at it's all time high. I can only imagine him looking at the star designers that sold very few items for very high prizes and the magazines having trouble making any sense of these designs. In my mind it might have been his fresh out of school, critical view that made him decide to question the practice of these designers and the essence of product design instead of aiming for the same stardom status.
In many interviews as well as on his own website and in his book Hyper Hybrids (Bas van Beek/ Hyper Hybrids, exhibition publication), van Beek is emphasizing his preference for anti-xenophobic, anti-elitist, highly democratic product design. Such as the combination of product design and marketing that results in a very successful product and package design at Unilever and IKEA. And the work done by Dick van Hoff and the Bouroullec Brothers (source: The Bad Boy of Dutch Design Lets Loose, Gabrielle Kennedy, Design.nl 19/03/2009).
It is this approach towards design that led Bas van Beek to create his first collection "Rip-Off's" which he followed up with "Prequels". Van Beek's "Rip-Off's" consisted of 6 different versions of ten vases comprising known and (previously) unique pieces with parts that were interchangeable. Thus creating cheap copies of well-known expensive design products. However by making these copies just slightly different from their progenitor and producing them at high volumes, these iconic design products became available for the masses. He did not only criticize the exclusivity, anti-mass-production and limited productions of the star designers, he also raised awareness for the act of copying in design. According to Bas Van Beek, Dutch designers are doing nothing original, which made him question where inspiration ends and the copying and appropriating begins. It was this critical message that made the Boijmans van Beuningen museum show his collections. Nowadays his hybrid vases are sold by Pol's Potten (international chain for interior design ) making them easily accessible for relatively affordable prices. Although one might wonder how Van Beek's ideas can live along the vision of Pol's Potten when their corporate identity is all about HANDMADE and UNIQUE and one of the most striking things they mention about their products is: "We believe in small numbers, mass-production hardly ever fits in your really personal home".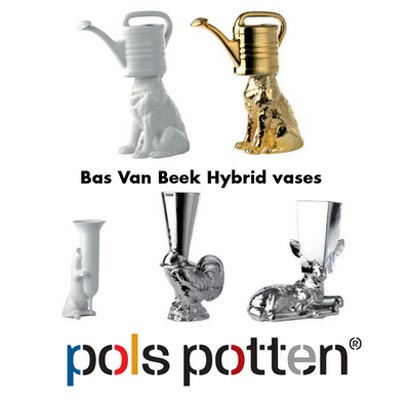 Bas van Beek anti design-art attitude does not mean he is against aesthetics in design. Bas van Beek says: "Besides developing a nice concept, it's also good if this is reflected in consistent high aesthetics.", when he is asked whether or not he follows Rietveld's design philosophy when it comes to teaching at the Rietveld Academy (source: interview for dutchdesigndouble flyer at Dutch Design Week 2010).
Louise Schouwenburg labels Bas van Beek in the article she wrote in 2005 for Metropolis M "A designer who is flirting with art, who is not criticizing originality but aspiring it himself". On the contrary, in my opinion, Van Beek is nowhere near art. He is a designer pur sang, interested in nothing but designing critical design. In his attempt he uses all channels/media within the realm of product design that are at his disposal: teaching, (re)defining an academic program (reaching out to be a leader in the field of educational reform in the Netherlands and abroad), writing, lecturing and last but not least his ability to make this point in his work as an independent design practitioner.
In the end, this research left me with 2 issues that make me wonder:
More recently for the Museum of the year Object, Van Beek delved into the rich history of Leerdam glass. He created "Cup and Paste", a cup and saucer based on the Berlage sketches of a cup and a series of bowls that Van Beek uncovered at the Netherlands Architecture Institute. Surprising enough "Cup and Paste" was produced by a factory in China as a limited edition series of 200… Is Van Beek slowly developing a little bourgeois mentality of his own? Is he falling for the seduction of commerce after all?
And however much Van Beek agitates against the well marketed and fabricated identity of designers such as Hella Jongerius and Richard Hutten, isn't Van Beek feeding his infant terrible image just as much in the way he portrays himself (check his iconic portrait pictures all over his website), continues to talk about fellow designers and how he pisses them off by copying their supposedly 'unique' designs?