Kunst en design. Vullen zij elkaar aan? Is het familie? Hebben zij überhaupt wel een relatie? Als ik mensen om mij heen vraag naar verschillen tussen kunst en design kom ik bedrogen uit. Lang nadenken wordt vervolgd door: 'Ik heb geen idee'. Maar ook over overeenkomsten lijkt 'men' nog niet nagedacht te hebben. Een interessante kwestie dus. Om te beginnen zoek ik op wat kunst, en wat design, in de volksmond als betekenis krijgen opgespeld:
–      Kunst: Kunst is alles wat door een mens is gemaakt en tot doel heeft menselijke zintuigen of geest te prikkelen door originaliteit of schoonheid.
–      Design: Design is daarentegen de creatie van objecten, omgevingen, grafisch werken (en enzovoorts) beoogt, zowel op functioneel als op esthetisch gebied en afgestemd volgens de eisen van de industriële productie.
Kunnen wij zo stellen dat kunst met een functioneel doel design wordt genoemd?

1] Temple of Truth. Three 7m high "Roman" columns consisting of paper strips with gossip articles, press statements, and chats regarding WikiLeaks. Part of the Metahaven installation at Graphic Design Worlds at the Triennale Design Museum in Milan, and also part of the WikiLeaks Identity research project. January 2011. 2] Happy Crisis. This poster is part of the Metahaven installation at Graphic Design Worlds at the Triennale Design Museum in Milan, and also part of the WikiLeaks Identity  research project. January 2011. 3] Radical Transparency. Transparent plastic banner. Part of the Metahaven installation at Graphic Design Worlds at the Triennale Design Museum in Milan, and the WikiLeaks Identity research project. Length: about 7m. January 2011.
Ik herken een relatie tussen kunst en design. Beide begrippen zijn familie. Toch kan ik vrij snel met uitsluitsel komen: kunst met een functioneel doel is niet per definitie design. Kunst richt zich namelijk veel meer op de mentale kant van de mens. Dit maakt het begrip dan ook zo ondefinieerbaar en onbegrijpelijk. Kunst roept emotie op. Emotie die niet stopt bij het geven van alleen een mening. Mensen kunnen ontroerd raken door kunst. En het kan zelfs zo zijn dat de kijker naar kunst iets anders ziet dan hoe de kunstenaar zijn werk heeft voorgesteld. Kunst is persoonlijk: het creëren is persoonlijk maar ook het kijken naar, het op je in laten werken van kunst, is persoonlijk.
Design heeft veelal een functioneel doel. Design is veel meer een hulpmiddel om veelal bestaande producten, diensten of kwesties te verbeteren of te verfraaien. 'Waar denk jij het eerste aan bij het woord design?' Stap met voorgaande vraag op een willekeurig persoon af en er zal een gebruiksvoorwerp als antwoord klinken.
En raar is dat niet. Alles in het leven wordt immers 'gedesigned' (en voor sommige mensen is het leven op zich al kunst). Daarom sprak design-research groep 'Meta Haven' mij ook zo aan. Velen van ons, en ik stiekem ook, waren vergeten dat design niet alleen een relatie kan hebben met gebruiksvoorwerpen, maar ook met ethische of maatschappelijke vraagstukken. #Daniel van der Velden en #Vinca Kruk , oprichters van #Meta Haven, hadden dit -gelukkig- wél door. Sinds 2006 doorbreken zij samen de vastgeroeste 'design – gebruiksvoorwerpen link' door met behulp van design ethische en maatschappelijke kwesties aan de kaak te stellen. Niet geheel voor de hand liggend en daardoor des te leuker. Zo probeert Meta Haven langzaam maar zeker tijdens het 'aan de kaak stellen van ethische en/of maatschappelijke kwesties' design te verbreden, zodat ook bij dit begrip emoties om de hoek komen gluren.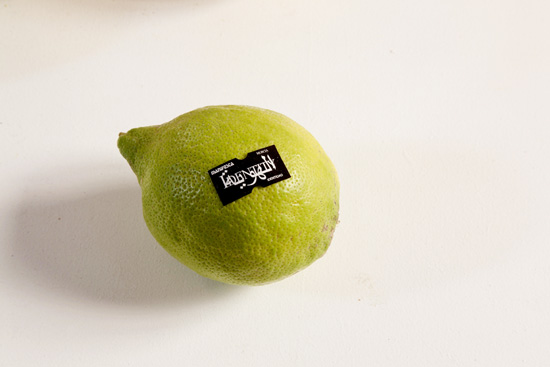 Een heel mooi voorbeeld liet Meta Haven zien tijdens de #Manifesta 8. In het gebied waar de Manifesta 8 afgelopen jaar (2010) plaatsvond, Murcia, worden velen fruitsoorten geproduceerd. Jammer genoeg gebeurd dit niet altijd onder de juiste economische en politieke omstandigheden. Om aandacht te vragen voor deze ethische kwestie, ontwierp Meta Haven een label dat de verwijzing naar deze onjuiste omstandigheden weergaf. Het fruit verspreidde zich zodoende mét label via de bestaande marktkanalen van Europa.
Volgens Daniel van der Velden gaat design altijd om onderzoek. Hoe kan iets mooier, beter, sneller? Met Meta Haven doet van der Velden daar nog een schepje boven op. 'Wat is er mooier dan het anticiperen op, en onderzoeken van gebeurtenissen en kwesties die op dit moment spelen?' Het aan de kaak stellen van verschillende kwesties kan dus speels,  en op een leuke manier. Zo deed Meta Haven vorig jaar nog verschillende voorstellen voor het nieuwe logo van #Wikileaks. Na grondig onderzoek naar deze organisatie kwamen daar verschillende logo's met verschillende achterliggende gedachten uit voort.
Kunst met een functioneel doel vind ik dan wel niet per definitie design; ik vind wel dat kunst en design tot dezelfde familie behoren. Een design-research bureau als Meta haven laat goed zien dat er wel degelijk een relatie tussen beide zit. Design blijft negen van de tien keer functioneel máár kan in het geval van Meta Haven ontzettend goed aanzetten tot nadenken. Zo vergelijk ik kunst en design met twee neefjes. Trek tijd, plaats of visie naar een hoger niveau en je zult zien dat beide neefjes met elkaar spelen. Design is niet per definitie kunst met een functioneel doel maar design heeft wel de potentie kunst te worden.