Creating a headpiece/mask by dissecting the personality of a person who inspires you is quite a challenge. I had to ask myself "who was the last person that has inspired me? Andy Goldsworthy  was the first person I could think of, because I really felt connected with him. Especially the way he worked with nature and not against it. What attracted me the most,was his artwork not the person behind it. But when I started to engaged my project idea with his work, all of a suddenly the excitement about him was gone. Because I just realized that it was not working out since my project idea was more based dissecting the personality of a person and not his work. And so that is why I had to leave my first choice behind. I decided to make a change.
The new person not only inspired me but is also someone I am related to and have a deep and true connection through the love of art. It is my great-grandma from my mother's side. I never met her but I heard many stories from my mom and grandma about her. I grew up in the very same house where she spent her whole life, where she had worked on her projects and spent time with her family and friends.
She lived her whole life in Austria. Between 1930-1934 she studied ceramics at an applied arts school in Graz. I had an opportunity to go to the same school to study metal and jewelry design. She never worked as a ceramicist. Until she died at the age of 75, she worked as an graphic designer and painter.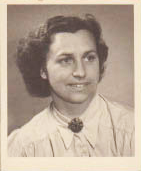 She was a very modern woman for her time, even in today's time I would say, she was the person in the family who provided for the main income, and her hobbies were hunting and fishing. Really surprising for her time is that, she got married three times. She was a powerful and independent woman.
How to start? How can I translate her into a headpiece?                                                                                          
I tried to picture how she would look like today. If you would read her story without knowing when and where she had lived, you could easily think she lives in today's time. As the strong person she was she wouldn't care so much about what others think of her. She would wear whatever she felt like, really colorful with a lot of patterns in sometimes crazy combinations, but also she wouldn't go too far, she knew exactly how far she could go without making a fool of herself.
I started to collect textile which I thought she would have liked to wear, patterns which reflects her personality. With the headpiece I wanted to show the two sides of her, the creative and loving person she was and on the other side the strong, independent and professional woman.
One story that my mother told me, over and over, is that the staircase at her house was full of horns and stuffed animals, trophies from her hunting trips. She must has been really proud of her hunts. So I came up with the idea to create deer horns with the textile I collected. For me this seemed like a good way to honor her.
 The horns are made out of textile, there is no other material underneath which keeps it in form, just textile brougth in form with wool.
With these colorful textile horns I created a headpiece, but there was something missing. It looked like a really girlish flower crown with no sign of the strong powerful woman that I had imagined of my great grandma. I had to find a material which could show this side of her. I tried many other different materials: wood, stone, plaster, wax… but nothing was really satisfying me.
dipped in wax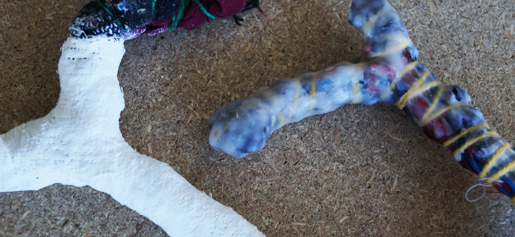 rapped in plaster
But finally through coincident I found the perfect material. I wanted to create a mold out of plastic for the wax, I used the textile horns as the base for the mold, so I had the same horns in plastic. They were perfect and exactly what I was looking for.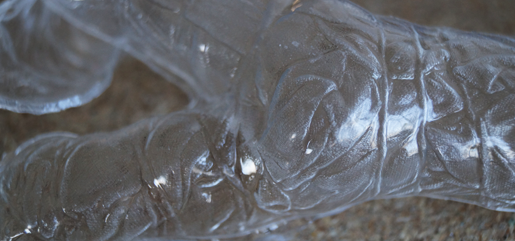 you can even see the structure of the textile
So in the end I used the plastic and textile horns to create my headpiece. It wasn't easy to put them together i must admit that, without care it looked like a crown or a kind of messy thing with no form at all.
With a lot of trying out and taking pictures of myself wearing it, I came to my end result.
Finding out my great grandma's identity was a great journey.  I feel much closer to her now. She became a real role model to me. Even though she is not alive anymore, I think I can learn a lot from her. With my headpiece I want to shorten the distance between us, it helps me to connect to her.