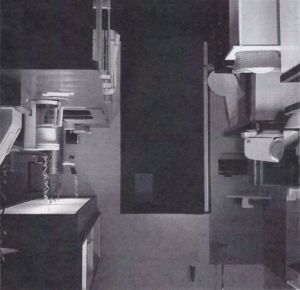 The text is based on the Dutch architect and graphic designer Hendrik Wijdeveld's text about "Chaos and order in the modern city life". The blog-post starts with:
"Chaos and order in its most extreme form can be used as a formula for practically everything. From the beginning of time to the death of universe."
The blogpost also refers to the Saussurean constructionist's who believe that you cannot understand a word until you are aware of its opposite. To understand order you need a understanding of chaos. A lot of focus in the blog-post is on the Universe and life/death in relation to order and chaos. To grasp this huge questions is not simple and I tried to relate the idea of chaos and order on myself.
If you see "order and chaos" from a personal perspective chaos and order are essential elements of daily life. It is impossible to have order everywhere. Chaos is somehow always present. It is as if you are just able to focus on order for some elements of your life at the same time. When you focus on one part and create an order other parts will be in a state of chaos. A very literal example is an article I read about that it exists two types of people the type who is spending a lot of time on cleaning and therefore can find everything fast and the type that is living in chaos but does spend a lot of time looking for things. Both types are spending the same amount of time but some are creating order and others do search in chaos.