Warning: Do not scratch the surface.
FAKING IT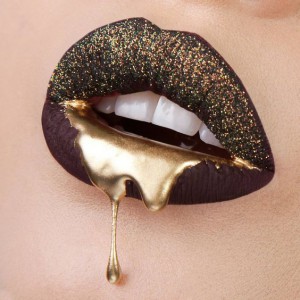 Faux design surfaces transferred onto the body.  Changing our body's surface to change the image we wish to project. Changing identity by changing to the sheen of our lips, the sparkle of our nails.
This display seems to not be in line with the design intentions of other faux surfaces. These which aim to imitate the original using different materials. Perhaps the original intention of lipstick was to make lips more real than real lips. Brighter, shinier, more appealing. Pushing the limits of the possibilities of changing the way we look. More than meets the eye. Imitation that becomes more real than the real. I cannot help but think that these extraterrestrial lips and nails would feel more at home in the LUSTRE part of the exhibition.
How much can we fake it before it becomes part of our selves. Rather than blending as most faux surfaces attempt to do, the faux lips and nails aim to stand out. To attract attention to its fake-ness, to its extreme… likeness to nothing bodily. First to accentuate then to accelerate then to obliterate.
Three screens and a nail salon occupy a central space, attracting people to participate like magpies drawn to the shininess.
The works created by Jonathan Auch for Koehorst in 't Veld, curators and directors of the Designing the Surface exhibition, differs from the artists' usual street photography style. Black and white photographs of real people in real settings. Rough, gritty, textured faces of everyday faces. Seems odd then, this choice of work for this exhibition.
Jonathan Auch for Koehorst in 't Veld, Nailsalon screens Mother/Father/Child 2017. exh.cat.no.24A/24B/24C