Choosing an artist from the list that we had been given, I quickly googled a few names and crossed that of Jaime Hayón who, during the 90ties, had studied at a Design Academy funded by Benetton (among others in Madrid, Paris and San Diego). He there had worked "closely with the legendary image-maker and agitator Oliverio Toscani" as is explained on his web site.[1]; (You might remember this one – made a few very critical commercials for the company, also the one displaying the anorexic girl)
Thrilled, I decided to go for Hayón only to find out that there is unfortunately nothing very controversial about him. With his 37 years, living practically all over in Europe, he is quite an internationally popular designer. Or artist?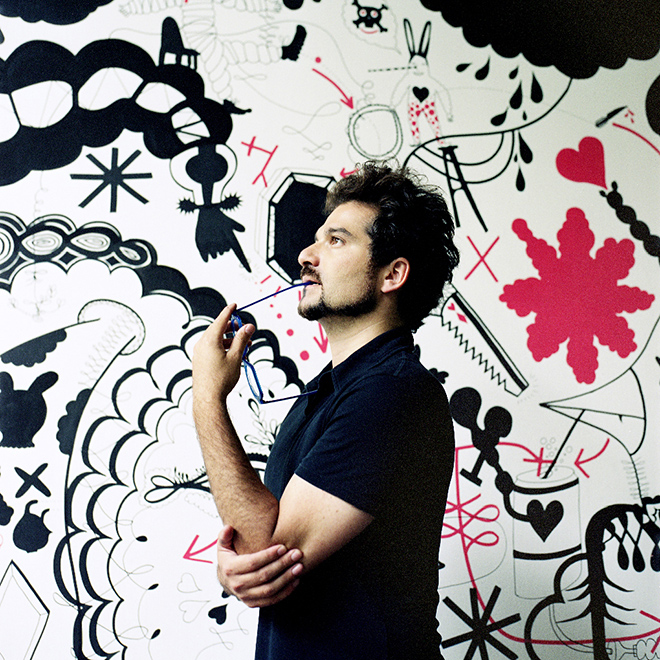 Very hard to say, since he clearly works on both sides of the road.
He graduated as an industrial designer and has – until now – designed a whole range of, and very, industrial products such as for instance a bathroom collection for ArtQuitect, all kinds of domestic furniture for b.d ediciones, Established&Sons and Moooi, lighting fixtures for Metalarte and Swarovski, vases for Gaia and Gino, ceramic objects for Bosa Ceramiche and so on and so forth.[2]
There are however those other pieces he created, often marking major break-troughs in his career, that are more likely to be linked to the Fine Arts.
So, for example, the installations he produced for the Italian company BISAZZA Home. There is this giant Pinocchio and yes, it's a piece of furniture.
Only a year or so later he designed (for the same label) another unconventional sofa:
A mosaic Jet-Lounge-Couch-Thing (don't mistake it for being small – it is huge.)
Last but not least, there is of course also the "part shoe-store, part Hayón museum" in Tokyo that he designed for the shoe label Camper which became a place that "encourages customers to interact with merchandise and art alike[…]."[3]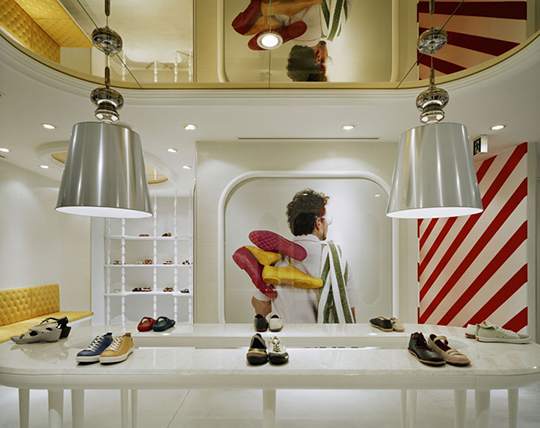 He thus created much rather his own gallery than a store.
Being asked on the matter he inter alia adds that limited editions are becoming quite popular among designers these days (something which serves the fusion of design and art a great deal) causing the "design world to slowly yet drastically change".[4] But after all this is not only a development of art, as Hayón also rightly observed: "We live in a hybrid world- everything mixes […]. Everyone does everything, we merge and create hybrid forms and thus we create beauty."[5] I think this might be quite an important remark considering today's world: an environment of a 1000 possibilities. A world that allows you to orientate completely new in your career – still at the age of forty. A world in which you can travel for only 10€ from Berlin to London (mind you, a distance of nearly 600 air miles!). Finally, a world that enables you to have that little small-talk chat, with an Inuit, a Chinese and a South-African, all at the same time, and on your sofa, if you prefer so! I can see the rightness of it now and here in this very spot where we find ourselves: at the Rietveld Academie.
So many different nationalities, so many different minds and tastes that result in an extraordinary richness of creativity.
However, Hayón himself doesn't consider it an important quest to name or label professionals whether they account for a designer or an artist. And that's one of the very few things I quite share with him: "such designations are not the point."[6] Because after all – whether designer or artist – in the first place, he is a "creator"[7]. An explanation from him I found quite beautiful and thus will quote: "To create is to tell stories. I feel passion for what I do. There are stories to be told and emotions to be shared with the work."[8]. "Designers can make the world into a theater."[9]
But other than that I also realized that there is no need to label him because he constructed himself a kind of plat-form, a basis from where he can act freely and independent. He basically put himself in a position of something different from a mere designer or artist. In this position he seems to serve a certain need of our society, a need that doesn't call for the business role of a designer or the cultural significance of an artist.
Some critical voices regard him as "arbitrarily"[10], "too fashionable"[11] ( and when scrolling down some blog comments, often also "meaningless", "senseless" and "absurd"). But having read into the matter for quite some time now I believe that in Hayón's position, his work doesn't necessarily have to deliver a message or contain any kind of profound meaning. It may seem bold to compare him to Jeff Koons or perhaps even Andy Warhol but it is certainly a similar kind of attitude he displays. It is the way of presenting himself in front of his work which gives his own personality especially in relation to his art a much more important factor.
It begins with the presentation online. Many, no, most of his works are fashionably presented by none less than himself (as can also be seen in the "part-shoe-store-part-Hayón-museum" in the picture above):
I will have to leave it to him that he is a master of "self-PR"[12] and as crazy and whimsical as his art, Hayón promotes himself a bit comical, somehow freaky but definitely always with a certain air of coolness.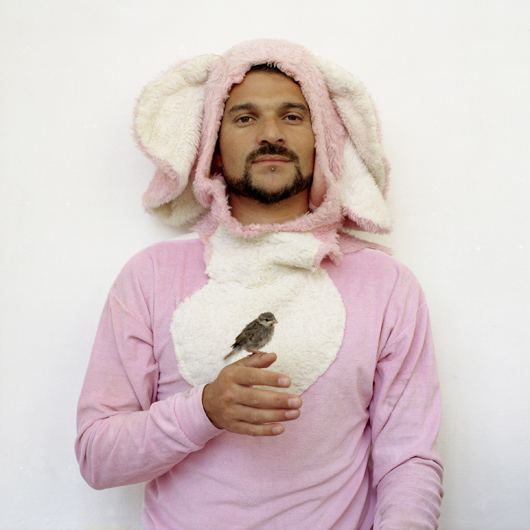 Even the materials he uses contribute to this flashy, new, "super-modern-rich-kid-fashion". The lush use of leather, mirrors or marble. Abundant shiny surfaces of glass or metal that make most of his designs seem almost futuristic. "I very much like gold and already often used it in my work. It is very chic […]."[13]
It is not just his world we look at – it is his show. So – well chosen – , also the name of his last collection for b.d. ediciones: "Showtime". Magazines praise him as a "Global Player" and assure you his works to be inspired from "old Hollywood-Musicals"[14]. He lives in London, Madrid and Treviso, speaks fluently Spanish, French and English and travels so much that, sometimes, he can't remember where he has been to [15]. He works together with various celebrities from all kinds of areas ( as for example star chef Ferran Adria and so on) [16] and has so many inquiries that he gets to chose his employer.
At this point it becomes obvious that Jaime Hayón is neither really a designer nor a true artist. He is a star.
And whether you find that pleasing or not – I will leave to you.
---
[1][2] www.hayonstudio.com : [3] (Page 37, Interiors Magazine, 2010) : [4]/[6][9] (Page 167/166, Frame Magazine °49, 2005) : [5] http://www.welt.de/lifestyle/article3472188/Jaime-Hayon-wirbelt-die-Designwelt-auf.html : [7][8] (Page 66, build Magazine, 2/2008) : [10][12]/[14] (Page 14/12, KulturSPIEGEL Magazine, 3/2008) : [11] (Page 70, Icon Magazine, august 2006) :
[13] http://www.designlines.de/im_gespraech/Jaime-Hayon_276692.html?show=show_comments#commentform : [15][16] http://www.welt.de/lifestyle/article3472188/Jaime-Hayon-wirbelt-die-Designwelt-auf.html)