The aim of this project was to get introduced with the several methods of design research. This 3 week project took place under the supervision of Sophie Krier and Cynthia Hathaway. Because of the short time span in which the course took place, the schedule was packed full of activities, making it an intense first experience.
The case of this project was all about cups. We were to become cup professionals, gain the uttermost expertise in the world of the cup.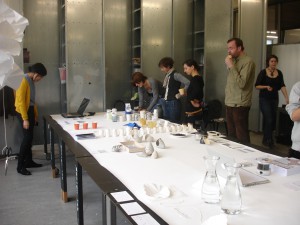 We started off visiting several designers including Christien Meinderstma, Judith Montens and Mara Skujeniece who would give explanations on their research methodologies and how they used that to create their products. We also visited exhibitions to open up the perspective on the amount of cup related work which already has been made. What makes these cups unique, what are the characteristics, what's the story behind them? The daily use of cups and the amount of them is enormous so also these were closely observed.
This part of the project also consisted of several practices to improve the way we look at objects for what they actually are. For the cup this meant looking at what characterizes it, how much does it weigh, can you see where it has been made and how it's been made, what sound does it make when it falls? Seeing all these variables made us think about what a cup needs to be a cup.
After seeing and divining all these characteristics of cups we had to pinpoint elements which attracted us and made us want to dig into it. This could be improvements to certain cups, a feeling you want to achieve, make it more useful or if your fascination lead you in that direction it's decorative elements.
After finding our interest we dived into the project, finding out what made up this fascination. Both artistic/intuitive mixed with academic approaches, including experimental and conventional methods. Getting as much as possible knowledge, getting all the available relations, testing values trying to becoming all knowing of the subject.

Information Obesity or infobesity, with the gathered sources, information, sketches, prototypes piling up growing from a drop to an impenetrable swamp, it's time to focus and narrow down again. We had to find out what led us to the point where we were and clarify it's road map. Finding the central point of our fascination, which holds all your research together. Then we had to reason if all the made steps are good/necessary and have a purpose for the coming developments. During this process it's important to be able to "kill your darlings"  meaning that even though an idea may be good, it might not work for this project.
After the point of having our workflows and concepts concentrated and reevaluated we looked at how to give it a form. This is where the designing starts! After organizing your findings and reading the conclusions you made it's time to create a way of speaking so you can share your results with the world. The results were all kind of types, some on the border of what a cup is while an other is a ultra portable cup. The example below made by Cecilia Valentine shortly shows how she came to the idea of drinkable prints which printed at home can take bring flavors in any image you want.

During the evaluation all the work was put together in a show to see if the steps of your research are traceable but not to obvious. The product shouldn't leave the spectator guessing because there are holes in the results from your research. At the same time the product should also be strong in itself, showing an unified look which is theoretically backed by the research.