Cow benches (2005)
Ik heb me verdiept in het project Cow benches (2005) van Julia Lohmann, een serie van 18 leren banken in de vorm van koeien zonder kop en poten. Het leer is van koeien, en het is in precies dezelfde positie op 'het dier' (in dit geval schuim en hout) geplaatst als op het destijds nog levende dier. Haar concept: we zitten altijd op leren banken, maar je beseft niet dat het leer van koeien komt. Als je op een Cow bench zit, besef je je dat wel.
Wat mij interesseert in Julia Lohmann is dat ze in mijn ogen een dierenactiviste is, en dat door middel van design probeert te uiten. Ze schreeuwt niet om aandacht in demonstraties waarbij ze bloed op bontjassen gooit. Ze wil juist de consument zelf laten ervaren dat leer niet alleen een product is, maar ook deel van een levend wezen is geweest, dat wij voor onze consumptie geslacht hebben. Dit zorgt wat mij betreft voor een veel intensievere beleving dan een demonstratie.
Ik vraag me af of zo'n letterlijke weergave van haar onderwerp sterk genoeg is om het publiek te confronteren met hun dubbelzinnige, hypocriete houding ten opzichte van dieren.
The Lasting Void (2007)
In haar project The Lasting Void (2007) gaat het Lohmann erom hoe het beeld dat wij van dieren hebben, verandert. Op welk moment verdwijnt het medeleven voor het dier. Is het niet vreemd dat we het zielig vinden dat een dier wordt gedood, maar dat we ons daar plotseling overheen kunnen zetten als het dier een consumptieproduct is geworden. In dit (en haar andere) werk gaat het haar om het 'gat' tussen die twee opvattingen: hoe werkt dat in ons hoofd? Hoe zetten wij ons zomaar over dat medelijden heen?
Erosion (2007), Kelp Constructs (2008)
Zo bevindt zich er ook een heel dierenstatement achter de projecten Ruminant Bloom (2004) (lampen gemaakt van schapenmagen) en Snow-whites (2006) (porseleinen muisjes als accessoires, gebaseerd op slangenvoer). Bij Ruminant Bloom intrigeert het haar dat je twijfelt tussen de aantrekkingskracht van de lampen en het afstotende effect ervan, als je weet waarvan ze gemaakt zijn. Ze speelt in op de beleving van de kijker. 'Design kan ons laten beseffen hoe we ons leven leiden, we moeten stoppen met gevoelloos naar deze wereld kijken', zegt Julia Lohmann op haar site www.julialohmann.co.uk .
Julia Lohmann maakt trouwens niet alleen designwerk met dieren als middelpunt. Zo is er ook een project genaamd 'Erosion', waar ze zeep gebruikt als materiaal voor meubels. Ook heeft ze geëxperimenteerd met zeewier als materiaal.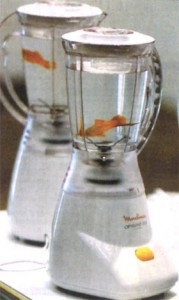 Fish Blender van Marco Evaristii (2000)

Goudvissen spartelen op het doek, Theo van Meerendonk
Het lijkt haast een trend, tegen dierenleed protesteren in kunst en design, door dan zelf maar als kunstenaar dieren te mishandelen. Marco Evaristii en Theo van Meerendonk hebben allebei geprotesteerd tegen vissen als sport, en het eten van vis, door middel van kunst.
Evaristii stopte goudvissen in blenders, en exposeerde ze. Bezoekers konden zelf beslissen of ze op het knopje wilden drukken om de goudvis te pijnigen. Theo van Meerendonk doopte vissen in de verf en liet ze spartelen op het doek, tot ze stikten.
De reacties lopen uiteen. Velen vinden deze daden barbaars, de dieren lijden onnodig pijn. Anderen vinden het goed dat dierenleed zo aan de oppervlakte gebracht wordt.
Hier kun je meer lezen over een onderzoek
dat is gedaan naar het pijn lijden van de dieren in kunst,
en hoe dat tegenover de dagelijkse slachterijen in de vleesindustrie staat.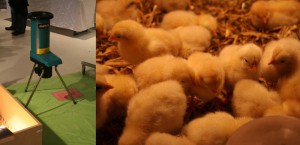 Save the males (2007) van Tinkebell
Tinkebell, een Nederlandse kunstenares en designer, houdt zich ook bezig met dieren in haar werk. Ze is bekend geworden door het doden en villen van onder andere haar eigen kat, omdat ze er een tas van wilde maken. Ze snapt niet dat een huisdier gebruiken voor bont niet 'kan', maar andere voor consumptie gerichte dieren, zoals koeien en varkens, wel.  Ook 'redde' ze 60 mannen kuikentjes uit de fabriek, en verkocht ze op de design beurs. Ze waarschuwde mensen dat de kuikens die niet verkocht zouden worden, door de versnipperaar zouden gaan. Deze kuikens zouden in de fabriek ook gedood worden, omdat de vlees industrie niets heeft aan mannetjes kuikens. (Ze leggen geen eieren, en ze zijn ook niet vet te mesten.)
Voor meer details, lees dit interview met Tinkebell.
Ze is vaak beschuldigd en bedreigd, terwijl ze alleen laat zien, en dan zelfs nog op kleine schaal, wat er dagelijks gebeurt met duizenden dieren. Alleen voor ons, omdat wij willen eten. Aan alle haatmails is wel te zien dat zoveel consumenten zich niet beseffen wat ze consumeren.
Dat is ook waar Julia Lohmann zich aan stoort. Ze wil ons consumenten bewust maken van het materiaal waarop wij zitten, en dat dat materiaal afkomstig is van dieren.
Als ik de aanpak van Julia Lohmann en Tinkebell en de andere kunstenaars vergelijk, kom ik erachter waarom ik de Cow benches niet zo'n geslaagde uitwerking van het concept vind. Al deze designers en kunstenaars willen een statement maken over onze manier van omgaan met dieren (in de industrie). Tinkebell (en Evaristii en van Meerendonk) doet dit door te shockeren, waardoor ze ten eerste meer (media)aandacht krijgt, en ten tweede geloofwaardiger overkomt. Door te shockeren laat je zien dat je ergens compleet achter staat, dat je het keihard meent.
Julia Lohmann maakt haar statement wat minder sterk. Ze doet dit door product design te maken voor de niet-bewuste consument.
De Cow benches geven naar mijn idee te weinig aanleiding daartoe. Doordat ze de banken in het weiland en in de stal plaatst, haalt ze haar stelling, dat we vervreemd zijn van het dier als levend wezen, behoorlijk onderuit.
Om het protest (gedachte erachter) van Lohmann te snappen, heb je uitleg nodig. Bij Tinkebell ervaar je dit zelf.
Het gebruiken van de letterlijke vorm van de koe beperkt haar in de mogelijkheid om haar boodschap over te brengen. Ik had graag gezien dat ze wat meer had geëxperimenteerd met de vorm.
Julia Lohmann is heel gelukkig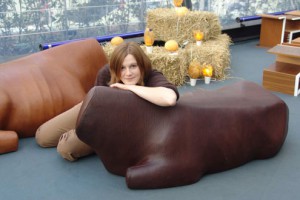 samen met haar Cow bench