Goethe focus his notion of colour on the sponeous sensory experience. His theory is based on how colors are perceived by human brain. He's not looking for a material definition as Newton did.
He did a lot of experiment, describing phenomena such as coloured shadows, refraction and chromatic aberration.
Goethe after some observation, deduct that Newton's theory was missing something about colours. He didn't see darkness as an absence of light but rather at polar to and interacting to the light; colour is a result of interactions between light and darkness.
Goethe studies began with the experiments which examined the effects of turbid media such as air, dust, and moisture on the perception of light. He observed that light seen through a turbid medium appears to us yellow. He took the example of the sun seen through the atmosphere: when you look at the sun rising it appears yellow red, more there is particules, more the sun is red. Otherwise, when we look at the sky we actually look at the darkness of the space. The blue of the space is the particles from the atmosphere reflecting the sunlight, so we have light on obscurity ( more the layer of particles is thin more the sky is dark blue).
From this starting point, Goethe developed his theory on the polarity of colors: real close from the  light there is yellow then red, and real close from the darkness there is blue then green. He also concluded that colour is a dynamic process from his experience with a moving prisme. He founded a spectra different from Newton, adding: cyan, yellow and magenta.
Goethe also include aesthetic qualities in his colour wheel under the title "allegorical, symbolic, mistic use of colour":
red is beautiful,orange is noble, violet is unnecessary, yellow is good, green id useful and blue is common. These six qualities were assigned to four categories of human cognition: the rational (red/orange), the intellectual ( yellow/green), the sensual ( green/blue) and the imagination ( red/ violet).
He also made the "rose of temperaments", an earlier study (1798/9) by Goethe and Schiller, matching twelve colours to human occupations or their character traits (tyrants, heroes, adventurers, hedonists, lovers, poets, public speakers, historians, teachers, philosophers, pedants, rulers), grouped in the four temperaments: melancholic, choleric, sanguine and phlegmatic.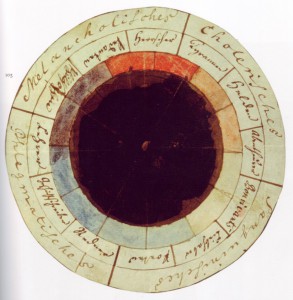 Should your glance on mornings lovely
Lift to drink the heaven's blue
Or when sun, veiled by sirocco,
Royal red sinks out of view –
Give to Nature praise and honor.
Blithe of heart and sound of eye,
Knowing for the world of colour
Where its broad foundations lie.
—?Goethe