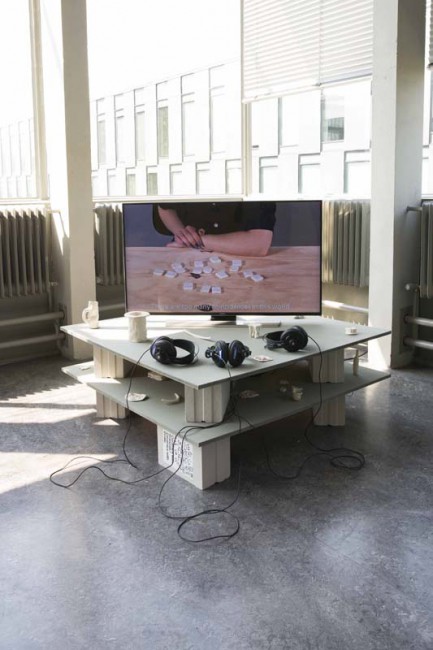 Rietveld Graduation Show
Émilie Ferrat [x] and François Girard-Meunier [x] graduated from the Department of Graphic Design. As part of their graduation show they presented a collaborated project 'Ceramics with Émilie / Ceramics with François.' This project was chosen by an independent jury to be nominated for the Design Award and was for that reason part of the exhibition 'Selected Gerrit Rietveld Academyie Awards 2015' organized in Castrum Peregrini [x].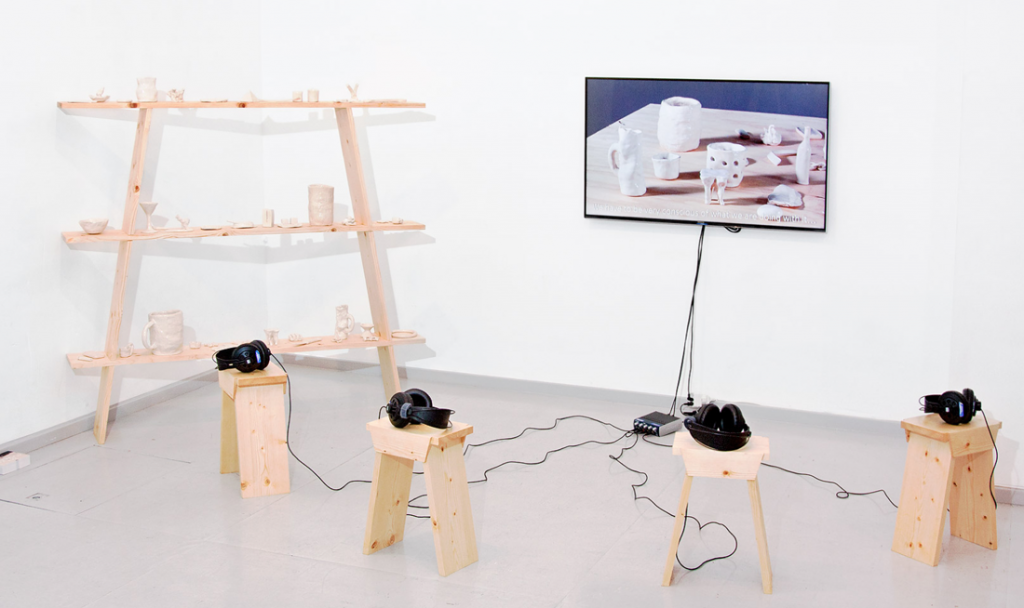 Castrum Peregrini Presentation
Ceramics with Émilie / Ceramics with François
'The medium is the message.' These words of Canadian philosopher Marshall McLuhan still offer room for artistic exploration. Because how exactly the message changes when the medium, or the material, is changed remains shrouded in mystery. In their collaborative project, graphic designers Émilie Ferrat and François Girard-Meunier use a classic yet surprising approach: dialogue.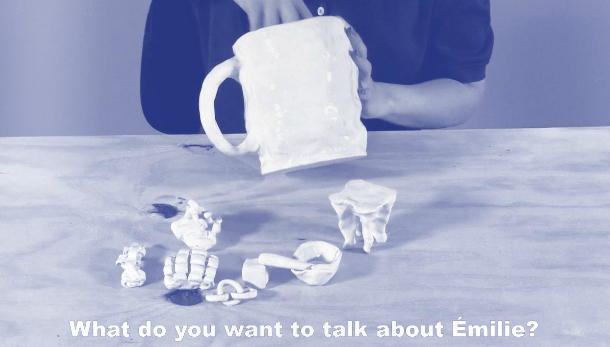 The installation consists of a video of the two designers conversing and a number of glazed clay models –a mobile telephone, for example, and shot glasses, jigsaw pieces and some undefinable models– with which Ferrat and Girard-Meunier stretch the boundaries between form, material and meaning. A new plain field is established. The video shows their fresh and resolute debate on their progress in working with ceramics – a new material for both of them. The dialogue is explicitly overacted, which stresses the artificiality of the form (a recorded conversation about models they made earlier). The overacting harmonizes nicely with the glaze on the clay models: a shiny layer upon robust content. The spoken and material form are one.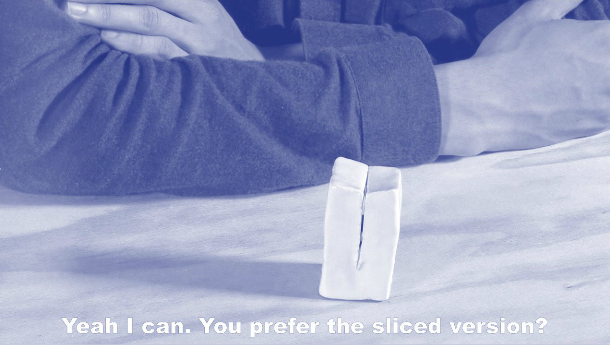 'Do you think it's the ceramics that is giving meaning to our talks,' one of them asks, 'or rather that our talks are giving meaning to the ceramics?' The relationship between words and things is a complex one. It is a relationship that has puzzled many philosophers, artists and linguists. By deliberately speaking as amateurs, ferret and Girard-Meunier open up a new perspective on this relationship.
The material prompts conversations that lead beyond just ceramics: design in a broader sense, a philosophical 'brain in a vat' argument, personal insecurities and the history of art, these are all subjects that lay hidden in the material. The ceramics function as a conversation starter: the medium turns out to contain many messages.
text by Thomas van Huut [x]
for full length video [19 minutes 54 seconds] contact François Girard-Meunier