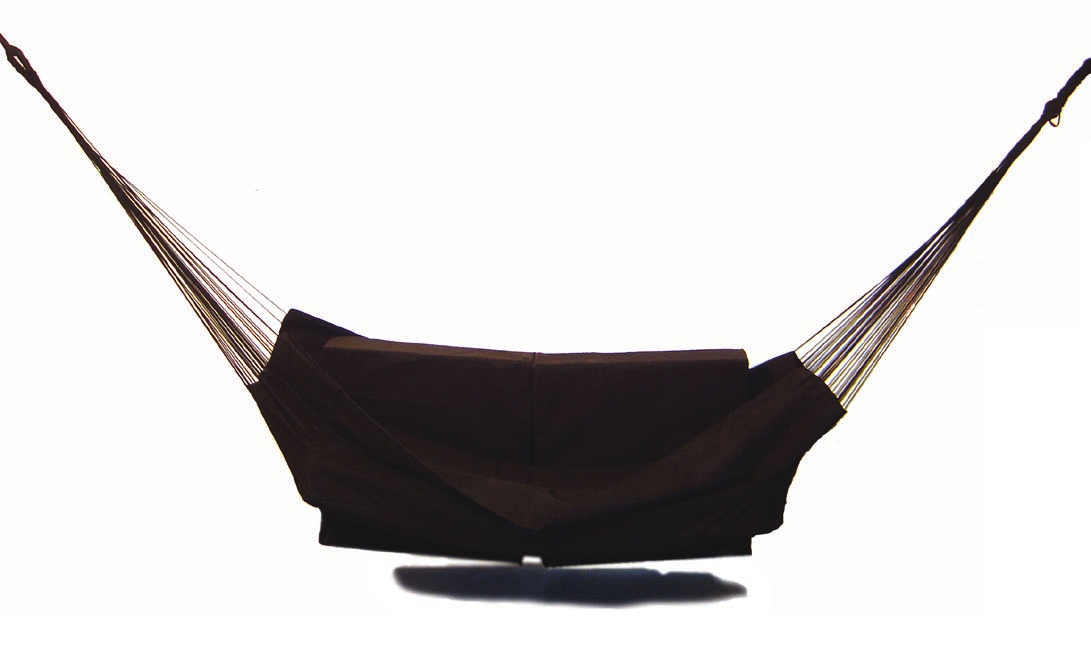 BLESS DESIGN was founded in 1997 by Ines Kaag in Berlin, and Desiree Heiss in Paris.
In '99 and '04 they received the ANDAM fashion award.
They're philosophy is creative freedom, they are busy with totally innovative fashion accessories through design to art.
The Bless creative expression takes the form through numbered editions, with a permanent research of timelessness. They're way is to create without definite perimeter.
The two designers escape from any calibrated definition of fashion, "BLESS does not promote any style – BLESS fits every style!" they kept tight they're initial concept and idea which was to combine creations between fashion, design, art and architecture.
The objects created by Bless result from the fascination of Desiree Heiss and Ines Kaag for recycling, the diversion of the uses and the traditional techniques.
They're accessories turn what was supposed to be regular and unquestionable into surprising.
Like, for example the shoe-socks, that is a socks boot like, with a sole under, or from the collaboration with Le Pliage®, the bag that can be folded inside it's own circular leather handles and can be worn as a bracelet.

About this experience BLESS says: "It is important for us to collaborate with different brands, because we enjoy sharing knowledge and experience, and also because such collaborations enlarge everyone's horizons. The Longchamp collaboration has proved perfect and very fruitful, bringing together the quality of Longchamp, resulting from its heritage as a traditional family business, with our aim of questioning and redefining the shape and function of an everyday object."
Often they collaborate with other artists, designers, friends and customers.
From the collaboration with the Swedish brand WEEKDAY with the inspiration of the weekend trip, a series of objects to protect yourself from the changing weather, really fashionable but still totally practical and funny, for example a hat can be turned into a towel or into a blanket and when the sunset arrives the sun-hat can be turned into a cape.
BLESS creations are born from a particular need. They combine the comfort of every day's life with unimaginable solutions.
With the will of modifying eating habits they created a selection of unique cutlery pieces, all with a detachable jewelery chain ending that can be worn around the wrist while eating.
Seems like they thought would be a elegant way to eat ice cream kissing it off from your own hand, from a one ice cream ball ring.
Something else very funny and innovative they created, is a series of fashion products including lollipop sunglasses and the trousers that are able to grow according your daily body size, through this collection fashion for them is not anymore this no-food torture but is something funny and eatable.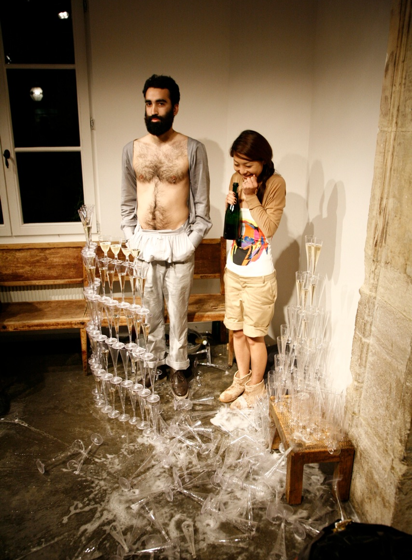 In the presentation a champagne pyramid is built as a piece of architecture in the room, to cheer up the people.
This glass wall separates but also connects to the guests, on the other side, two models serving the champagne, the structure is deconstructed by giving the glasses to the guests.
I don't think that BLESS's products can fit into any category, they jump into different layers with great simplicity, from highly functional objects to total abstraction; they also adopt a different way of expression every season. During they're presentations, often they share food and the cloths are worn by friends to reproduce the living atmosphere.
This way of participation and exchange is a big characteristic of BLESS's work and gives to it the real meaning.
they're conception of fashion is no longer something that needs to be followed, but becomes something that follows you.
What I find interesting about BLESS design is that it's not fashion, but also not against it,
It's a limbo between the two things. It is a dimension of adaptation, open to all possibilities.