"Vorm van sculptuur" is on mine opinion a sculpture about sculptress like Marenne Welten, Anne Auloos, Inge van 't Klooster, Mia Trompenaars , Melanie de Vroom and Marenne Welten.
It's a collection of small books form each artist.
Based on what i am seeing from the inside and outside of these small books,
i would say that they are showing fragments, details, sketches of the works.
The most interesting picture of the work of Anne Ausloos is for me one of her paper works from 2009. The reason why this photograph is so interesting to me, is because it brings questions and the form is funny.
what does the object represent? is it solid, is it edible, is it a sandwich?
if i talk about Inge van t' Klooster i am talking about the most not attractive works of the whole group. i am basing this sentence on my taste and not on the quality of the work. the reason why i don't find it attractive is because the massiveness and the darkness of the work. The Virtual work that she made with Martin Riebeek called "Between you&me" is interesting to me because it's an outside platform for digital art. I think that this is a funny way to involve people in art. You could say that it's performence art.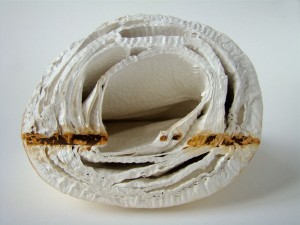 Anne Ausloos, 2009
Inge van t' Klooster and Martin Riebeek
cat nr:726.8
keyword: best