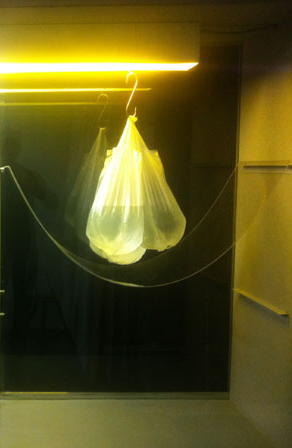 Serge Onnen is a contemporary Dutch visual artist living in Amsterdam, the Netherlands.  He works with the concept of "99% drawings – 1% text". In fact, the only text is the index and the blurb. His first book, or rather collection of drawings, came out as an appendix on Zingmagazine #16. The second one is called Calligraffiti or "manual for hands". The third one is called Drawings on Geology, composed in the same way as the preceding ones: hardly any text and a collection of black and white drawings, related in some way to a central theme. The drawings for each book were obtained by requesting material around a specific theme in the last book published. The material comes from all over the world, is from all times and all types of persons.
Zware zakken  (heavy bags in English) is a collection of black and white drawings, images and texts becoming visual forms, in some way or another related to the theme: heavy bags. Bags can be actually heavy, or have a heavy content. They can be relatively heavy, because they are of thin material and filled to the top or just because they are big bags. Bags can also be perceived as being physically heavy, for example when you have to climb a mountain carrying one which is in fact not so heavy at all. Bags can also just look heavy, or even just feel heavy, while in fact they are not. So the concept of "heavy" offers a great scale of interpretations and surprising ways to express this.
Bags are here in many forms and constructions, meant for a wide range of different purposes: from the grey dirt-bag to the full-print promotion shopping-bags as we know them in our throw-away society. From sleeping-bags for the girl with the sweet dreams, to body-bags leading to nightmares for the relatives of the dead soldier in it;  both weighing the same amount of kilograms, but one feeling light as a feather and the other one: unbearable.
This mix of interpretations of two simple words served as starting point in the creation of new and the search for existing works of art, or at least interesting artifacts. In different cultures the same drawing can be looked at in a different way. The skinny donkey almost crawling under two overloaded big-bags for seven days a week is the only way to survive for his boss and therefore a fact of life in Pakistan, for us this same picture is disgusting. But on the other hand, if people in Pakistan knew what is in our grey dirt-bags, especially the wasted food, they would be equally disgusted.
The next issue will be "Marking".
Please find and send drawings or of text becoming form on this subject to: Serge Onnen, Prinsengracht 653, 1016 HV Amsterdam, the Netherlands.
All rights reserved. No part of this publication may be reproduced, stored in a database or retrieval system, or published, in any form or in any way, electronically, mechanically, by print, photo print, microfilm, or and other means without prior written permission from the Publisher.
this post is part of he subjective library project "Unopened Book"
the book can be found at the Rietveld library : cataloque no : -onn-2