Practice of Typography: Modern Methods of Book Composition
A treatise on type-setting by hand and by machine and on the proper arrangement and imposition of pages.
by Theodoor De Vinne [1904]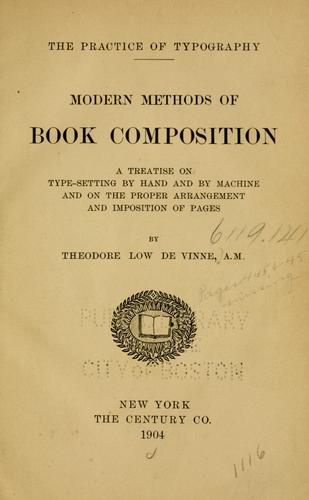 The form of the book itself is somewhat flat and stale.
The cover is made with a bleak brown, the color of mud that is unpleasant to see.
One thing on the other hand, is that it is combined with beautiful golden linings and an old fashion design of type letters,
which also is one of the only things inviting of this book cover. A bit ironic, knowing that the book is based on design of type letters and typography which tell us absolutely nothing about the book from the outside.
only tiny detailed letters sown and marked in the book.
What interests me about the book was its content and a brief clarification of
typography and the history behind it. The simplicity and detailed work of type
design, arranging type in order to make language visible. It gives you some
understanding of the detailed design letter types and the needed guidelines on
how to make these various designs in your work.
Examples of equipments to use during this process. for example different kind "stands" (open framework of pinewood to support the cases of type) measurements, thickness of the fonts, and how much gaps should be placed, and so on…
basically it is an ideal book for "how to" to authors, giving specific rules and certain explanation of type design in the early 20th century.
Now off course that is different, type design has progressed in different area's of art and literature making more creative and appealing for the readers.
For me, it is an important element in the wide field of the arts especially for design and graphic design.
Typography and Type design is is the core process of the work from beginning to the end, and the key element of it all.
Its an easy decision but hard work, from authors deciding on the letter type, writing an email for your mother, or designing a poster for the next party. With Typography and Type design we are our most oblivious, and lacking an active conscious of what really is letter type and where does it come from.
anyway, i just think this is good start on learning of typography,especially if you're in graphic design, to understand how they managed in the early years from the first equipments to now.
post by Pri Lalcé