Jürg Lehni is an independent designer, developer and artist, who got well known for his diploma project, to graduate ÉCAL in 2002, called "Hektor".
Typical for his work is the different approach to tools, computers and technology in relation to now-a-days common design. In the last few years, all of his Projects relied on those facts. Often he collaborates with other Artists of different fields. I want to concentrate on a few projects, which really impressed me and provide you a small insight into Jürg Lehnis Work.
Hektor 2002
Jürg Lehni & Uli Franke
(Rita and Viktor)
Hektor is a portable spray paint output device for Laptops, that could be compared to a common printer. The principle is quite simple. Hektor consists of two light and fragile motors, toothed belts and a normal spray can holder. The can is moved along drawing paths just like common hand drawings or old Plotters. The software to create the drawing paths is called Scriptographer, which was also developed by Jürg Lehni. It is a scripting plug-in for Adobe Illustrator.
Similar to Hektor are Rita and Viktor. Both of them are as well mechanical drawing devices, guided by Scriptographer drawing paths. But Viktor is working with chalk and Rita with markers.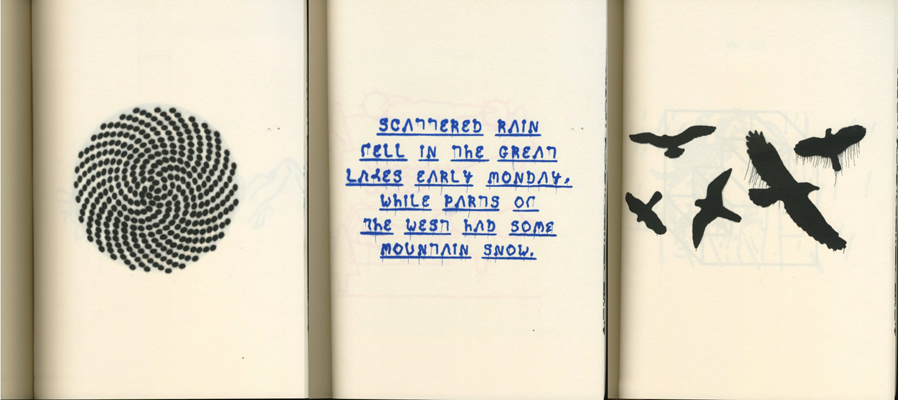 Hektor consists of design, high-tech programming and low tech tools. In a time were nearly everything can be perfectly done with computer programs, often even too perfect, Hektor is going back to an analogue way with a digital starting point.
Its a call to all the designers and artists to innovate new styles and ways of working and thinking. It's a call against the now-a-days aesthetics which are predicted by computer programs and are therefore often too predictable. It is a call to the designers to not just work with common methods but experiment and by doing so innovate, achieve a wider variation and implement new methods for the everyday work.
Because of the above mentioned reasons Scriptographer and Hektor are free to use for other Artists, so that they can experiment with it as well.
With this thought I see a relation to the principal of Sol Lewitts wall drawings. Sol Lewitt states that people can carry out his wall drawings following his instructions leaving it his work of art, as long as they don't change it on purpose. While Sol Lewitt provides the concept Leni provides the medium.
Hektor is an interaction between the user and the technology with a creative input made by a technical medium.
Emptywords 2005
Jürg Lehni & Jonathan Hares
Emptywords consists of a plotter which punches holes into paper guided by an interface software. The holes are creating a font with which you can write short expressions. This tool is a medium to express short messages by the artists or the spectator.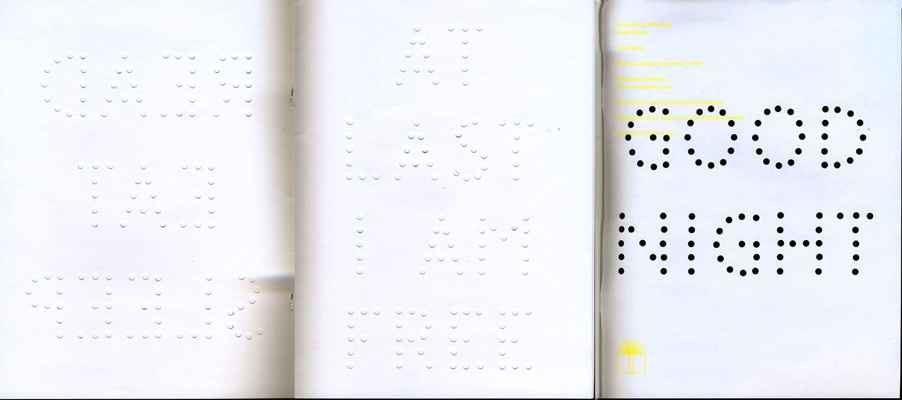 Just like Hektor Emptywords also plays and experiments with the unpredicted and oppositional aesthetics to common design.  It is playing with the nothing, in form of the holes, which are creating the font. The font is displaying ironic sentences, which adds to this work a playful, light and alternating meaning as well.
News 2009
Jürg Lehni & Alex Rich
News was developed while thinking of what to do with the speed i-jet printer developed by Reiner.  This mobile pen printer is able to save 30 signs, and print them by sliding the pen over a sheet of paper. Newspaper headlines  were programmed into the pen so that the spectators were able to print those ambivalent headlines per-programmed by the artists.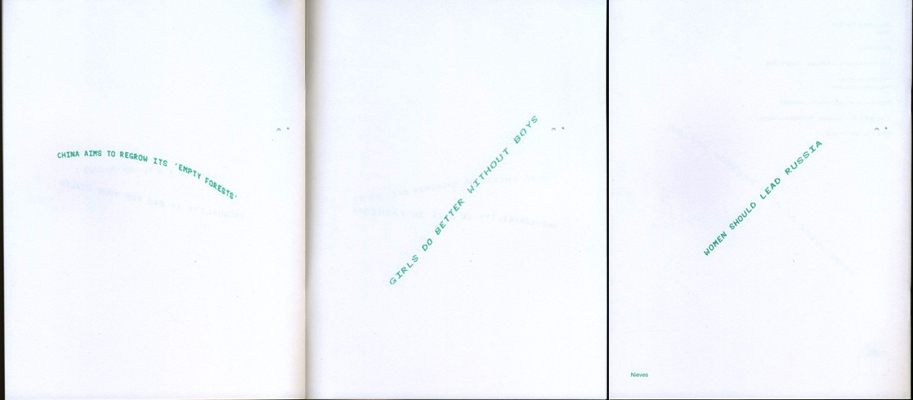 News shows some similaritys to the other two works too. You can see the same ironic playful thoughts behind the work. Its about doing something unexpected with simple things.
Jürg Lehni & Jonathan Puckey
This is the last project I want to tell you about. But i'm not going to write about it, as I want you to explore it for yourself by clicking on the title.
For me it was really hard to find a way into Lehnis work because I never really was obsessed with computer/programming art and I don't have the knowledge to understand it that easily . When I was reading stuff about Lehni it really fascinated me, even though I had to read it a few times in a row to understand it.
It was my first "getting in touch" with that technical or programmed way of art. Now, after having had this research in the back of my head for a few weeks, I have another attitude to this theme. I think it is really interesting to cope with those digital themes in our time. Especially because I have the feeling that my generation is the last generation that can still remember how it was without cellphones, hyper fast internet and all the other inventions which have had huge impact on our society and our development.
Lehnis is playing with this theme with a charming lightness that attracts, but also animates to think. I enjoyed exploring his world and he invited me to this contemporary theme, so that I am now looking forward to see more of his work or other artists who are coping with similar themes. This Research inspired me aswell to cope more with the theme of Programming, I want to learn now how to edit things with the html code and java script, and if I am succesful with this you could perhaps see soon a headline banner for this research that I edited myself with those from Lehni provided Tools.