Karl Nawrot, also known as Walter Warton, is a French graphic designer and illustrator who lives and works in Seoul. He first studied illustration in Lyon, France and in 2008 finished a Master's Degree in graphic design at The Werkplaats Typography in Arnhem, The Netherlands. Through his design studio Voidwreck Nawrot has been working on a variety of projects from designs of typefaces to illustrations and more experimental work. He has also been teaching drawing at the Rietveld Academy and has worked as a curator for graphic design exhibitions.
Nawrot's designs explore basic shapes and patterns taking them very far into abstraction and playing with the different possibilities. Many works show a true fascination for infinity and repetition. In an interview for gallery 12mail he said that his inspiration was "the drawings that I trace in the morning when a part of myself is still asleep." His work is often very drawing based yet he has also developed his very own style in working in more experimental way. He creates his own tools which can be anything from ink stamps to circular record templates and geometrical stencils. He uses these tools and devices to investigate and explore the possibilities of shapes and patterns and to make type experiments.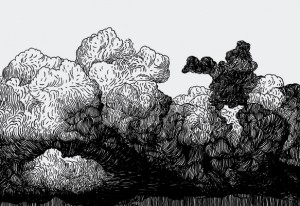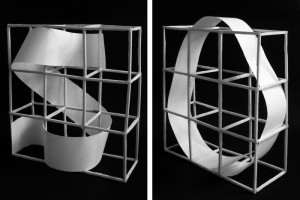 I first started researching Nawrot's work by looking at several different typefaces he has designed; Lÿon, Marq and LM for instance. The world of typography was quite unknown to me before this research and as Nawrot's typefaces tend to be quite experimental at first I felt as if I was reading a language I didn't understand. However, when I studied more about his working methods behind the designs they suddenly started to unravel to me. It was this very hands-on and practical side of his design process that really caught my attention; the way he explores the two dimensional shape and pattern by making three dimensional models and how he even builds his own tools and devices to perform the design that they create. Having learned this I found it much easier to approach his typeface designs and suddenly got the feeling I understood where he is coming from.
Nawrot has a book –Incomplete Discography– published by an admirer in Australia [x], which illustrates in an interesting manner how he uses these handmade tools in his design process. It is a 22-page book with a selection of paper stencil disc experiments where both the compositions and the tools work as an inspiration for designs but also are a works of art themselves. What I find very interesting is that in the end the line between the result and the process becomes quite unclear. Because the stencil discs can offer indefinite number of compositions the book also suggests the idea of design as a continual rather than final process.
Another project which I found very interesting is called Stamp Box. In the project Nawrot worked with a collection of 150 handmade stamps, each having a drawn pattern based on 6 x 6 grids with different combinations of basic geometrical shapes (circle, rectangle, triangle and line). With these stamps he created different variations of pattern, possibilities again being unlimited.
This project reminded me of an amazing work by an American artist Allan McCollum. In 2005 McCollum started a massive project called The Shapes Project where he designed a system to produce unique two-dimensional "Shapes". His idea was to produce a "Shape", a symbol or a "logo" for each person on the planet. Using Adobe Illustrator he could produce over 31,000,000,000 different "Shapes" which should be enough for everyone on the planet even when the population reaches its highest peak. The Shapes Project has later spawned many local projects in which the "Shapes" have been produces into actual items. For instance in 2008 for the project Shapes From Maine 288 cookie cutters, 720 wooden ornaments, 1152 rubber stamps and 72 hand-cut black paper silhouettes were artisan made in the shapes of the "Shapes" by local craftspeople in Maine, The US.
Nawrot and McCollum seem to be driven by the same passion for infinity and simplicity, both artists mass producing the very basic minimalistic shapes, always trying to find new combinations. In a way their works manifest the old saying that it's not the destination, but the journey that matters.