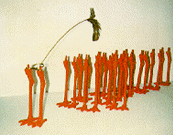 I remember when I was little, sitting at my grandmothers desk and looking at this funny looking thing.
Ingo Maurer has always been her favorite lamp designer and I really loved looking trough his collection cataloges together with my grandmother , talking about the lamps. But particular bibibi I never really understud.I just couldn't make up my mind rather I found it ugly or funny or what exactly the reason was why she bought this lamp in the first place.
Ingo Maurer has so many beautiful designed lamps ( http://www.ingo-maurer.com/products/ )why did she not get the "Zettelz" lamp or the "comicExplosion"?
Writing about it now makes me start to realize how often I thought about "bibibi" and how it is still irritating to see the lamp standing on that table. It really is weird , because normally you just get used to certain things standing around in your home ,they melt in with their surrounding and you start to not notice them anymore.
For some reason though after standing on the exact same table for over 15 years this lamp still jumps aggressively into my eyes , almost like a living pet that wants your attention when you come home and wants to say hi and play with me . So for me "bibibi" really turned into a living bird and gives me a lot. Certainly I still can't say I love the design or think it looks pretty and I would never think about getting it for my own apartment. But it makes me happy every time I see it somewhere because it reminds me of my grandmother.So enough personal talk now something about the Lamp and the Designer:
"Bibibi" is a tableligth that reminds the viewer of the appearance of a chicken. The lamp shade is stylistically the body of the bird. It is carried by plastic orange bird legs. A metal wire is extending in the height and at the end of it is a feather attached, which may be the head of the bird. Bibibibi is the tableland made ??by Ingo Maurer definitely pulls the intension of the viewer on it. Ingo Maurer himself is the son of a fisherman and grew up on the island Reichenau in Lake of Constance with four siblings. After an apprenticeship as typesetter, he studied graphic design in Munich, Germany. 1960 Maurer left Germany for the USA, where he worked in New York and San Francisco as a freelance graphic designer. In 1963, he moved back to Germany, and founded Design M, a company developing and manufacturing lamps after his own designs. The company was later renamed to "Ingo Maurer GmbH". One of his first designs, «Bulb» (1966) has been included in the design collection of the Museum of Modern Art in 1966.
1984 he presented the low-voltage wire system YaYaHo, consisting of two horizontally fixed metal ropes and a series of adjustable lighting elements with halogen bulbs, which became an instant success. Maurer was asked to create special YaYaHo installations for the exhibition "Luminaries je pens a vous" at Centre Georges Pompadour in Paris, the Villa Medici in Rome, and the Institute Francis d'Architecture in Paris.
In 1989 Foundation Cartier pour l'Art Contemporary (Cartier Foundation for Contemporary Art) in Jouy-en-Josas near Paris organized the exhibition "Ingo Maurer: Lumière Hasard Réflexion". (Ingo Maurer: Light Chance Reflection). For this exhibition, for the first time Maurer created lighting objects and installation which were not meant for serial production.
Since 1989, his design and objects have been presented in a series of exhibitions, including the Stedelijk Museum in Amsterdam (1993). In 2002 the Vitra Design Museum organized Ingo Maurer – Light – Reaching for the Moon, a traveling exhibition with several shows in Europe and in Japan. In 2007 the Cooper Hewitt Museum Cooper-Hewitt National Design Museum in New York presented the exhibition Provoking Magic: Lighting of Ingo Maurer.
Ingo Maurer created many objects using LEDs, the first being the lighting object Bellissima Brutta in 1996. In 2001 he presented a table lamp with LEDs with the name EL.E.Dee. Since 2006, he is also experimenting with organic light-emitting diode (Organic LEDs), presenting two objects in 2006, and a table lamp as limited edition.
Beside the design of lamps for serial production, Ingo Maurer creates and plans light installation for public or private spaces. In Munich, he created light installation at Westfriedhof subway station (1998) and the renovation and lighting concept for Munich Freiheit subway station, to be opened in December 2009. For Issey Miyake he realized an installation for a fashion show in Paris (1999). In 2006 he created lighting objects and installations for the interior of the Atomium the Brussels.
Among his best-known designs are the winged bulb Lucellino (1992), Porca Miseria! (1994),[1] a suspension lamp made with porcelain shards. Since the early 1980s, Maurer works with a team of younger designers and developers.
2011, the redesign for the underground area of the U-Bahn public transport station Marienplatz in Munich, Germany, was awarded to Ingo Maurer together with Allmann Sattler Wappner, with its design placing emphasis on a lighting design that alludes to the Chinese I Ching.
http://www.ingo-maurer.com/products