My observation started with peoples back. Everybody is being encouraged now a days to look at himself in everything that reflects, also at the Rietveld building where the glass plays a big role. In the reflection is most of the times only the front visible. The back of the body is, during the day, not so visible, but it is for others. People can't look 360º, so they have to choose what's worthy enough to look at and to show their front part of their body to. Thereby they will always show their back towards someone/ something else.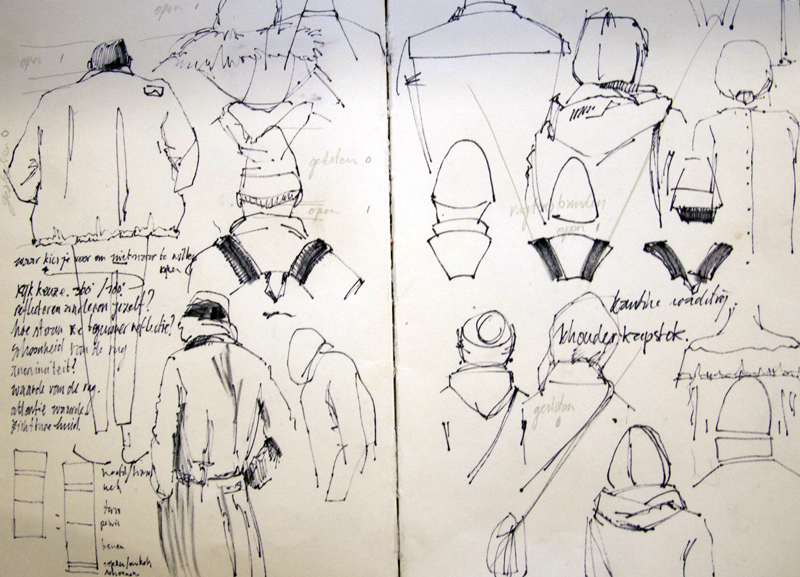 The torso and the neck is where i decided to put my focus on. With the face as the most detailed part of our body, thats presented 'naked' in the public, it has enough detail to show on the front and does not need to be supported by more details on the clothing. By all the buttons and extra decoration that are situated on the front of most people their clothing, we concentrate ours selves on those details on the front. Thereby the back of our cloth has almost no detail at all. So in a way our front is over-detailed/ decorated compared to the back.
covering body parts
I tried to make the back over-detailed while putting the focus on the front. The object on the back became a transparent bag / hoodie. The inside will be visible now which makes it more detailed. The material is plastic.
Creating more openness on the back by turning the clothes, makes the front of the clothing much more in harmony with the face. By hiding the details for yourself, therefore you have to move them to other places (like the back) or cover them, the front and the back will be much more in harmony.