continuing from ……[Here, here little foxie]
I walk up to the book that I found in the catalogue online and realize that the devil isn't even orange. Which it was on Google. God damn it. I wrote a shitty text about an orange book that isn't even orange, and thought I'd get away with it.
In the corner of my eye I see a big, fat, shiny book, almost bursting out from the self a couple of backs away. AMERICA! the back screams to me. Reminds me of my sweet friend Vera, who is absolutely and almost frantically in love with this country. Oh Vera, I sigh, America is just about burgers and cars, what can this book really offer me? I do as I usually do and pick the book ironically.
A jambalaya, the word for hot black dude my friend Irene uses shamelessly, cover the front. Gold tooth and all. It's about portraits. In America.
I open the book and suddenly I understand why it was so important to actually go to the library and not just surf the catalogue for this assignment. In this glossy package I see dreamers, lovers, haters and the America Vera fell in love with. A sensitivity that needed this screaming shiny cover and assignment for me to see it. And it makes me think about Mike. My best friend's ex from Miami whom I never hang out with anymore because that would be kinda weird.
He was exactly this book to me eight years ago when they first met. Tall, shiny, too big for the place he was put into, screaming around but with a magnetizing effect that immediately made everything around him dull.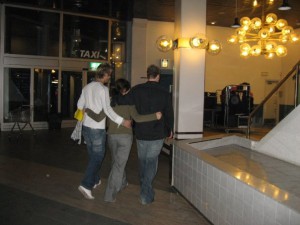 I miss him. And I think I want to go to America, just to see the America that Andres Serrano gave me a glance of with this giant of a book. And Im not even sarcastic know. I really mean it.
Rietveld Library cat.nr: -serra- 3