2013. We eat while we walk the dog and call our grandmother at the same time. There's no time for sitting down. You see, time is money, and definitely not worth spending on a bench in a beautiful park doing nothing – or on repairing an unraveled sweater. It's easier (and cheaper perhaps) just to buy a new one. But can time be measured in gold? We talk a lot about time over our worn out jackets.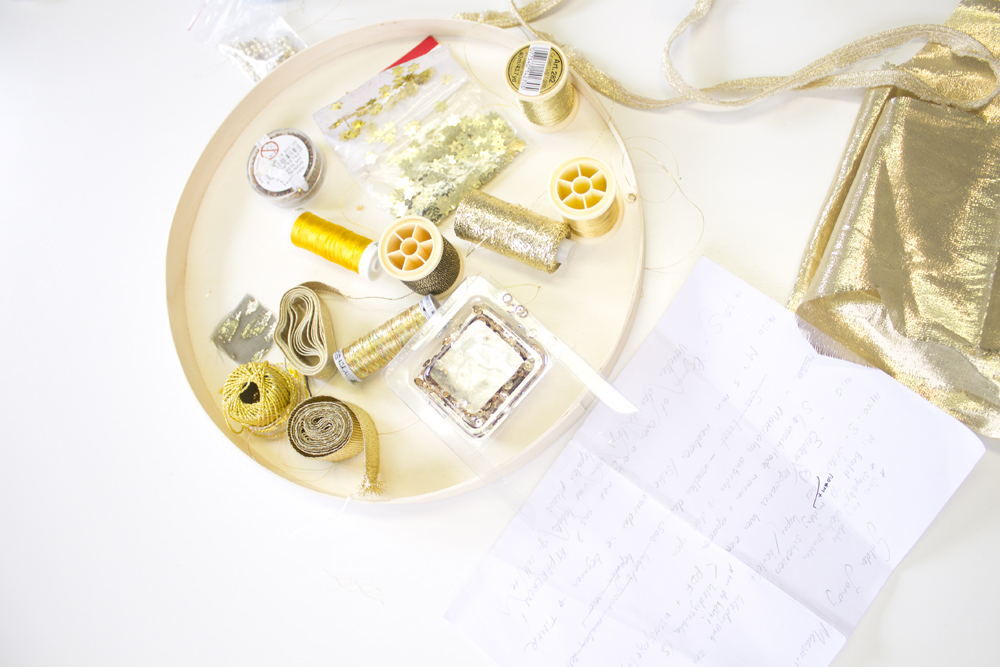 Perhaps a short explanation is needed.
Seven years ago, Saskia van Drimmelen gathered a few people she knew and shipped off to Bulgaria. After eight years of designing clothes for the fashion elite in Paris, she had decided to quit her own (and at that point quite successful) brand, in search of a more fulfilling way of making clothes. In a book about Bulgarian crafts, she had found pictures of needlepoint lace unlike anything she had ever seen before – and so the treasure hunt begun. What started as a research on old fashioned and nearly forgotten techniques, became what today is known as Painted.
They call themselves a hybrid fashion collective. Many people stand behind the name Painted, but in the front seats you find Saskia together with theater director (and also Bulgaria explorer) Margreet Sweerts.
Their latest project is called Golden Joinery. Inspired by an old Japanese tradition where broken ceramics are repaired with golden paint, Saskia and Margreet invite you to repair your ragged clothes with a golden thread. They organize workshops where you can bring your beloved but broken sweater, jacket, dress or pair of jeans, and together you make it as good as – or perhaps even better than – new. And this is the frame of our conversation.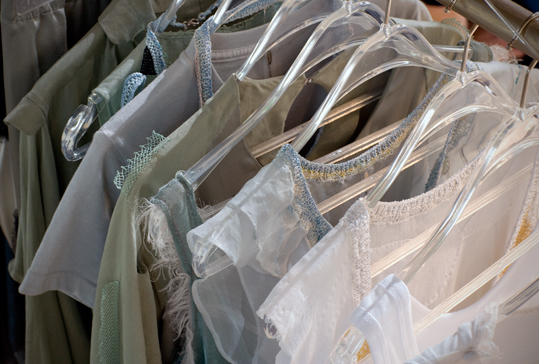 Painted is doing something different. In lack of a better name – perhaps combined with peoples need to categorize everything – Painted and their series of clothes are often referred to as slow fashion. Saskia and Margreet rather (if they really have to give it a name) call it slow clothes. Though many of the ideas behind their brand is compatible with the slow fashion thinking (like the sustainability and the anti buy and throw away mentality) Painted is still doing something different.
They work in the periphery of the fashion world, far away from catwalks, collections and trends (when they were asked to open the Amsterdam International Fashion Week, their answer was a YES with a big BUT – resulting in a room where models practised their tightrope skills, while the audience could walk around and watch).
Painted means spending time on making the clothes. Most of their garments are developed over years, and a normal procedure could be this: One starts making, lets say, a dress. Then leaves it to rest for a while, until somebody else finds the inspiration to continue. The garment grows in the hands of different people, until it's finished. Nothing is planned or designed to the end, it becomes while it's being made. All the contributors have something to say, and every piece is different from another.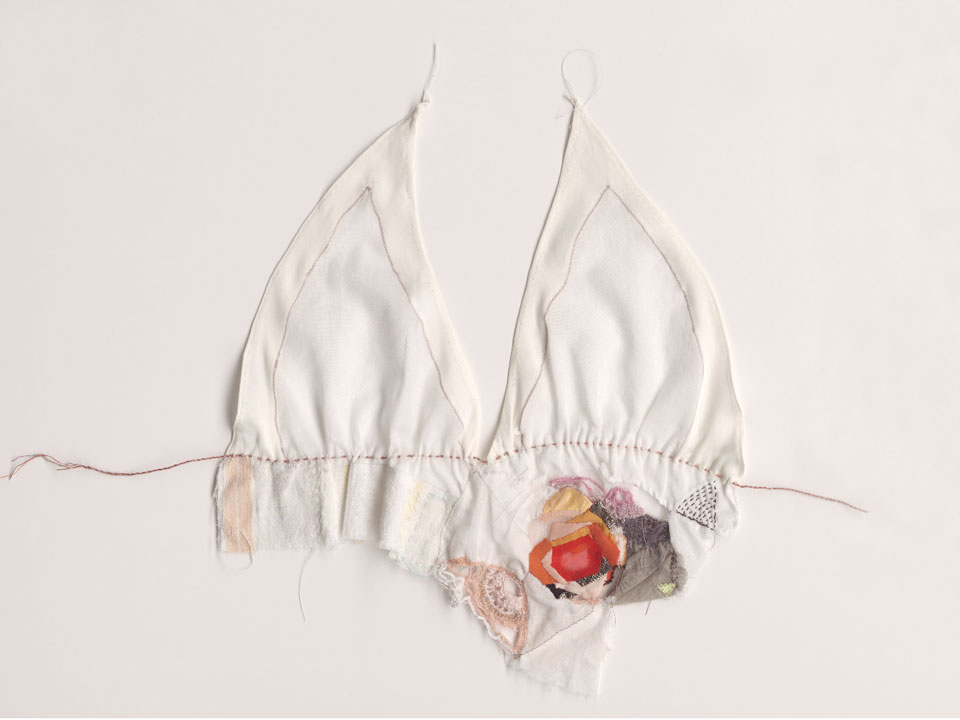 I asked Saskia and Margreet what they thought making something by hand added to a clothing, and they answered with returning the question; What do I think making something by hand adds to a clothing? I was not capable of giving a straight answer at the time being –  and I'm not sure I am today either. But I know it adds something. Something of value, whatever that means. I know for instance that buying sweaters on a fleamarket and only afterwards realizing that it has been made by somebody's hands, makes the scoop three times as good. This is of course a quite subjective way of thinking. Perhaps my idea of an old, gray haired and slightly chubby woman, sitting in a rocking chair knitting (I know this is the case only one out of twenty times) makes the sweater even warmer. Or maybe it's the idea of somebody spending their time doing it that warms?
By the end of our talk, Margreet draws a scenario; If your house was burning, and you could only save what you could carry in your arms – what would it be (and now let's look beyond computers and smartphones)? After the workshop, thinking about what I would have saved, I realize that this might be what Saskia and Margreet are trying to create in their clothes. A value that goes beyond money. Not just another really beautiful dress – but a garment with something close to affection.
I like to think that time invested in an out dying technique (let's say a Bulgarian needlepoint lace) or in repairing an unraveled sweater makes it more worth than the machine produced alternative. I mean, time is after all money. Maybe we just haven't learned to recognise the currency yet.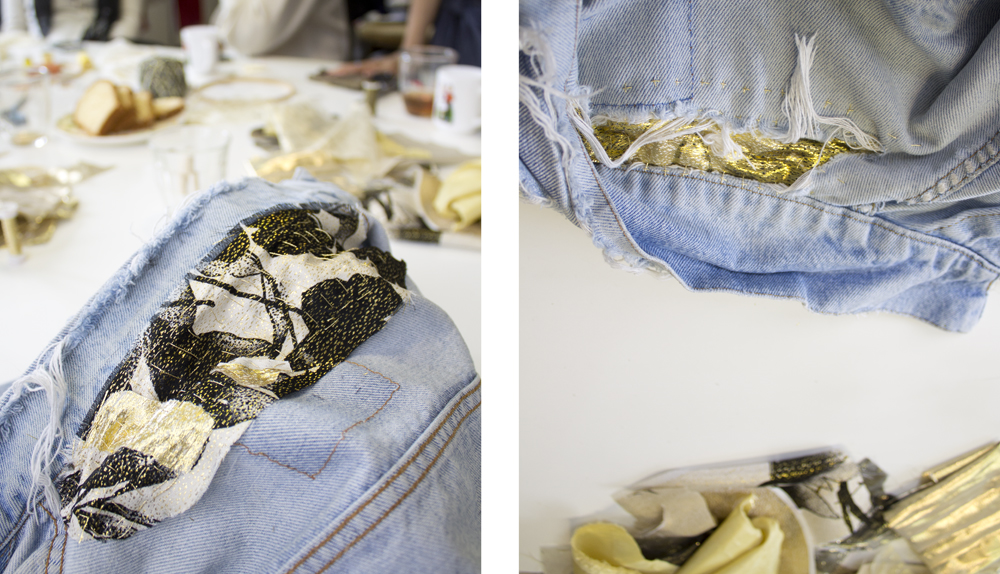 Epilog
After attending their workshop, and becoming a part of their secret, golden brand, Margreet and Saskia asked me to add a song to their playlist, a song about something broken or golden. Not that it really has anything to do with anything, but it's about a broken heart and I felt like it belonged here as well.
Christopher Owens – A Broken Heart