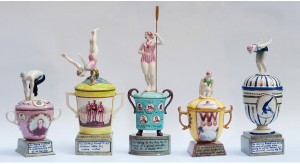 Trophy Cups by Vika Mitrichenka
Vika Mitrichenka (1972), is originally from Minsk but she moved to Amsterdam on a tourist visa in 2000, because she was fascinated by the Golden Age painters from Holland, like Johannes Vermeer and Pieter Hoogh. This fascination with old things, is still visible in her works today.
She got accepted into the Gerrit Rietveld Academie, and after that she studied at the Rijksacademie.
This work is dedicated to her father and consists of five small trophies made of porcelain painted in blue, yellow and pink, with some golden details. On each trophy cup there is a small text, and a little sports person is posing on the lid. On the pink one, with a little swimmer kneeling at the top it says:
'For trying to educate his mother-in-law in understanding art till her last days.'
I like the work, because I think what Mitrichenka is trying to do, is give some credit to the little everyday good deed, that means a lot but rarely gets rewarded. Usually trophies are a symbol of achieving something extraordinary, like running really fast, jumping very high or kicking a ball to the goal. Mitrichenkas trophies are small and detailed, not very flashy but very pretty and knickknacky. They look like something you could find on a shelf at your grandmothers house.
The trophies stand out from a lot of the other things at the exhibition, because they are so over-the-top and shiny. Designers like Rietveld, and Poul Henningsen, work with handy, functional, simple furniture with no decoration. In the exhibition you see a lot of wood, metal, plastic and other strong, long lasting materials. The colors are only black and white or blue, red and yellow.
The trophy cups are multicolored, decorated and detailed. They are made of porcelain, and they are difficult and expensive to produce. Still they are made to reward the normal simple person. 
In 2005, the Frozen Fountain, a design store in Amsterdam gave Mitrichenka an artistic assignment to make a tea service. When she had finished it one of them were immediately purchased by the Stedelijk museum.
I went to the Frozen Fountain to look at some more of Mitrichenkas' work. One of the first thing I noticed when I got there was the tea set called "Victoria" that she made in 2005. It is a set of 15 pieces, made especially for the Frozen Fountain. 
At first, the tea set looks like it is made from old pieces of Chinese porcelain, that has been glued together in kind of a clumsy way. Different styles and colors gets mixed up, and sharp edges appear where the pieces has been put together. But when you look closer the set actually looks like it would be nice to use at a tea party. The sugar bowl is made from two different cups, one has a fish printed on it and one with little flowers. The lid is light blue with a colorful pattern, and with a head of an angry, pink gorilla on top of it.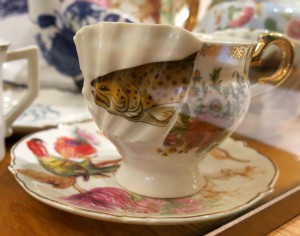 tea cup and saucer with a perch and some parrots
What inspired Mitrichenka to make the tea set was her Russian grandmothers' Chinese porcelain, which she would never throw away, not even if it was broken. The work is very nostalgic, and it reminds me of my own grandmother, who also used to collect different porcelain tea cups. I remember that I used to take them out of her cabinet and look at them all together. The nice thing about them was that they were all different, and had a little story of their own. One was bought on a holiday in Italy, one was inherited by my great grandmother and another one was from some small flea market in Birkerød where she lives. The porcelain cups would never have given me the same feeling if they all looked the same.
When I walked further into the shop I found some more trophy cups! I was happy! I didn't know that she had made so many of them! And some of them I thought were even more cute and funny, than the ones in the Stedelijk. They were displayed in a showcase in the back of the store, and most of them looked a bit like try outs, but somehow they seemed more personal, than the ones I had seen before.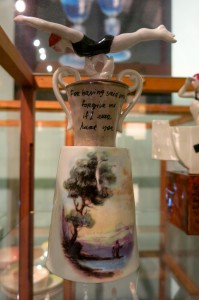 For having said please forgive me if I ever hurt you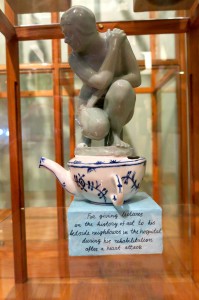 "For giving lectures on the history of art to his bedside neighbours in the hospital during his rehabilitation after a heart attack"
This day I already felt a little emotional, so the texts on the cups almost brought a little tear to my eye.
Not all of these trophy cups have a sportsman/woman posing on the lid, but instead a glazed, white roman sculpture. They are put together from a square bottom with the text on, something from a Chinese porcelain set and a little sculpture posing at the top. I like this kind of clumsy way that they are put together. It is not at all 'tasteful' or in a stylish design. The texts are not at all pretensions, but very honest and down to earth. One of them had the caption: "For looking in the distance and doing noting". The theme of the cups is for me again about the intimate memories of home, about the stuff that happens in the everyday life, that is actually really important, but we never really take the time to think about.