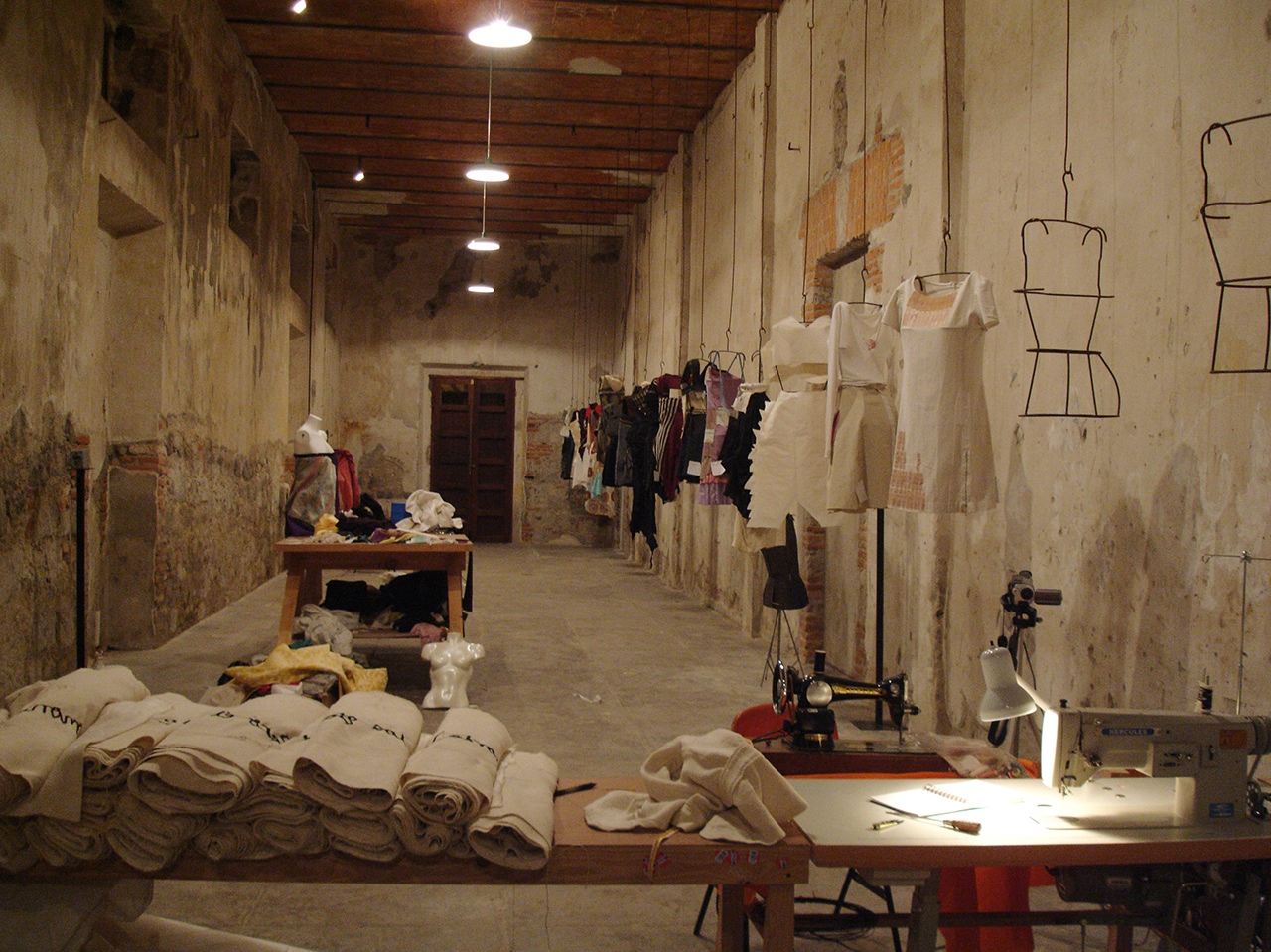 Tania Candiani, Woman, Mexican, 1974, Textile, Language, Artist …
Tania Candiani was part of the exhibition" The future of fashion is now", in Rotterdam. In this show, designers and artists try to show some different and new ways to see to the fashion world.
Tania Candiani exposes a big roll of fabric joined with some clothes and dresses. The finality of this work is an installation with fabrics, thread, metal hooks, sound and video. This work was showed almost at the end of the exhibition, a space that, according to me, didn't support it as much as it could have. Therefore, all my attention wasn't driven towards the installation as a whole, but only on this big role of fabric.
The title " La Constancia Dormida ", which stands for Constancia Asleep, makes me think of the collections of stories, including Constancia, y otras novelas para vírgenes (1989; Constancia and Other Stories for Virgins) by the Mexican novelist and short story writer Carlos Fuentes. The theme of these stories, which is about the people and culture from Mexico City, is maybe a influence in Tania's work.
The role of fabric, that I mentioned before, was exposed on a table and stitched with text. The language used was Spanish and it was about thoughts, feelings and stories of one certain group of people or community, that were influenced by their economic, political and social environment. This context situates her work in the last of the four themes which divided the exhibition: "Fashion Activism: Community and Politics".
Being influenced by the reaction of these people, she used them as her subject for her story-telling. The textile is then used as a narrative tool as she explains it in one of her statement: " My research processes take as starting point language, text, the political implications of the domestic, of what is public and private, and of "the others."
"Translate strategies amongst systems –linguistic, visual, phonic– and practices, generates equivalences and associations (…) textiles have been present in my work as tailoring, as a narrative resource and as labor, socially embedded with meaning. Tailoring as design is a contact point with architecture, where the space distribution of the plans as sewing patterns re-signifying the idea of inhabited space or the utopia of an space that could be inhabited".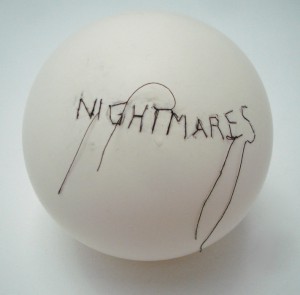 Tania Candiani – Artslant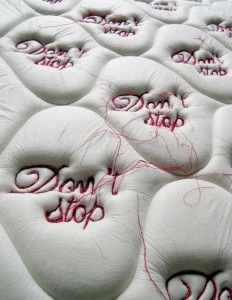 Tania Candiani – Lot 88
I chose Tania's work because I really like the simple and minimalist way she approaches two big ideas, in one hand the fashion world and in the other one, a more conceptual idea about community in a political and economical environment. Also, the way she uses textile and combines it with text gives me a big and strong feeling of nostalgia. The way she characterizes the political and human energy really fascinates me and awoke my curiosity. This feeling of nostalgia that is present in her work, makes me land back directly to my home country. This nostalgia and spirit of story telling is something that characterizes the Portuguese personality and community, bringing me even more closer to her work.
By listening to the people in different environments, Tania tries to save the stories and the atmosphere into the fabric by sewing it, and giving it an individual perspective. Through this act of sewing, I see Tania's work as a memorial where she keeps all the moments and happenings, as a saving for the future, which for me is a really beautiful act. The act of sewing, reminds me of a scar or a tattoo that Tania is stitching in the fabric. By expressing these left marks, it connects us to our individual or common marks, which originates from situations and memories that we experienced. These marks which makes us the person or the people that we became. So it's like creating and materializing all the spirit, thoughts and feelings from a specific and certain place, time and community.
This way of making art reminds me also of some works, for example, Louise Bourgeois, Tracey Emin and in the traditional bordering from Portugal.
Louise Bourgeois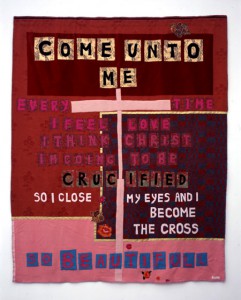 Tracey Emin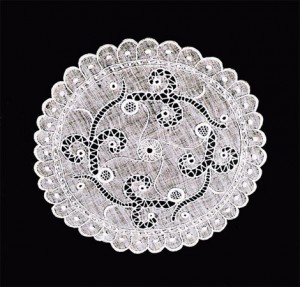 By having this in mind, I realize that textile can be really strong, powerful and expressive as a subject or a material. It was interesting to see how her work can become, in a way fashion but still textile with a sculptural character. It questioned the fashion world and trying to find or to create this small limit between fashion and textile, becoming in the end something else. Different than the world of fashion that we know now, but still an expressive future form of fashion. This makes her piece relevant, for me, in taking part of this exhibition " The future of fashion is now ".