Startingpoint
The startingpoint to my design project  was my interest in costumemaking and theatre. I arranged a meeting with the costumedepartment of the Nationale Opera & Ballet in Amsterdam. During my visit I gained insight into the process of costume making and was struck by the amount of detail, creativity and knowledge that goes into every piece.
What inspired me most was the fact that the goal is to create the perfect illusion, to make something look like the real thing in order to make a play, character or story believable.
First Tryouts
To kick off my research I applied the idea of creating the perfect illusion onto the example of a sock. The questions I asked myself were:
–How is a sock constructed?
-What happens when commonly used materials are replaced?
-When is a sock a sock?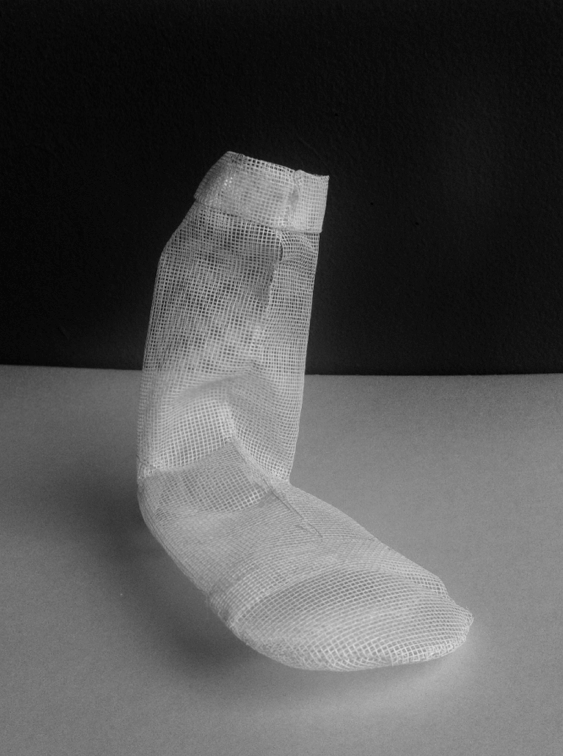 When taking a closer look at my try-outs it was clear that replacing common materials with new ones not only affected my object's appearance but could potentially change its function. All of a sudden that sock had turned into something more. I decided to investigate this aspect more closely by moving away from the idea of simply creating a visually authentic object, like it is mainly the case with costume making. Instead I tried to find a new or added function that would derive out of the use of a different material.
All the materials I had used so far in my research had/made very distinctive sounds. In the following steps I therefore narrowed my focus on 3 basic movements, 3 distinctive sounds and 3 different materials with the goal of making a sock that makes sound.
 Sound
When making music, people like to tap their feet. When I play the guitar myself the rhythms in my right foot can be reduced to these three movements:
*kdung*
*tap*
*tick*
After having limited and simplified the movements I chose three different materials that would fit each of them and represent them with a suitable sound, looking for a high pitch for the area below the big toe, a short tap for the footpad and a dull, low sound for the heel.
Metal (big toe), plastic (footpad), plaster (heel); shaped to match my own footprint as it taps the floor: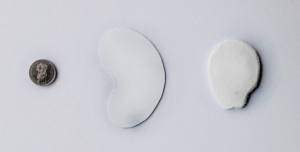 Final Object
To combine these three sound-elements into one wearable and therefore flexible and fitted object, I needed a third component. For that part of my final object a material research I had made earlier on during the process, a combination of jersey fabric and metallic isolation material, seemed to have all the needed qualities and even came with an additional effect: a rustling, swooshing sound as the foot is being bent, the final sound.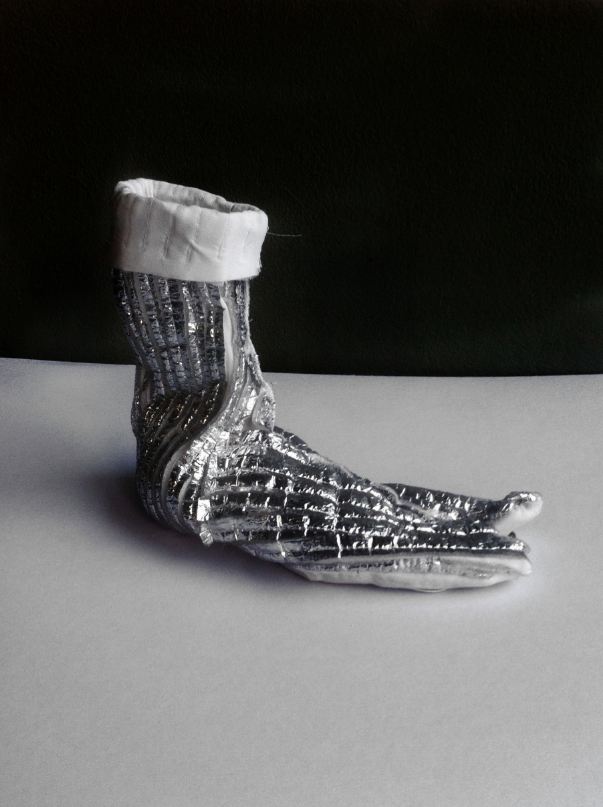 Playing the Sock
Trying to play with the sound-sock I noticed that it takes a quite some practice. Even though the number of different sounds is limited to three they can be used with a lot of diversity, combined, separated, fast and slow. The following video gives a brief idea of how the sock sounds and can be used: