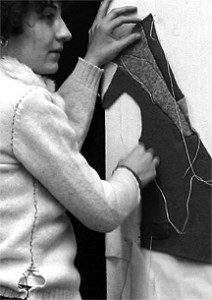 Myrza de Muynck is a Dutch textile artist. She's not that known and quite invisible on the Internet.
The one and only source of information about Myrza is presented by the 'APPALACHIAN SCHOOL'.? She was part of their second big group exhibition in the summer of 2007. As a journey to the exhibition, the artists were invited to use the 'Appalachian Review'. This is an online publication, which invites artists to submit a portfolio of work in progress, to be exhibited.
The portfolio of Myrza contains ten pieces. Like sketches and inspiration. My approach for this research will continue this. I'll search for the background information from the people that inspired her for this exhibition and try to interpret this in her personal work. Trying to find out this person, Myrza de Muynck.