A day of observation ; visiting a museum.
To see, watch, perceive or notice
Visiting a museum always end for me daydreaming about other artists. Influenced by the atmospheres of the art and people visiting the museum. So I wrote down my observation and daydreams of an artwork in the exhibition of the Kunsthal te Rotterdam.
Cars, motorcycles, egg, hamburger, portraits and colorful vanitas. Walking into a hall full of pictures; was my first reaction of the exhibition of hyperrealism in the Kunsthal te Rotterdam. Coming closer to this images; amazed by the fact that these where paintings.
In front of a painting there was a man saying to his wife; 'Yes, you can really see that this is a painting, because the artist did not paint it perfectly.' Pointing out all different kind of lines and spots which where not perfect according to him.
My observing of these paintings was also absolutely triggered. How is this possible? Is this a picture painted over? Is it really not a picture? Also searching for spots to confirm that it are paintings.
Rod Penner 
Passing all the work I noticed all the American subjects. Especially the landscapes of Rod Penner ; painter. Staring at his work I found it very intriguing how he translated the light so beautiful in these paintings. Every shade, light stripe and reflection he paid attention to. He is not only painting the landscape itself but also the atmosphere that is connected to the landscape. Not only the houses/signs are giving a clue to the American landscapes but also the atmosphere itself is very recognizable.
The beautiful light and atmospheres of Rod Penner reminded me of two photographers ; Gregory Crewdson and Tod Hido.
 Tod Hido
Tod Hido is photographing landscape/houses in America. He got a amazing series of photographs called 'Homes at night. Tod is using long exposure and most of the time the only light source is the light from inside the house. He is also searching for very specific moments and houses that are making this series so great.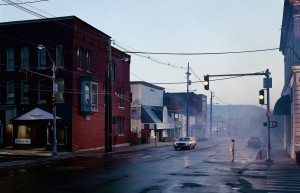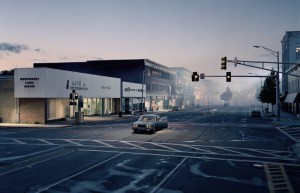 Gregory Crewdson
Gregory is photographing cinematic landscapes in small towns of America. He is making beautiful images where he is influencing the light and the scene. It is very interesting how he and his team are building up these scenes and you can see that in his documentary Gregory Crewdson : brief encounters.
Inspired by a day of Kunsthal te Rotterdam
Hyperrealism ; 50 years of painting.
Exhibition from the 25th of January till the 5th of June 2017.