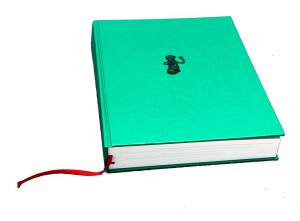 Parallel Encyclopedia #2: welcome in Batia Suter's head and my interpretation of what that might be. She searched, she found and she took, and now she is giving it back. The book turned into an object that spikes my curiosity, and not only because of her collection of curiosities.
The green cover spoke to me. I picked it up and it spoke even louder. I decided to dig further and at one point it made me want to dress in rubber boots, a jacket with too many pockets and a bucket hat and go off to explore the world. And bring a camera.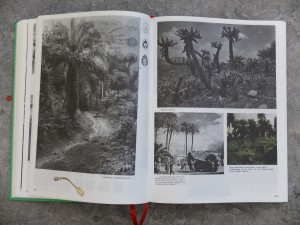 After Parallel Encyclopedia – an almost black-and-white compilation of her personal archive of seemingly random pictures – Batia Suter made a second volume. An artist's book poured into an encyclopedia-shaped cast. Where Parallel Encyclopedia number 1 contained strictly black and white imagery, number two also allows specks of colours to seep through the pages.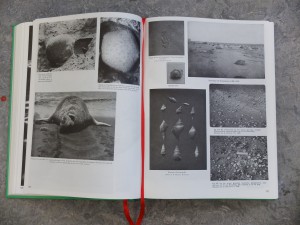 One might wonder, in a book like this: what did the designer do? It's Batia Suter's collection, and her intuition that ordered the pictures. Where did the designer – Roger Willems – drop in? Where did the designer left his mark. Did he had a say and what did he say? Where and if to use colour in this otherwise black and white universe? To use Biotop paper in 90 grams, to give it all a functional feel? To add two red bookmark ribbons?
On might wonder – hidden inside this volume is a parallel world of a parallel world of a parallel world.
One might wander – an encyclopedia of no practical information but visual information, a dreamy answer to an 2000-year old tradition of encyclopedia-making. Another possible answer to this tradition is Wikipedia. Wikipedia suffocates most encyclopedia, but not this one, not Parallel Encyclopedia. This one tells us what Wikipedia can never tell and thank God doesn't and probably doesn't even want to. This one is a reference work of the subconscious. Batia Suter's thematic categories are her own: giving us the suggestion of a story, or not at all – we all make up our stories anyway. She leads us into a great grey and black and white world, different worlds within different worlds, from curiosity to curiosity, from dreams to wonder. She let's us jump from trees to mountains to griendhout to wolzakverwering • and the wall of Hadrianus; Britannia. From fields to Kirchner to winter to bacteria and giving us a neat visual experience whilst doing it.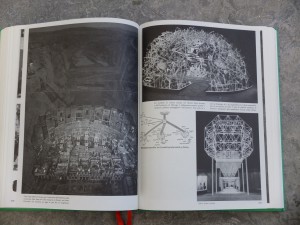 Flip.
Page 105.
Workman sprays carbolic powder on a 35-yd long rubbish pile during strike of garbage collectors in London in September 1969. A picture of stacked boats, a woman shopping on the Amsterdam flowermarket. No clue how this works together, but somehow, it works.
Flip.
Page 177.
Verschillende dwarsdoorsnedes van kringsporig hout (es), verspreidporig hout (esdoorn), halfkringsporig hout (kers), mergstralen (eik), mergstralen (tulpenboom), and so on.
Flip.
Page 236.
The moon.
Page 237.
Several spherical objects, mirroring the moon.
Flip.
Page 440.
The entire page is filled with a picture of flowers that remind me of orchids, but apparently are called Odontonia.
Page 441.
The entire page is filled with a picture of geisha girls of the early 1900s. Their kimonos and the plants in the pictures depict flowers that mirror the Odontonia.
Flip.
Page 438.
Several pictures of butterflies, and hands being spread open, resembling butterfly wings.
It's design is imbedded in it's content, made to serve this visual feast. Made to serve the hidden narrative. Or the none-existent narrative. It's not organised in a seemingly logical way, but for Batia Suter, it probably is. She is pretty convincing.
One might wonder – the strays and wanderers, all nicely wrapped in shiny green.
What's the hand of the artist and what's the hand of the designer?
They probably used both.

Parallel Encyclopedia 2, designer: Batia Suter / Roger Willems, Rietveld Library Cat.no: sute 5