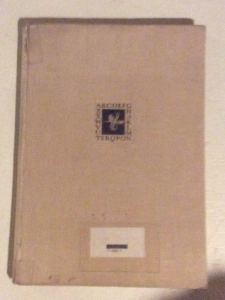 The library in the Rietveld Academie is organized in a spiral form and looking through the books in it's shelves is much like wandering the streets of Amsterdam as they circle around and around. This layout motivates random discovery but abstains in aiding any targeted intentions.
Luckily, the assignment did not require any knowledge of the library or the contents therein.
With a vague idea of which sections we were to choose a book from, I gazed upon the tall typography section. The individual shelves are lined with countless textbooks and magazines; each bearing their distinct design along the spine. The magazines tend to utilize bright colors, which, when aligned beside one another, blur into an inaccesable mass. Amidst this sea of color I spotted a tall beige book with a black title. The contrast to the surrounding books made it unique. The book's individuality in this context can be attributed to it's age; It was printed in 1955.
I took the book off of the shelf the study it in detail. The cover is made of laminated canvas and the title on the spine reads: ALBERT KAPR DEUTSCHE SCHRIFTKUNST.
The font reminded me of the font found on my family grave. Sturdy and very legible with well proportioned serifs. The front depicts a small white on black graphic of writing tools in a frame of black letters. The graphic is humble and unassuming; almost disappearing into the distance of the large beige cover. The first page reads in German "Versuch einer neuen historischen Darstellung" almost apologetically labeling itself a mere  "attempt".
This honesty won me over immediately and I started leafing through the book. Old battered pages depicted forgotten fonts and the names of their creators. I recognized the name Schneidler from old correspondences between him and my grandfather that I had been reading that very morning. This made me feel like a historian piecing together the forgotten past of his ancestors. Maybe F.H. Ernst Schneidler held this very book. All speculation aside, I seem to have picked the book because I subconsciously recognized aspects of my own identity presented in print. I am book. Book am I.

757.3 kap 1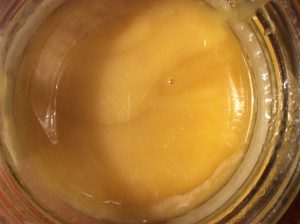 This is honey.