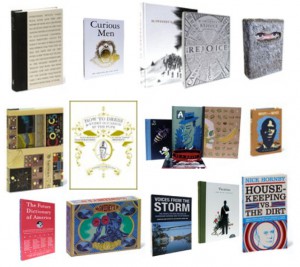 Mr. Henk just loves his iPhone. Mr. Henk just loves books too, but soon there will be the iPad. The iPad may mark the end of the book as we know it. So all good things must go, and in a few years graphic design won't be the same. Guttenberg's Galaxy has stood out for centuries, with the printed book as the ultimate vessel for information, but through cyberspace we enter a different world.
It's kind of sad, but inevitable, or is it?
"It just doesn't matter," Mr Henk replies.  "A book is an iPad is a volume. Period." I'm a bit surprised by Mr. Henk's reply. I thought in graphic design you had those I-will-only-work-in-print-and-I'd-rather-die-than-do-websites-people. But apparently Mr. Henk likes the feel and smell of paper just as much as he is touched by his iPhone.
I picked up You Shall Know Our Velocity by Dave Eggers from my McSweeney's bookshelf as my favorite object.
"Now did it become an illusive project from the start, as you selected a book as your object?" Mr. Henk continues.
Well, I don't know…
Apparently, you have those you-shall-only-design-from-pure-form-and-only-that-product designers that don't use text. I don't mean to be rude, but the pure forms that come out of that won't get Plato out of his cave. They are forms without ideas. You get the usual design stuff, like vases, chairs, lamps. Stuff you can get at Pols Potten, right?
Now, if you add text, you might get good concepts as well. You might get design I really might get attached to, just as Mr. Henk loves iPhones.
So then I read Timothy McSweeney had died (who is: The Ballad Of T. McSweeney). To me – one who still reads and runs – the form became all too clear. A book is a volume is a box and so is a body: they're both volumes of content. So I chose to make a box out of cat litter because it resembles the ashes of the deceased. Ashes to Ashes becomes form to form, quite cradle to cradle that is, closing the circle