The aim of the project was to be capable of using the shape and quality of one object for developing another, completely different object. I decided to use my favorite chair as starting point for the assignment. While working I realized that I couldn't solely rely on the factuality of forms. Rather I had to work on a more intuitional level; I had to interpret and translate shapes and texture into certain qualities.  I ended up making a bookshelf out of a chair.
Some general remarks on the chair:
50ties
The chair can be divided into two parts, namely the seating and the legs. The parts differ in style and function, yet they seem to contrast each other in style -hard and soft, different movements-.
The chair is top heavy.
Qualities of the seating:
The round shape of the seating gives a sense of intimacy and protection.
The round shape has an inward movement that is inviting and suggests openness. It makes you want to sit down and crawl up into it.
Qualities of the legs:
Straight, elegant legs.
The legs have a vertical movement. The legs are scuffed all around and they seem to narrow down towards the end which also gives them a slight horizontal movement.
Breaks with the softness and inviting feeling of the seating.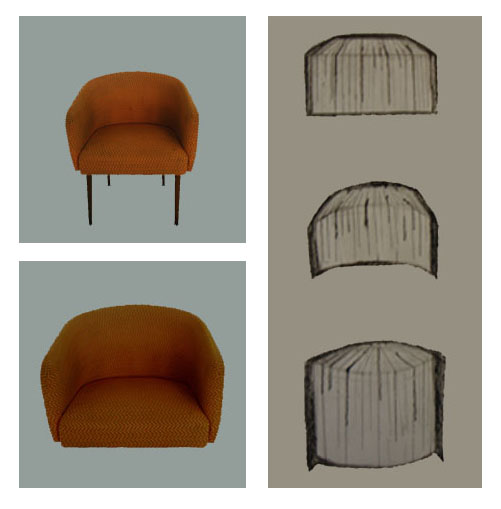 Left: photo of the chair and seating.
Right: different sketches of the bookshelf.
Idea behind the bookshelf:
The round shape and inward movement of the bookshelf corresponds with the seating of the chair.
The shape of the bookshelf gives a sense of intimacy and protection, which is also similar to a book cover.
The idea behind the books:
The books are placed with their covers towards the bookshelf, which gives one a peak into the books by just looking at them. The placement of the books is a literal expression of openness.
The pages of the books are meant to contrast the round shape of the bookshelf, similar to the way the legs and the seating of the chair relate to each other.
As can be seen in the sketches above I experimented with the general form and feeling of the object by placing the books in different ways into the bookshelf. Ultimately I had to conclude that the last sketch (the books placed in a crown shape) is corresponding best to the heavy, warm feeling of the chair. Furthermore the crown shape of the books helps to enhance the qualities and the shape of the bookshelf as they are reversed in form.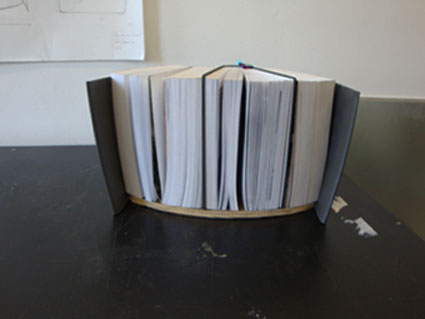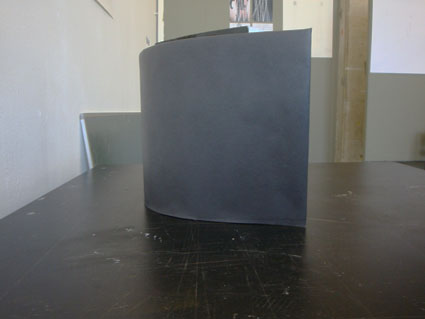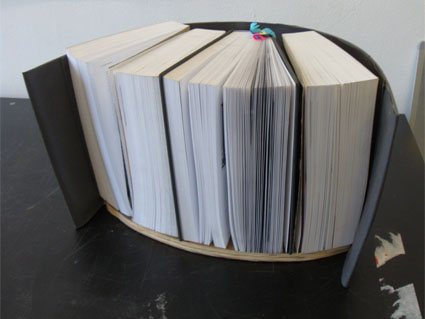 Several sights of the bookshelf -the actual result.