[comment by Lyubov Matyunina]
In our life we often compare different meanings and objects. Peoples, animals, jobs, close, building – everything becomes a point of comparison. If we look at 2 buildings, what do we see? Many differences and some similar things. Let's compare The Rietveld Academy and Calatrava's City of Art and Sciences on 4 points: Age, Function, Design and Practical use.
Age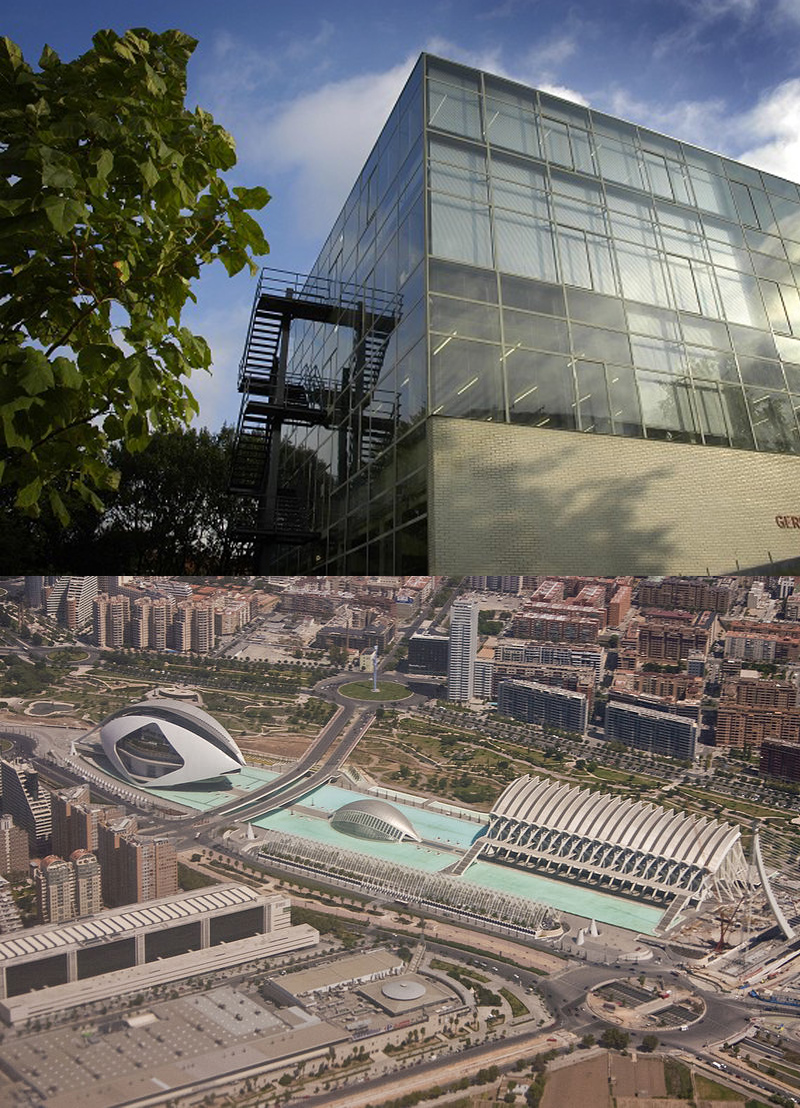 The Rietveld Academie consists of two buildings: The main building was designed by Gerrit Rietveld between 1950 and 1963 and was finished in 1966. The new wing, designed by Benthem Crouwel Architects and built in 2003, is used by the fine arts departments. In our comparison, we will compare the main building, designed by Gerrit Rietveld.
The City of Arts and Sciences designed by Santiago Calatrava and Félix Candela, the project underwent the first stages of construction in July, 1996 and the finished "city" was inaugurated April 16, 1998 with the opening of L'Hemisfèric. The last great component of the City of the Arts and the Sciences, El Palau de les Arts Reina Sofía, was presented at October 9, 2005, Valencia's Community Day.
As we can see, Rietveld is older then Calatrava by 30 years. But both of their buildings looked modern for the time in which they were built. Actually, Calatrava City of Art & Sciences still looks modern and futuristic, while Rietveld design start to be popular and today we can see buildings inspired by Gerrit Rietveld.
Function
The Rietveld Academie - is a university of applied sciences for Fine Arts and Design.
The City of Arts and Sciences - is an entertainment-based cultural and architectural complex in the city of Valencia, Spain. It is the most important modern tourist destination in the city of Valencia.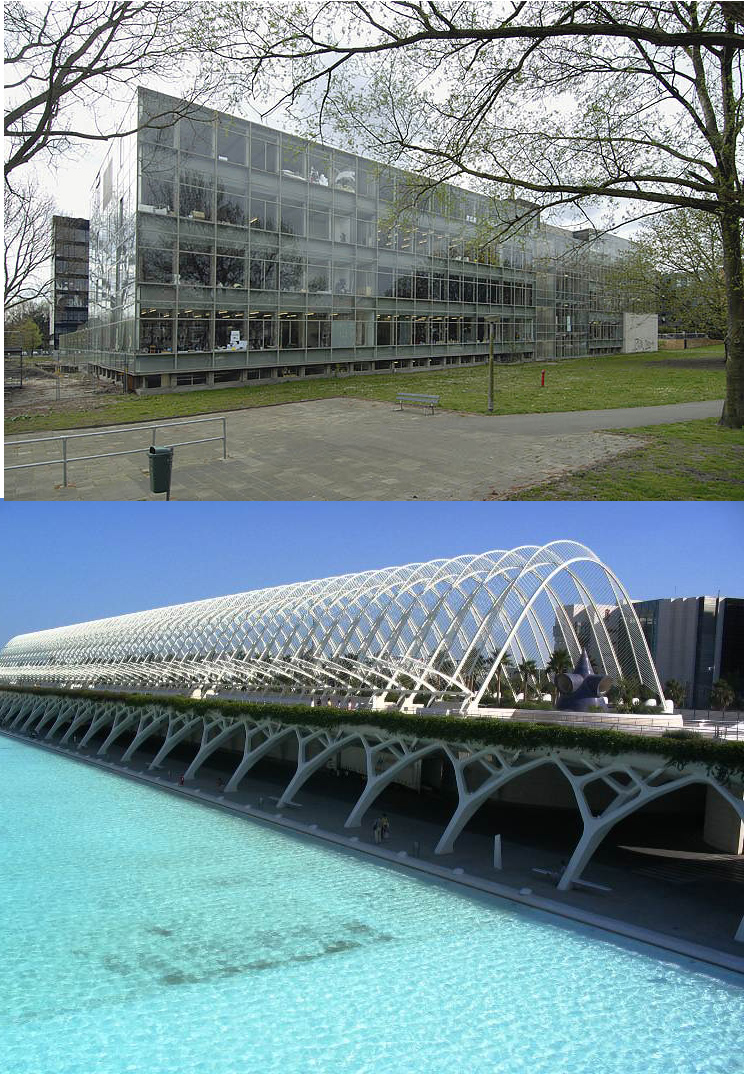 As we can see both building somehow relate to the art. At "Rietveld" they teatches young artists, while Calatrava's City is a place where they can show their works.
The Rietveld is a really functional building: many windows = natural light, big empty spaces for work and mono colored greys. Everything is thought out for convenient working.
Calatrava City more beautiful than useful. Complex of buildings located in the park among them are swimming pools in which is forbidden to swim. Big swimming pools everyday cleaned by special workers, they look beautiful, but peoples can't use them.
Design
The Rietveld Academie building is basically a glass house placed over a concrete structure. For the restoration, glass was imported from Romania that had been manufactured using the original technique, by pulling glass, which produces a structure and color very different from that of float glass. The interior is mainly painted in three fixed shades of grey which are referred to as Rietveld dark, middle and light grey.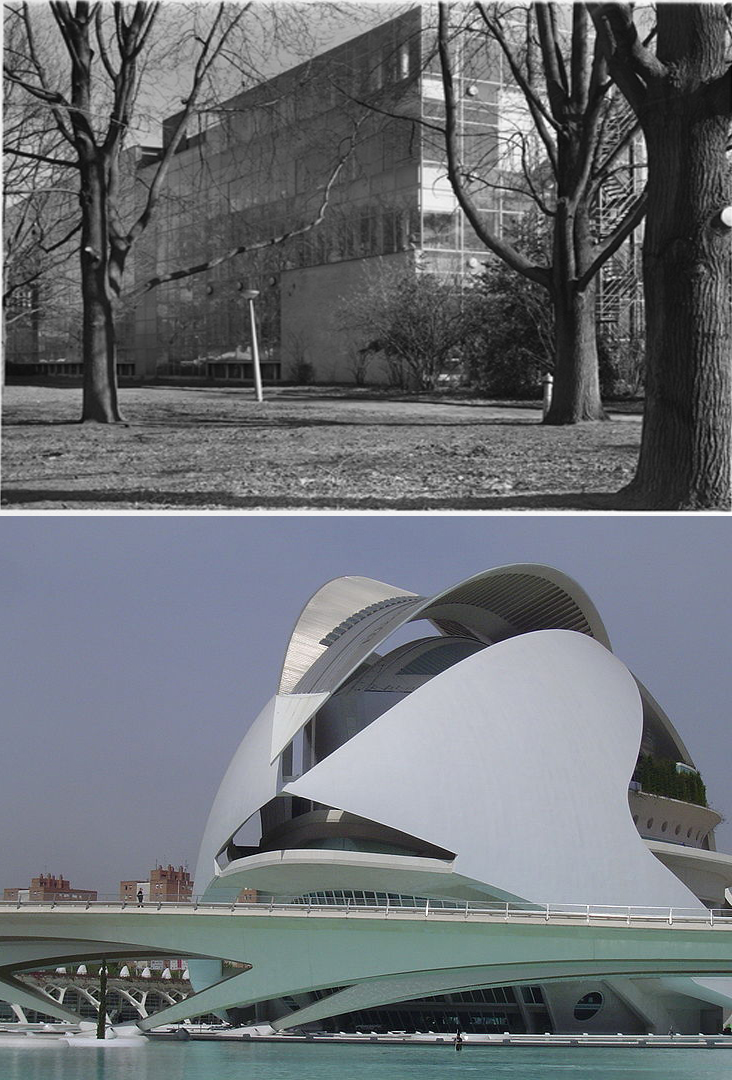 The City of Arts and Sciences contains a number of buildings that allow visitors to immerse themselves in different aspects of art, nature, science and technology. Highlights include: the Hemisferic (an Imax theater and planetarium built in the shape of an eye), the Umbracle (a landscaped walkway which includes plant species indigenous to Valencia and an outdoor art gallery with sculptures from contemporary artists including Yoko Ono and others), the Principe Felipe Science Museum (an interactive museum of science which resembles the skeleton of a whale), the Oceanografico (an open air oceanographic park which is the largest aquarium in Europe with over 500 marine species) and the Palau de les Arts Reina Sofia (an opera house and performing arts center). The Agora, which is still under construction, will give the complex a multifunctional space in which concerts and sporting events can be held. Colors - Mediterranean blue and white.
Of course the designs are completely different from the form to colors. But if we try we can find some similar ideas - glass. We can see how glass can be use in architecture. Rietveld is build from the glass – big glass squares is 80 % of the building. In Calatrava City glass serves decorative function – it's the eyes or teeth of "big fish", or part of the roof. Calatrava don't need natural light, so glass takes another function – decorative.
Form is also completely different. Rietveld works with cubes of glass and rectangular grey bricks –versus– oval and rounded structures, wavy and "broken" in Calatrava's City forms.
Both buildings are situated near the water. Rietveld standing near a channel –her back to it– , while the Calatrava City emerges almost from the many big swimming pools surrounding it.
These completely different buildings are forced to work the imagination, but each in its own way.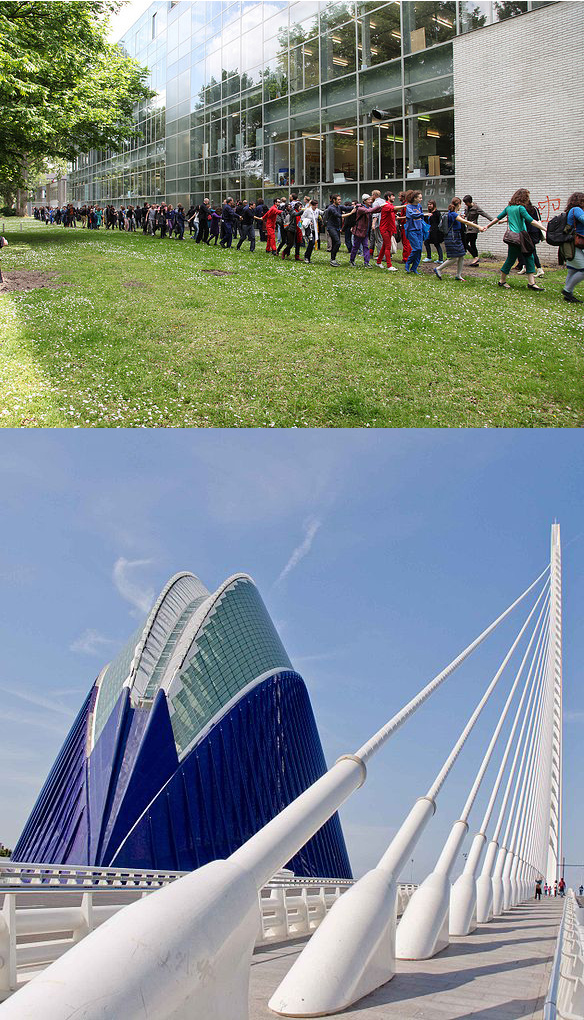 Practical use
The Rietveld Academie – as I sad before, is a really useful building. Because of it's construction, the building consists of 80% of glass, inside the room lit by natural light. Big work spaces inside were created special for the art academy – so everything works well.
The City of Arts and Sciences – it's a city, it includes a complex of building, and each building fulfills its function. Imax Theater and planetarium built in the shape of an eye, interactive museum of science which resembles the skeleton of a whale and etc. It is working, but at the other hand I can't forgot those swimming pools that are so useless…
As we see, everything is very relative…