We hebben de 'Parooldriehoek' in Amsterdam bezocht. Voor Design hadden we namelijk de opdracht gekregen de plek te verkennen om er vervolgens zelf iets voor te maken, wat wel voldoet aan de eis dat de huidige functie behouden blijft en het geïnspireerd is door één van Gerrit Rietveld's ontwerpen. Dit hoeft niet persé één van zijn gebouwen te zijn. Wat ook belangrijk is dat de keuze van het Rietveld gebouw gebaseerd is op de manier waarop hij een relatie legt tussen het ontwerp en de omgeving.
Om de Parooldriehoek en de omgeving te verkennen hebben we bepaalde elementen, zoals de brug, opgemeten om een idee te krijgen van hoe groot het is en om de verhoudingen te kunnen begrijpen. Tevens foto's en snelle schetsjes gemaakt.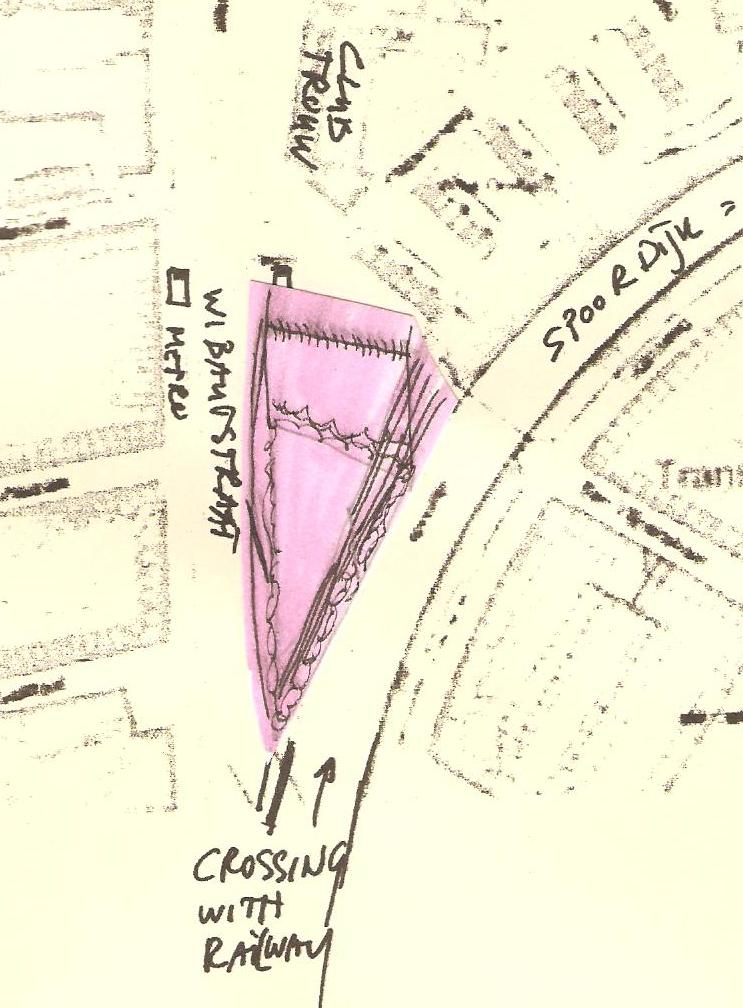 De Parooldriehoek wordt omgeven door twee tunnels, een fietspad en een spoorbrug. Er zijn daarom uiteraard veel mensen en veel verkeerslawaai. De plek zelf ziet er, simpel omschreven, uit als een stuk gras met wat bomen. Het is fijn om er zelf heen te gaan, omdat je dan behalve de visuele omschrijving ook een bepaald gevoel bij kan krijgen.
Ik vond het mooi dat het is alsof je in een geheim, verlaten parkje terecht komt, dat omgeven is door zoveel drukte en lawaai. Dit is dan ook wat ik wilde behouden en versterken, door middel van het bouwen van een wand, maar wel één zodat de plek nog steeds toegankelijk is voor mensen (en dieren..). Om van buitenaf naar te kijken of om er ook daadwerkelijk "binnen te dringen".
Mijn inspiratiebron is het Huis Rietveld uit 1966. Wat me hier aan op viel is de richting. Op de foto zie je dat het een soort van halve cirkel is die wijst naar het stuk open grond. Het heeft iets krachtigs en groots.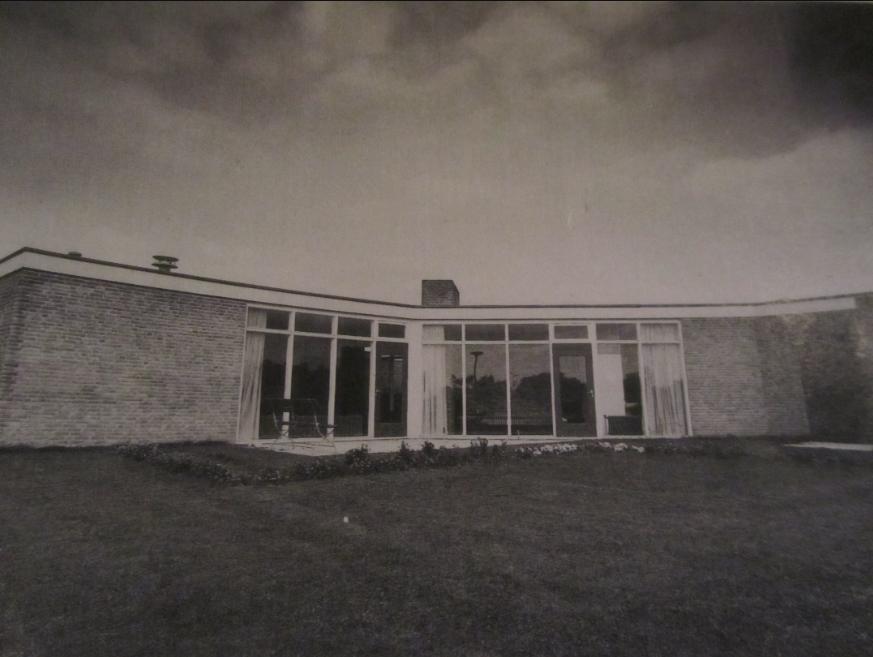 Ik ben begonnen met een aantal steunpunten (die nodig zijn, maar ook gezien mogen worden) van houten stokjes te prikken. In de eerste instantie wilde ik de vorm van de Parooldriehoek namaken, omdat ik wil dat de wand het hele stuk grond omvat, maar terwijl ik dit maakte ontstond er een soortgelijke vorm, waar ik eigenlijk blijer mee was. Dus dit heb ik zo gelaten.
Toen ben ik na gaan denken en uitproberen met welk materiaal ik de wand wilde maken. Wat ik kenmerkend en mooi vind aan Rietveld's gebouwen is zijn gebruik van contrasterende materialen; lichte en solide.
Ik heb gekozen voor een zilver metaal uitziende draad. Dit vond ik fijn en passend om mee te werken, omdat je het uit kan trekken en het dus zo kan aanpassen als je wilt, meer gesloten of open op bepaalde plekken. Toen ik de wand helemaal zo had afgemaakt, was ik nog niet tevreden. Esthetisch vond ik het niet af en het toonde ook mijn idee en inspiratiebron niet.
Daarom besloot ik in de hoogte te gaan werken, met weer een ander materiaal en hetgeen die richting, die ik juist zo mooi vind aan het Rietveld huis, meer er in uit laat komen.
Ik wilde ook een richting geven, maar vond alle richtingen niet dát open wijde gevoel geven dat ik wilde overbrengen. Er gebeurt zoveel rondom de driehoek. In plaats van de richting op een van de zijkanten te vestigen heb ik het gevestigd op de lucht, door middel van houten stokjes naar boven te laten wijzen en een van de zijkanten van de wand nog extra te verhogen. Ik heb voor de zijkant gekozen, die gelegen is aan de kant waar de omliggende huizen in een rij achter elkaar staan (dit kun je zien op het eerste schetsje wat ik heb gemaakt van de Parooldriehoek).
Alle kanten van deze 'tweede verdieping' van de wand heb ik met een als glas uitziend materiaal dicht gemaakt, behalve de kant waar de trein aan grenst, om de mensen in de trein die er van hoger af naar kunnen kijken, er niet op een andere manier naar te kunnen kijken. Deze wand heb ik dicht gemaakt met meerdere houten stokjes.
Om de verschillende materialen aan elkaar te verbinden heb ik gekozen voor een onopvallende manier of een fijne manier.
Als afwerking heb ik groene bladeren rondom en binnen de wand gelegd, wat een contrast vormt met de (kleur van de) materialen en de natuur. Het resultaat is een wand die een soort van sculptuur vormt.