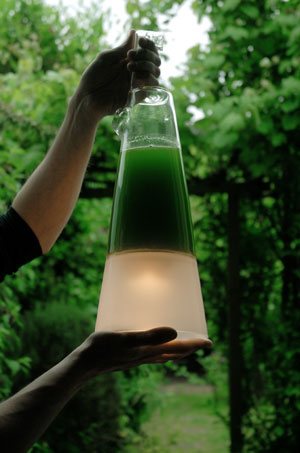 In the avatar-project (design class) I am focusing on, and working with color, color and psychology. At first I found this lamp interesting because of it's color. I am looking and trying to translate the colours around me and therefore I reacted to the lamp.
From what I have learned about green is that it's a calming color, pleasing to the senses. For example hospitals uses light green rooms, and that is because green is concluded after studies to have the most calming effect on the patients. But more than that green is a symbol for cycle of life in the nature, and this lamp is the evidence of why, because it is naturally created as an result of the cycle of life.
Green is an ideal color to work with in interior design, because it dominates the nature and we are so used to see it, and therefore it harmonizes with us. In this lamp, green was not an active choice from the designer, it came out of nature itself. This is what I think is beautiful with this lamp. It is like the lamp is created as a platform, for the creation itself. The dark green is a result of living algae, which requires only sunlight, CO2 (carbon dioxide), and water. When taking care of the algae, light is created, in form of tiny amounts of electricity "breathed" out from the algae.
This is functioning not only as a lamp but in a way a reminder of the ecological system we live in, a reminder of the responsibility we have, because we are a part in it. If I as the owner of the lamp take care of the algae it will reward me with light. So the lamp has two functions according to me, a source of light, a reminder of the cycle of life. Because the light comes is created in an environmental friendly way it also reminds me of the issues of earth, but I don't think this lamp "forces" me to think environmental-friendly, neither puts guilt on my shoulders, for me this lamp is instead of a political piece somehow very poetical.
"Mike Thompson created the design of the Latro (Latin for thief) based on a recently proven technology whereby tiny amounts of electricity were tapped from living algae. Latro combines the energy potential of algae and the functionality of a hanging lamp. Synthesizing both nature and technology in one form, Latro is a living, breathing product. Algae require only sunlight, carbon dioxide (CO2) and water, offering a remarkably simple way of producing energy. Owners of Latro are required to treat it like a pet – feeding and caring for the algae that will reward them with light."