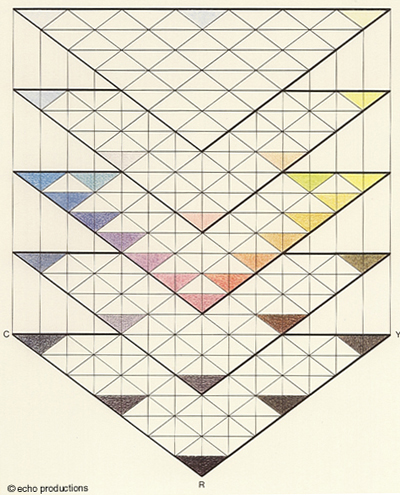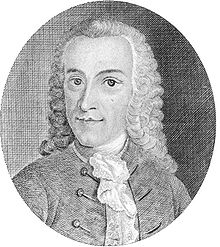 Tobias Mayer [1723 – 1762] was a self-taught mathematician. In 1758 he invents the so called "Colour Triangle" which is a color-system based on his research of how many colors the eye is capable of distinguishing. He took red (R), yellow (Y) and blue (B) as the three basic colors, more specific: cinnabar, massicot and azurite.
He started using a system called "The-Twelve-Part-Rule" to find the colors distinguish by the eye. He assumed that twelve was the perfect amount of parts from the three colors to mix. For this system he made this formula: R4Y4B4 and in this formula he would change the amount of the three colors by always ending up with the result of twelve parts in all. In the end it led him to 91 different colors that where distinguishable for the eye. Afterwards he applied black (K) and white (W) to create light and dark in his 91 colors. With black and white he would use up to 4 parts of either black or white, but still with the limit of 12 parts in all, formula: R3Y2B3K4 (or W4). This led him to 819 different colors that the eye was capable of distinguishing.
As shown on the attached picture no.1 The Colour Triangle by Tobias Mayer is, at least for me, not showing more than 66 small triangles with 33 different colors and 303 small white triangles, which is not really concur with explained results of his calculations. So I must admit that I don't really agree that these colors shown in the Colour-Triangle are the colors the eye is capable to distinguishing, because that is exactly what I can't do with at least 336 of the triangles. His Colour Triangle was not published, but in 1775 G. C. Lichtenberg made a replication of the Colour Triangle which is a triangle with 28 different colors taken out of the research by Tobias Mayer shown at the second picture.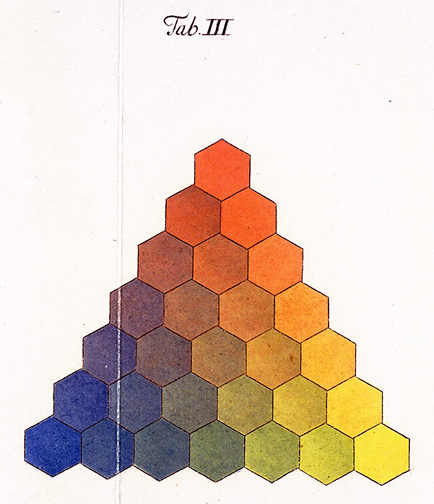 MY INTERPRETATION AND FINAL PROJECT
What I found both interesting and important was to solve the mystery about the 786 missing colors in his color system and especially the missing GREEN.
*
By the way; in my silkscreen print I made the circle a typical grass-green color. I chose that color to highlight which color I really missed in his system although it makes sense considdering how Mayer calculated and mixed his 819 different colors.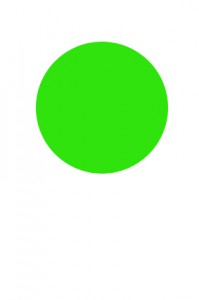 *
First I was thinking to actually mix all colors by using his mathematical system. But soon I found out it was too comprehensive to work as mathematical as he did with exact amount of paint in 819 different mixes of colors.
If he really did it I give him credit for that!
*
Next idea was to make the spectator experience the colors and experiment with them by mixing the colors themselves.
My first thought of the final result was to make an binocular where you could put inside 12 round plexiglass-circles in either the color blue, red or yellow and then try to distinguish the different color-result by looking through this binocular.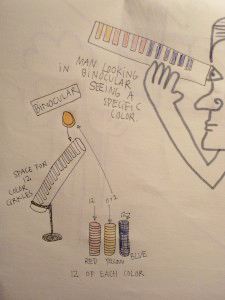 Unfortunately
the plexiglass was way too thick and strong in color
so it was not possible to mix the colors through them.
*
Then I tried to do it with transperant paper on a light table. It worked out really good. It was much easier to mix the colors and it worked out with his mathematic system. The result where really strong and captured the spectator to keep adding more papers to the light table continue making different combinations.
*
I ended up using a projector to make it even stronger.
Next to it the transparent paper in red, yellow and blue was placed.
And then it was up to the spectator to make different results of which colors it was possible to get in that method of finding colors distinguishing for the eye….
The various try outs I present here are a remake of the real hands-on presentation.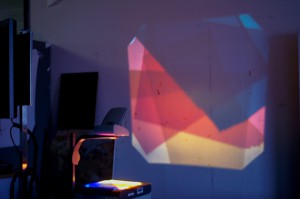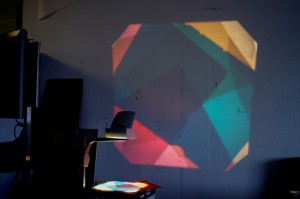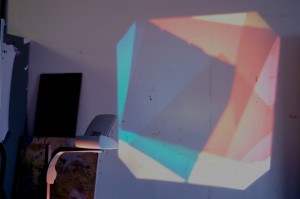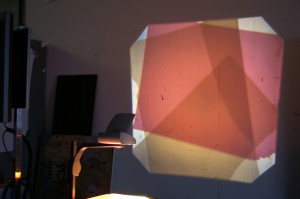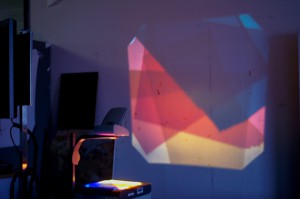 By trying these different ways of mixing the colors I really got confirmed that it is absolutely strange that Tobias Mayer didn't end up with a green or at least greenish color in his system. There came up green nuances and green color, but somehow he couldn't distinguish them from other colors.
I was happy to get the possibility to mix the colors my self and let others do the same. Also just to enjoy the beautiful end result of what was projected on the wall!
*