PAY ATTENTION AT YOUR BACK !
Uta Eisenreich is a Dutch photographer/artist, teaching at Gerrit Rietveld Academie. Looking at her works, especially at her last book "A not B", I noticed the important role played by her background.
The book consisting of a series of still lives, inspired by non-verbal IQ tests for children. The images show changing combination's of stereotypical domestic objects. The layout of these tableaux is determined by an underlying logic that the viewer is subconsciously triggered to discern..
She express herself through Photography, Performance, installations and Games. As I mentioned before I was captured by her ability in playing between subjects and backgrounds.  I found that book a clear example of balance and contrast between basic elements; all tricked out by "title-suggestion" that create a sort of curios  analogy.
Full colors and daily forms give me an idea of comfort.
Known.
While an esthetized light, an independent background create an idea of gravity absence, almost vacuum.
Unknown.
The almost absence of shadows and the extreme perspective, as in the Stenopeic Photography let disappear the deepness creating an optical ? illusion where is easy to get lost in focusing the main subject. Subject and background are on the same plan, they have the same value in the composition. From that originates my interest about the fact that " a background is always present". We can not have anything without any background.
Years ago I went to an exhibition of American Landscapes in the XIX century, damn it was boring. Nature, sky, horizon*….I couldn't find a point to focus on.  What is the subject? The main interesting point?  It is a landscape, where is the background? Probably it is the landscape itself. Then Monet 's Waterlilies…subjects melted with other subjects in different plains ……
After I had the occasion to see a Rothko in person; the absence of conventional subjects led my sense to experience the paintings as a start point. Like a landscape, like a background. I still have to get the point.
Many times I heard discussion about landscape or background in architecture; how to integrate, to camouflage a structure in a determinate location/landscape/background.
In painting as in design as in architecture….. It can be monochrome, flat, floral, fizzy, silent….We can use it to amplify the main subject, or just to diminish it. Everything starts on something else. The Earth's gravity has perhaps led us to a method of building based on addition;
X + Y
X + Y + K
X + Y + K + H + a canvas, a problem to solve, a rock, a dream, a need, a sheet of paper…
Again –just to remember–  isn't how and where we present art the main important background?

Luckily it is an extremely versatile element. So versatile that we can even give it a determined value and meaning. However it can be an idea if we want.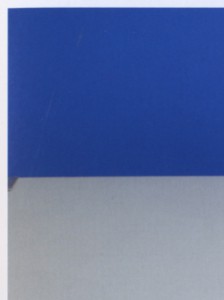 *An expert mind pointed out to me that If we look at the horizon in Uta 's pictures, it is almost always not completely unbroken. As if she just did not crop it right and a little piece of the set-up shows. A corner or something else…… Like that the 2d effect is brocken as she shows a reference to the 3d set-up.