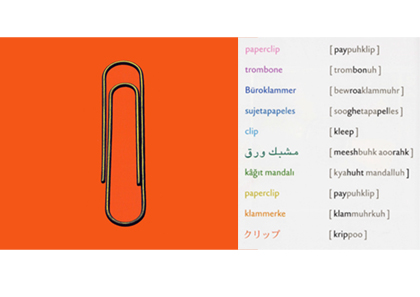 …While thinking about repetition and about the idea that practically anything could become a pattern by repeating it over and over again, I came to think of industrial design.
Where repetition in a pattern becomes this new image that, in a way, is stronger than the pieces apart. Repetition in products doesn't really make it stronger. It makes the product less original en less valuable.
Unless you only plan on making a few of the same product, than the product suddenly becomes a collectors item or special edition.
Well, this second book was about industrial design…but also about language. Funny how these two subjects work together. Because through industrial design it becomes possible to have the same products all over the world. So for new products, new words have to be invented. A lot of products are called after their function, at least in Dutch they are. But wouldn't it be an idea, to have international words for these international products? Ikea is already using this concept, so now people all over the world start having their own strange Swedish vocabulary of really silly words. Does that mean that in ten years every person, from Singapore to Munich would know that a LILLÅKER is the thing you rest your mattress on?
I think this book gives a better solution to this language problem, by just learning the different words.
cat.no. 772.9 cat 50
keyword: repetion