2012. – After a conversation with Eric Klarenbeek
In a time of growing public awareness of the prevailing environmental consciousness. Consumers are looking for ways to contribute to the unnecessary burden of the environment. Large companies want to connect to these developments of environmental consciousness. Often because of the shared concern for the environment, but also because it will create a new market. Inventors search for products which are environmentally conscious, beautiful, and also financially interesting. You can summarize these results as 'sustainable design'.
An example is Google's new computer design which shows a more efficient use of less energy than most computers. Another example is "General Electric" which is increasingly investing in the design of cleaner technologies.
This investment in "permanent design" is not only on a multinational level. People are also searching on a smaller, more individual level for the environmentally conscious design. After the exhibition "New energy in design" at the Boijmans van Beuningen in Rotterdam, I came in contact with the work of Eric Klarenbeek 'designer of the unusual'. After passing the Design Academy in Eindhoven, Eric Klarenbeek (Amsterdam, 1978) started his own studio in Zaandam. "His work is characterized by innovation and answers the developments on environmental consciousness in today's society."
His work "Led Leafs", 'a lamp that shines the environment cleaner', is a good example of the possibilities for 'sustainable design'. "Led Leafs" consists several parts with aluminum as the main material. As the name of the design, Klarenbeek used the LED lamp. This is based on sustainable considerations: A LED lamp provides an average of ten times as much light for the same amount of energy as a light bulb.
The design is a high power LED lamp that needs to be cooled because of the heat from the lamp. Because of that, Klarenbeek made the total light from aluminum. This material conducts heat from the LED. The leaf shape of the lamp serves as heat sink and reflector, which makes the light brighter. The lamp has several parts, that can be replaced separately.
Besides replaceable parts, originally from the Netherlands, Klarenbeek is looking for other ways to find a sustainable work process. That's why most of the parts of 'Led Leafs' are produced by the employees of sheltered workshops in the area. There is also the desire to create his own LEDs in his studio. So, he is investing in people and the transport is minimal.
It's a pity that the way 'Led Leafs' works, didn't rule the world yet. The Asian low wage competition makes it still cheaper to produce a replacement instead of repair. Besides the product, there has to be a campaign to make people willing to finance the operation by buying "Led Leafs". In addition, people have to invest in maintenance and repairs. In this way the production- and transport costs can be saved, which shall eventually lead to a cheaper and a more environmentally conscious approach.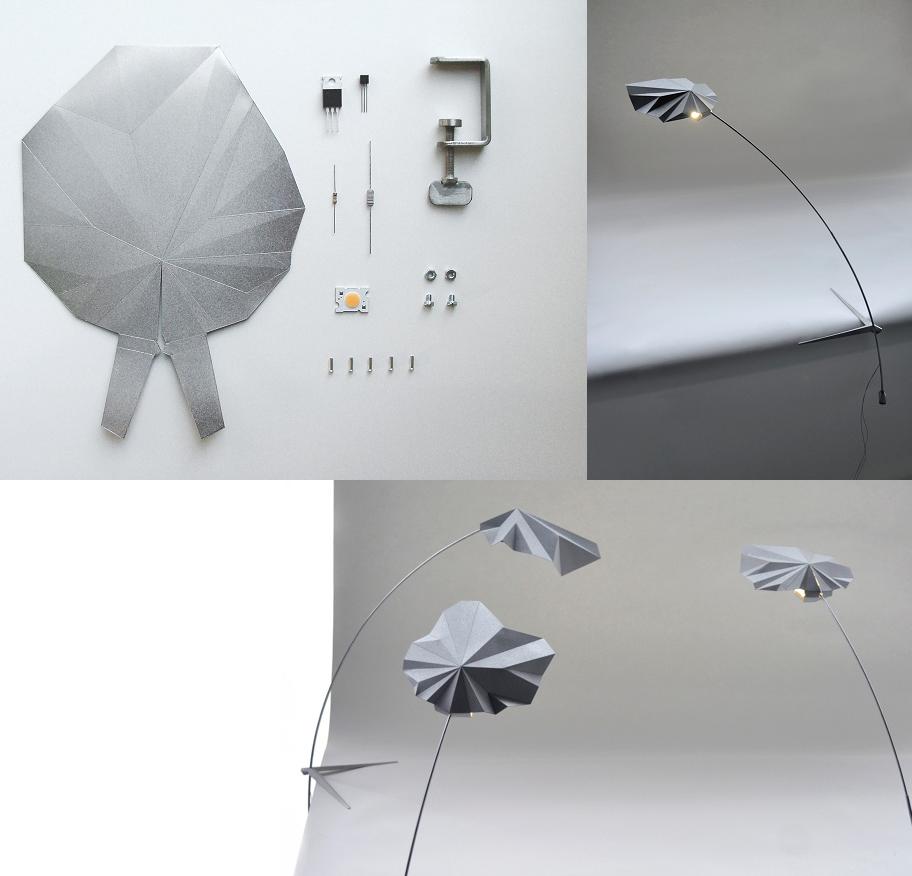 Klarenbeek warns that sustainability should not become a hype. It requires care and a consistent approach. Gradually sustainability is used as an economical way to sell more. That in itself is not a bad thing, but for example, for 'Led Leafs' all parts have to be there. Besides that there has to be support in replacing and repairing parts. If this is not the case, people throw their products away and ultimately it will lead us nowhere.
For production it will be the same; If everything is made in China and the products have to be shipped across the world, we will never help the environment.
But can we produce closer to home? How can we create fair labor for the extra aluminum production? And how can we avoid situations like child labor and intolerant work conditions? Initially there are many positive thoughts, but with negative end results.
Klarenbeek understands that he can't change the world on his own, but at least he can make a start. He sees himself as a catalyst. "I want to show what can be done with things that are out there, waiting to be used." says the involved designer.
What I like about 'Led Leafs' is the idea to create an innovative design. In the way of an environmentally conscious do-it-yourself kit in an A4 envelop that can be sent to the consumer. Even in my work I try to move closer to the viewer. Activating the viewer to produce (assemble) and thereby to contribute to a better environment will be a nice connection to the goal of sustainability 'to normalize' it. But there are differences to be discovered. Where Klarenbeek starts from engineering, I think from aesthetics. I start my processes to find the best image. In Rotterdam, I was immediately captivated by the beautiful impression that "Led Leafs" gave me, not that it was functioning or environmentally responsible. It was the look that got me. Klarenbeek starts a research for 'how to', always looking for the one best way. However, I would start with: "Nice, but can it be better visually?"
Klarenbeek also have work mainly based on aesthetics. A good example is his eye jewellery. In this project he is exploring the potential of jewellery as an integral part of the human body. a combination of a pair of contact lenses and a string of tiny crystals makes a jewel that joins the movements of the eye and eyelid." Of course very progressive: this is probably as close as we can get design to the eye, apart from surgery. But in addition to the investigation and the trial, it is the beauty that prevails.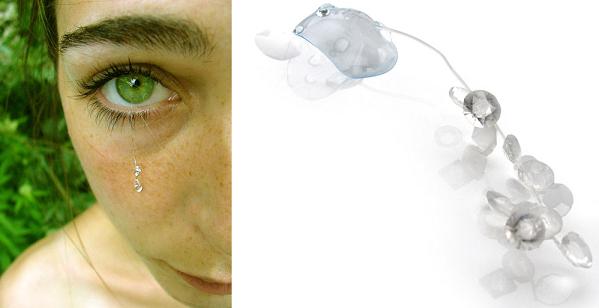 Something that appeals to me in eye jewellery and in 'led leafs' as well is the huge effort that's in it. For 'eye jewellery' Klarenbeek had a five-year process. For one of my last 'sculpture assignments "I had to make a sculpture of 1 cubic meter of sugar. For more then four days I melted sugar to caramel and reached at the end the exact dimensions. I really like processes, maybe even more then the end result. When I was in Klarenbeek's studio and I saw all those different steps the end result was even getting better. His interesting long processes are also visible in Work Survey. This is a movie about the process of creating. He included some of the projects he worked on the past years till present.
Later in our conversation I asked Klarenbeek about the ultimate sustainable development in the future. Where are we really looking for?
This question made me think about my own future. I am convinced that sustainability and innovation must play a role in my creative future. But how it will get the attention in my work? I don't know yet. Actually, I think this is the start of my quest for sustainable.
When I ask 'The designer of the unusual' again what great sustainable developments he wants to be a part of, his eyes begin to shine in the big, bright studio overlooking the waters of Zaandam and … he is silent.