Kevin Power welcomed me in his studio, in a building that used to be a school. We sat down with a cup of coffee and I was soon to realize it was his birthday by a numerous of very nice birthday calls.
We talked about his career after he in 1999 graduated the fashion department at Rietveld, for example how difficult it can be to works as diverse as he does (paintings, collages, sculptures, illustrations, installations, costumes etc.) in a commercial context where they need a more clear style. That's why he got two websites commercial oriented and one more diverse.
Kevin Power has worked as freelancer, made costumes and set designs for Klank Kleur Festival and from 2004-2010 he was hired by Tommy Hilfiger:" to inspire, everything from creating various interactive art projects to making props for stores and showrooms".
The Atelier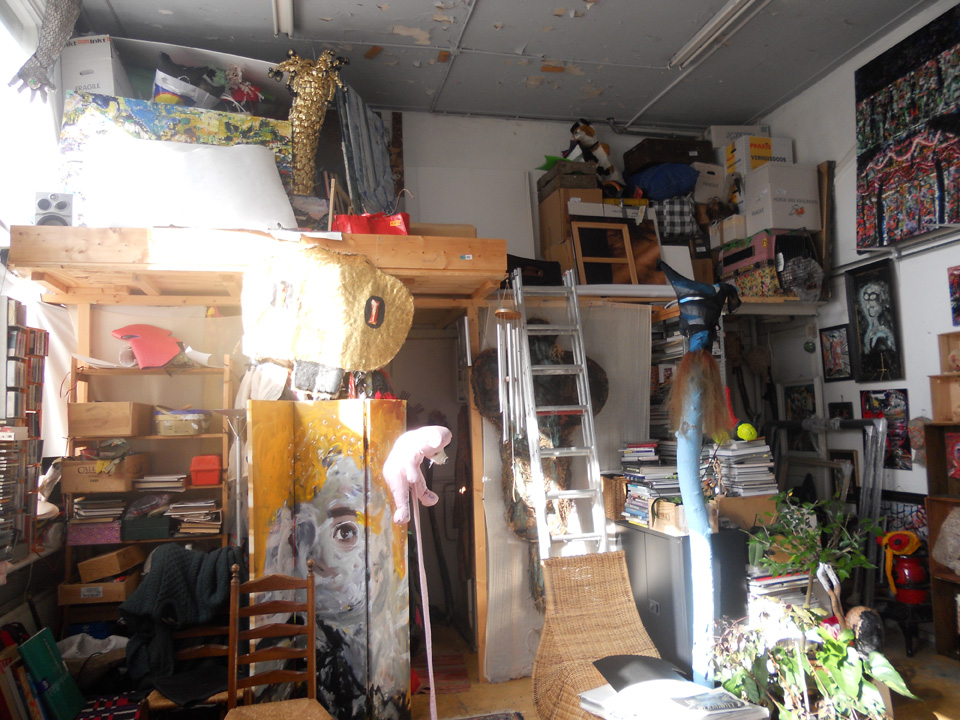 The work space is a storage for previous works that partly will become future works. After being cannibalized to bits and pieces they are recreated and reused containing both the history of its previous function and new dimensions for the present context.
Works are gathered and hidden in corners, paintings put in an untouchable distance and space is cleared to give a fresh start and room to begin a new project, new thoughts and challenges.
The time at Rietveld still plays a part in his artistic life; contact is being kept, he sometimes works at Rietveld with students (project teacher at UN-Cut) and there is clear connections between the details, texture, deformity and interests in the graduation book from 1999 and a book containing previous works. He didn't make the clear connection before but as he already had concluded; his signature was made during his time at Rietveld. Comparing the 1999 Graduation Book with the Book Of Works From Around 2007-2010 we see that in the graduation book there is a theme of folding, lines that follows and imitating the spine, inspiration of bird skeleton, wrinkled lines in old hands marked with a history and dark deformati.
In the book with more recent works there is must more textility, the direct collage style with paint, cut-outs, pasted, drawings etc. makes it very physical opposite the 1999 works where the majority is actual physical works put on pictures. Furthermore there is big diversity of colors and the theme and amount is more brought witch all of course is part of the development
In these comparisons I have found common structures of lines, forms, figurative, material, shapes, abstractions or what to me seamed as similar themes
He's a full time artist and as most others he feels the shift there has been because of the financial cries.
While working at TFAF giving guided tours, once an elder lady asked him if he made artworks as well. She saw some works of his and replayed; why he couldn't make something nice that was pretty like porcelain figures? Afterwards he kept the thought in mind after all the majority of his works are considered dark.. but he has always found his inspiration in the more dark and mysterious fields and; you have to mean what you do, stay true to make it work.
A most recent works; a recently adjusted big painting and smaller works.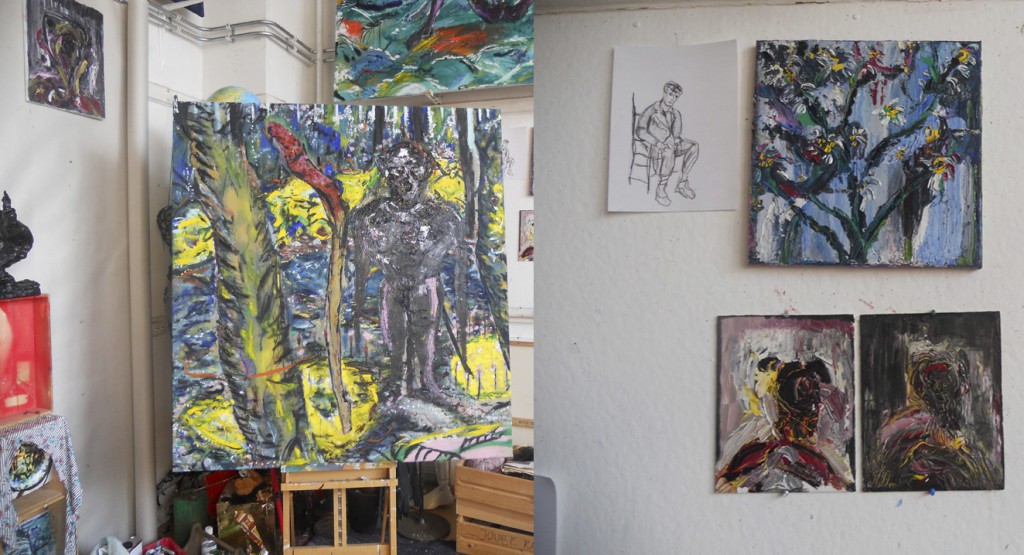 When I asked what his next project might be he said that he would start making chairs, why not? Everything is possible.
His passion was obvious, it gave me a great feeling of inspiration and opened my eyes for the many possibilities there is in fashion when the mane focus is being body related or the body being the source to inspiration and form instead of fixed upon clothing.
*Its all build upon my interpretation and memories of our meeting and conversation an almost regular Wednesday morning in April.