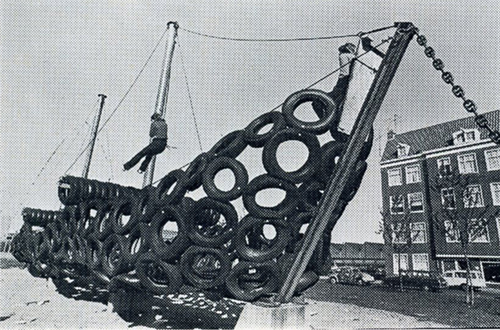 It is possible for the human being to adapt to all kinds of environments and situations, but without a stimulative environment, inhabitants easely get the feeling of lonelyness, boredom and estrangement. "Beond Shelter" is a publication published in connection with the Dutch contribution to the 1976 Venice Bienale in which Tjeerd Deelstra, Hein Reedijk and Gijs van Tuyl give a comment on –current housing– situation at that time in the Netherlands.
As a result of the construction projects of the Dutch suburbs in the 70's, the architects no longer knew for whom they were designing. They no longer had the same importance in the final say of their projects. It was more up to the construction companies to decide the size of the projects and architects kind of forced in to massive scale buildings. Whole suburbs where competed in few years, leaving no space for inhabitants to give their own charm to the area.
If the speed of construction for new dwellings could be more critically planed and the scale reduced, it would be possible to experience a direct contact between the inhabitant and the architect, or even architecture without architects to let the neighbourhood grow organically and let it have the characteristics of the inhabitants.
cat.nr: 719.1-cat-1
keyword: freedom